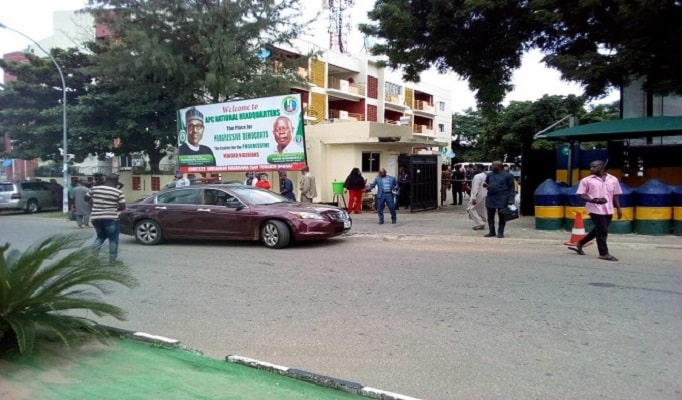 Police IG Mohammed Adamu has ordered the shutdown of the National Secretariat of the All Progressives Congress (APC).
It was gathered that the IGP's closure order was sent through the Commissioner of Police in the Federal Capital Territory (FCT), Bala Ciroma, to the APC chief security officer.
Consequently, all staff and personnel have exited the building.
The temporary shutdown was as a result of the leadership crisis rocking the APC for weeks now.
The IGP has instructed that members of the National Working Committee (NWC) should not be allowed to enter the party secretariat. A party source said the seal-off was to enable the Police chief and the committee to review and discuss the way forward.
The source disclosed the IGP had scheduled a meeting with members of the National Working Committee (NWC) on Tuesday.
The APC had been thrown into leadership crisis since last week, following the suspension of Comrade Adams Oshiohmole as National Chairman and the endorsement of Giadom as Acting National Chairman for two weeks by a court.
UPDATE:
The Nigerian police have denied sealing off APC's national secretariat. According to a police statement, personnel of the Nigeria Police Force were deployed to the National Secretariat of the All Progressive Congress as "a proactive move" by the Force to maintain peace and ensure there is no breakdown of law and order at the Secretariat.
The presence of police personnel at the Secretariat was wrongly reported as a forceful closure.