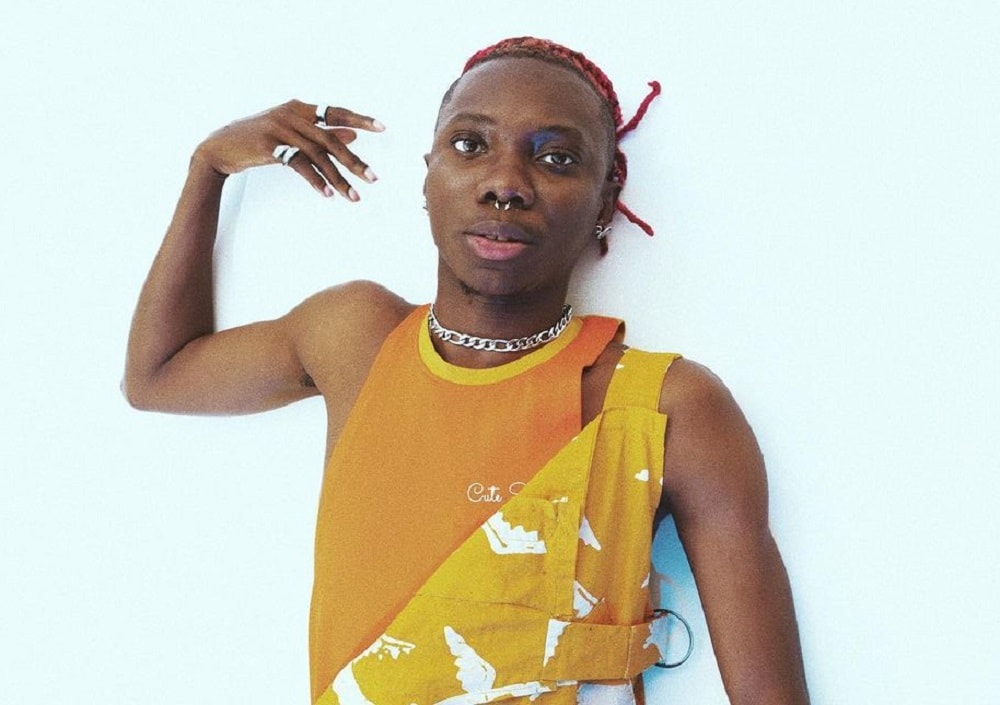 Who is Blaqbonez?
Blaqbonez is a popular Nigerian musician currently signed to 100 Crowns, an affiliate label of Chocolate City. Blaqbonez is primarily a rapper, and he is widely known for his self-proclaimed title as the 'Best Rapper in Africa.' He stated in an interview with Pulse Ng that the reason behind the self-declared title was to motivate and incite other Nigerian rappers to perform better.
Blaqbonez gained popularity in the Nigerian Afro-pop community in 2019. He has released over eight EPs and has over 30 songs to his credit.
Full data profile of Nigerian singer Blaqbonez
| | |
| --- | --- |
| Full name | Emeka Akumefule |
| Age | 25 years old |
| Birthday | January 29, 1996 |
| Gender | Male |
| State of Origin | Imo State |
| Parents | Unknown |
| Height | 5″11 |
| Marital Status | Single |
| Tribe | Igbo |
| Career | Rapper, songwriter |
| Genre | Rap |
Blaqbonez' childhood and education
Blaqbonez was born on the 29th of January, 1996. His real name is Emeka Akumefule. Although a native of Imo State, he was brought up by his pastor mother in the southwestern part of the country. Not much is known about Blaqbonez' early education, but it is known that he holds a degree in Engineering from the prestigious Obafemi Awolowo University, Ife.
Blaqbonez' music career
Blaqbonez began his career at a quite young age. According to him, he has been rapping since he was 13 years old. He discovered his talent for rap music after he was challenged by his cousin against a 12-year-old boy whose rap song was being played over the radio. Blaqbonez said that he was able to coin bang rap lyrics minutes after he accepted the challenge, and continued building his rap skills from there.
Blaqbonez mentioned that his parents were not in support of his newly found interest in music at the time, and so he had to keep his activities secret. Consequently, he began competing in numerous competitions, all of which have contributed to his present fame. In 2012, Blaqbonez participated in Terry Tha Rapman's Zombie competition which he won against 3000 other rappers. In the same year, he was featured by Terry tha Rapman on his mixtape titled, "World Domination".
The mixtape also had other top Nigerian musicians on it, including the likes of Vector and Olamide.
Blaqbonez continued to compete in other rapping competitions, and luckily, in 2015, he emerged as the 1st runner up in a King Kong rap competition organized by Vector. In the same year, he was awarded Rhythm FM's Artist of the Month following the freestyle rap contest organized by the radio station. He also competed in Soundcity's rap competition in 2015 and later emerged as the Hennessy Vs Class hip-hop contest winner. Blaqbonez also won Tosin Adeda's Radio Palm Wine competition.
The song which brought Blaqbonez to the limelight is South Africa Must Go, which featured Oladips. Blaqbonez has also produced many hit songs which have topped several charts. His mixtape, Cassette Tapes and TVs (CTAT) became the most talked-about mixtape in the year of its release. It also garnered over 60,000 streams and downloads. Blaqbonez is a hard worker and his dedication to his passion has earned him many accolades.
Blaqbonez' songs
Some of Blaqbonez most notable songs include:
Mamiwota (2018)
Woke (2018)
levels (2018)
Blessings (2018)
All I Ever Wanted (2018)
The Future (2018)
Bad Boyz (2018)
Accommodate (2018)
Denied (2018)
Play (2018)
I Told You (2018)
Good Boy (2019)
Shut Up (2019)
Best Rapper in Africa (2019)
No Longer Stupid (2019)
Green Blaq Green (2020)
Blaqbonez' awards and achievements in music
Blaqbonez has crossed many milestones in the Nigerian music industry. He has released a total of nine EPs with many hit singles to his name. He was labelled the rapper 'carrying the torch of Nigerian rap' by the Guardian Newspaper.
His 2018 album, "Bad Boy Blaq" was listed among the best albums of the year by many sources alongside M.I's "Rendezvous" and Burna Boy's "Outside". It also topped several charts on iTunes.
Blaqbonez' name was included in Guardian Newspaper's list of "top 10 artistes to watch out for in 2019". He was also tagged alongside Teni as one of the Nigerian fine acts to watch out for by the New York Times.
Blaqbonez has received several nominations for talent in music, including the Headies Award for Best Rap Single and the City Peoples Music Award for Rap/Hip Hop Artiste of the Year.
Blaqbonez' net worth
Blaqbonez net worth is currently estimated at $150,000, which is around N60 million naira.
Blaqbonez' Instagram and Twitter
Blaqbonez is active on social media. His Instagram handle is @blaqbonez. His Twitter handle is @blaqbonez.
Blaqbonez on Wikipedia
Blaqbonez' dedicated Wikipedia page is fully set up.
Blaqbonez' girlfriend
There are reports that Blaqbonez is currently dating, but nothing exists to prove that. The rapper has never been married and has not revealed anyone as his girlfriend as at the time of publishing this post.
Other interesting facts to know about Nigerian musician, Blaqbonez
Blaqbonez 2019 song, "Best Rapper In Africa" stirred some controversy in the media.
In his interview with Punch Newspaper, the 25-year-old rapper stated that the "Best Rapper" declaration was both a response to a diss track and also a wakeup call for other Nigerian rappers to sit up and produce more quality rap.