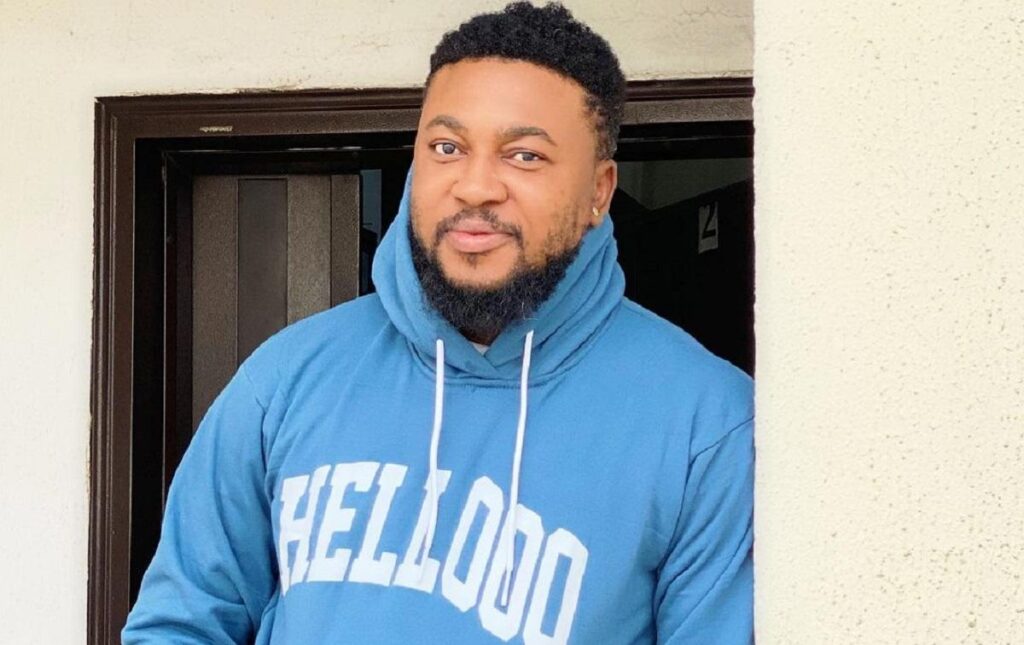 Who is Nosa Baba Rex?
Nosa Baba Rex, also simply known as Baba Rex, is a popular Nollywood actor, writer, content creator, producer, and comedian. He is also a model and TV presenter.
Baba Rex ventured into Nollywood in 2010 and has featured in over 100 movies and counting.
Baba Rex has starred in numerous blockbuster movies, some of which include:
Bread of Sorrow
Tears of Vengeance
Victims
Sacred Twist
You will often find him playing the role of a prince in epic Nollywood movies or the romantic interest of the lead character.
Full data profile of Nollywood actor Nosa Baba Rex
| | |
| --- | --- |
| Full Name | Nosa Rex Okunzuwa |
| Other name | Baba Rex |
| Date of Birth | May 4, 1990 |
| Age | 31 years old |
| Gender | Male |
| State of Origin | Edo |
| Parents | Unknown |
| Height |  6″1 |
| Marital Status | Married |
| Tribe | Edo |
| Career | Actor, producer, comedian |
Baba Rex' childhood
Baba Rex was born on May 4, 1990. He is currently 31 years old. Baba Rex was born and raised in Edo State. Other information regarding his background is currently not known.
Baba Rex' education
Baba Rex completed his primary and secondary education in Edo State. Details of the schools he attended are not available at the time of writing this piece.
He, however, holds a Mechanical Engineering degree from Ambrose Ali University, Ekpoma, Edo State.
Baba Rex' acting career
Baba Rex's career in acting officially kicked off in 2010. His debut movie was "Gazza Treasure" which was produced by Derek Osonwa.
He appeared in the movie alongside Mercy Johnson, Yul Edochie, and Patience Ozokwor. The movie was a success and it brought Baba Rex into the limelight.
Since then, Baba Rex has starred in several other popular movies, some of which are:
Tears of a Super Rich Bachelor
Nneka My Princess
Lagos Real Fake Life and
Obioma the Slave Girl
Baba Rex as a movie producer and content creator
Asides from acting Baba Rex is also a movie producer and content creator who makes funny skits on social media. In 2019, Baba Rex established his own movie production company called 'Big Things Production'.
Baba Rex and Destiny Etiko viral comedy skit
In February 2020, Baba Rex teamed up with popular Nollywood actress Destiny Etiko to create the viral social media skit called "You must come."
Baba Rex and Sharon Francis spiritual kpekus comedy
Before the 2020 skit with Destiny Etiko, Baba Rex and another Nollywood actress Sharon Francis created another viral skit titled "Spiritual Kpekus".
Baba Rex' movies
Below is a list of some of Baba Rex most notable movies:
The Mortal Bride (2019)
In Love with my Family Cook (2019)
The Broken King (2020)
Agony of a Widow (2020)
The Signs of Misfortune (2020)
The Prisoners (2020)
The Brothers (2020)
Greater Than Love (2020)
Our Lying Husbands (2020)
Her Bride Price (2020)
Kiss of Betrayal (2020)
Priority of Love (2020)
Quarantine Husbands (2020)
The Brothers (2020)
Nosa, The preacher Man (2020)
Professional Chefs (2020)
Seasonal Love (2021)
Who Would Be My Chosen bride (2021)
From Prince to a Local Driver (2021)
The Gatekeeper and the Beautiful Ghost (2021)
Nosa. the Village Town Crier (2021)
From Prince To A Local Driver (2021)
Baba Rex' awards and achievements
City People Entertainment Award for Best New Actor (2013) – Won
City People Entertainment Award for Best Upcoming Actor of the Year (2017) – Nominated
Baba Rex' marriage, wife and children
Baba Rex is currently married to Deborah Raphael who is a blogger, chef, fashion designer, and influencer.
Baba Rex' wife, Deborah is also the CEO of Nmas kitchen. They tied the knot on August 24, 2015.
Baba Rex got married at quite an early age, and when asked in an interview with The Vanguard, he revealed that the decision was influenced by his father. He mentioned also that his father married his mom at the age of 24, and he loved the relationship they shared. Rex also stated that he does not regret his decision to marry at an early age.
Baba Rex and his wife are blessed with two children: Audrey Eseosa Nosa and Andre Efos Nosa.
Nosa Baba Rex' net worth
Based on current information about Nosa Baba Rex' earnings and income, his net worth is estimated at $400,000 (around N500 million). 
Nosa Baba Rex on social media
Baba Rex is active on social media. His Instagram handle is @babarex0. His twitter handle is @babarex.