by Staff writer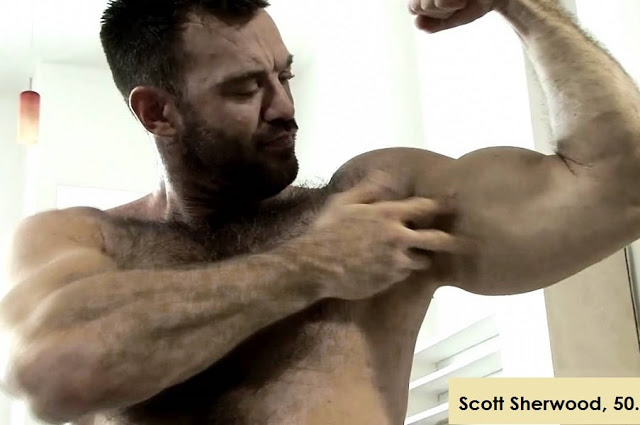 Children at a secondary school were shocked to find out their maths teacher is a secret porn star.
Scott Sherwood, 50, can be found on gay adult film sites like Pornhub and GayBubble – and in a classroom in East Sussex.

The secondary school maths teacher is better known to adult film viewers as Aaron Cage, as his students have now discovered.
Pupils at Peacehaven Community School googled Sherwood and found his photoshoots and videos, which include one called "Aaron Is a Hot British Bear".
The school has over 800 pupils between the ages of 11 and 16.
In a recent interview, the teacher said: "Porn shouldn't be seen as work. It's a second job at best."
Pupils at Peacehaven Community School, in Peacehaven, East Sussex, are astonished at the revelation.
One girl commented on a YouTube video of Aaron Cage, saying: "That guy is my maths teacher, his real name is Scott Sherwood. I'm scared."

Children began circulating X-rated photos of Mr Sherwood last week, after discovering his secret job.

Concerned parents claim that the school has not yet commented on the revelation.

One mum claimed that children who discussed the matter at school have been threatened with detention.

She said: "My daughter is in Year 10 and another child found things online and put them on the computer for everyone to see.

"My son is in Year 7 and found out about it in the lunch hall while all the children were talking about it.

"The school have not told us anything about it. It would have been nice to find out from the school rather than from the children.

"They have told all the children to be quiet about it. We don't know when he's coming back," she continued.

Australian-born Mr Sherwood started working as a porn model eight years ago, while also teaching at the school.

He initially worked as a part-time supply teacher but took up a ­full-time position last year. He is also a mentor and form tutor to students in Year 10 at the mixed secondary school, which has 850 pupils.

He has flown out to the States to shoot several films for Colt Studio Group, which has a 50-year history in the porn industry.

In an interview with Irish publication Gay Community News in 2014 under his alter-ego, Sherwood, who comes from Brisbane, Australia, spoke out about the fate of porn stars.

"It's sad to see, some are turning to drugs, some [attempting] suicide," he said.

"Porn shouldn't be seen as work. It's a second job at best. Everyone has a shelf-life. Even me. Trends in porn change.

"I would have been big in the '70s and finished by the '80s when everyone was waxed within an inch of their life. It happens. I know that one day, they won't call."

He said he only started acting in adult films eight years ago, when he was 42, adding: "I see all these 22-year-olds with stars in their eyes – thinking this is going to be their career, then finding it's all over and having their next career options curtailed.

The teacher, who studied maths at the University of Sussex, has not been at school since the revelations came out, according to The Mirror.