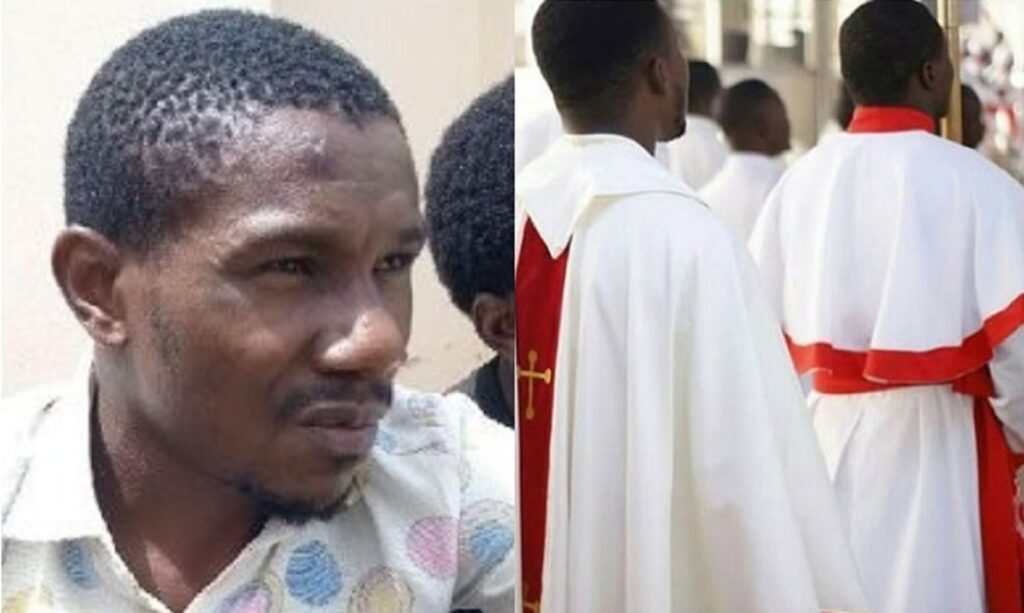 A robbery suspect identified as Federick Ugah has confessed that the reason he targeted priests for his crime is because a gay reverend father he once lived with ruined his life.
Ugah said he is an orphan and had wanted to become a lawyer and so went to the Catholic Church to serve as an "altar boy" in order for the church to take care of his school fees.
Ugah said his frustration started when the reverend father who was sponsoring his education allegedly started demanding sex from him.
Ugah claimed his refusal to allow the reverend father have his way with him angered the priest and he decided to punish him by frustrating him out of the Catholic Church.
Federick Ugah said the reverend father falsely accused him of stealing some money belonging to the parish.
He said:
"I was wondering how a reverend father would turn gay. When I refused, he brought up an allegation against me that I stole the parish's money and should be driven away by the parish. He also poisoned the minds of other reverend fathers who intended to help me. I kept wondering why a man would want to sleep with another man."
Ugah said he took to the life of crime after he was unable to complete his Law degree at the Ahmadu Bello University (ABU), Zaria. According to him, he vowed to continue tormenting reverend fathers across the country for the rest of his life over the alleged mistreatment.
"Because I refused, I was unable to graduate from the university, because there was nobody to foot the bills. But I have also decided that no reverend father will find peace with me as long as I live. I will continue to torment them for the rest of my life because they frustrated me."
Ugah was arrested by the Nasarawa State Police Command in New Nyanyan for allegedly snatching a car belonging to a reverend father.