Five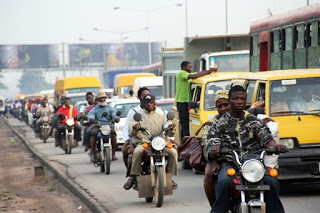 Adaku stared at the big bus, reading the inscription on it— THE YOUNG SHALL GROW MOTORS—over and over again.
At the right, a man was loading passengers' luggage into a hollow space at the lower part of the vehicle.
Obinna studied the items carefully.

Food items abound; palm oil in various types of plastic containers, bunches of unripe plantain and banana, coconuts and avocado.
Again, he wondered if there was enough food in Lagos. He still did not know why Ahanna didn't allow him carry the plantain bunch and yam tubers his mother brought out.
His small 'Ghana Must Go' was pressed firm under his arm. It contained only his clothes, and his money.
When the man loading the bus asked him to bring his bag so that he'd find where to put it, he'd declined, shaking his head.
'Oga, bring your bag na let me know where best to put it!' the man, dark and short with dirty jean trousers folded to his knees, barked.
The white flip-flops he was wearing had circular holes at the back of his feet.
He came closer. 'Oga, give me your bag.'
'No,' Obinna said, clutching his bag firmer.
With all the stories he's been told about Lagos, he decided it was best to carry his bag himself. 'I will carry it myself,' he said.
He looked at his mother. Mama Obinna was expressionless. She did not know what was best—to give the bag to the man or for Obinna to carry it himself.
But she trusted his son's decision, and said nothing.
Ahanna was smiling, that near-mocking display of amusement common to city people when they find everything villagers do funny.
The man was still staring at Obinna.
'Mr. Man, go and load the other bags na!' Adaku snapped at him in English.
The man quietly turned away.
Finally, a fat man climbed into the driver's portion of the bus and honked the horn. The same man that loaded the vehicle walked to the door and announced, 'Enter according to the number on your tickets!'
Obinna was staring into the piece of paper in his hand when Ada took the ticket from him. She looked at it and said, 'Sixteen. Your number is sixteen.' She gave him back the ticket.
He looked at her, their eyes met and he turned away. He bent toward Uzo, his younger brother, and whispered something to him. The boy nodded understandingly.
'Nna m, bia—my boy, come,' Mama Obinna said.
He went and hugged his mother. They stayed a little longer together. When they separated, the man calling out the ticket numbers was on number eight already.
Adaku's eyes were straight into the air. They were blank.
He walked close to her. She quickly clung to him even before he could get close enough. He heard her draw in a noisy breath and wondered if she was crying. But he knew her better. He released her and held her shoulders.
'Obim,' he called her.
The tear wouldn't have come if he hadn't called her that. He wiped it off for her, at the same time fighting to hold back his.
But it eventually dropped, and they quickly clung to themselves again, as if not to allow people see.
'Obinna,' her mother called.
'Sixteen!' the man calling the tickets shouted again.
'Go,' she said to him, releasing him.
'Number sixteen! Where is number sixteen?'
As he turned, she quickly reached inside the pocket of her gown and brought something wrapped in white paper. She thrust it into his hand and turned away fast.
He turned to look at her.
The man was now yelling. 'Sixteeeeeen!!!'
Ahanna called him from inside the bus, waving.
He finally dragged to the bus and climbed in.
As she saw the last view of their bus disappear down the tiled road, her tears couldn't hold again.
They flowed down her face like an open tap.
His mother came close and embraced her. 'Ogadicha mma,' she told her. 'All will be well.'
But she knew it won't. All will never be well with him gone. She knew for one that she wasn't going to sleep that night, and that particularly scared her.
'Don't cry, my brother's wife,' Uzochukwu said, coming to stand in her front.
She wiped her face and produced a smile.
'Don't cry again,' Uzo repeated.
'Thank you,' she said and nestled the boy to herself.
***
The road to Lagos was a long one.
Even though he had a lot of questions, he didn't ask them.
He didn't want the other passengers to realize it was his first time to the big city. As Ahanna had told him, once they know that you are new, they would extort you.
He looked round the bus; the people he was travelling with all looked docile and he wondered when he'd meet the bad ones.
The area boys.
The omoniles.
The ashawos.
He was not eager though. He wished now that Lagos would be as quiet and serene as the bus was.
He looked out through the window, the vegetation he could see now was different. There were no palm trees, only short trees with lush canopies. He didn't see houses. He did not know where they were now.
Ahanna had told him when they got to Onitsha and Asaba, but now he was sleeping.
Many of the passengers were too. In his front, a large woman was snoring. The way her head hung loosely down, he wondered if her neck bone was still intact.
He did not want to sleep. Maybe there was just one bad Lagos person among them that would come and steal his money while he was asleep.
He felt a headache and quickly pressed his bag to be sure the money was still there.
It appeared it was.
Forty thousand naira.
Ninety-eight thousand was all he saved from his wheelbarrow business and other meagre jobs he did. He took 48 and left Ada with 50.
His mother had given him ten thousand extra to add to what he already has.
'Use that and pay for your fare,' Mama Obinna had said.
He had taken the money and added to the Fifty thousand he gave to Adaku.
He told her she would only tell their mother about the money if things got so bad, out of hand, and she couldn't get his message.
He pressed his bag again. He could feel the wrapping there, he was sure.
But with slight dread he realized that sleep would soon overpower him like everyone else.
The elderly man sitting beside the snoring fat woman in his front has now joined her in the same posture, both of them looking like a couple at a strange wedding.
***
He didn't know what happened, how it happened, but when he opened his eyes, the bus was not moving.
Ahanna tapped his shoulder again. 'Wake up.'
He pulled up and quickly checked his bag; everything appeared to be intact. He exhaled.
Maybe there is really no reason to be so scared of Lagos, after all.
Everyone was going down the bus.
'Are we in Lagos now?' he asked.
'No,' Ahanna said. 'Let's go down.'
'Why?'
'We are at Ore. We go down and eat before we continue,' Ahanna explained.
The food was very expensive. With just N150, he could eat the best of whatever Madam Stainless had to offer at Nkwo market.
So when the girl that served them said their bill was N800, he turned suddenly to her. 'What did we eat that came to that price?' he asked.
The girl looked at him and turned away in the most unconcerned manner.
'O bulo, am I not asking you?'
The girl hissed. 'Oga, your money is eight hundred.'
He got up. 'Nekwa, see this small cockroach o! Who do you think you are putting on that face for? Look let me tell you, I have a girl like you as wife at home. A fuller, prettier girl that you can't even talk to!'
Ahanna paid and asked him to follow him, that he should leave the girl alone.
He tried to explain, but Ahanna only gave him that village-people-mocking smile again and he felt remorseful.
Maybe he'd over reacted.
Maybe he shouldn't have raised his voice. Adaku wouldn't have liked it too. Truth is, he was feeling all sorts and he couldn't help it.
He turned to look at the girl as they walked away.
She smiled at him and shook her head: mockery tamed with understanding.
They got to Lagos at late evening.
From Jibowu where their bus stopped, they boarded a yellow bus to Oshodi.
Obinna was amazed at how the yellow buses never actually stopped fully and passengers had to jump in, women and the elderly inclusive.
He was relieved he had jumped in safely. Ahanna was more experienced.
An okada carried them from Charity Bus Stop to Number 16.
Obinna wondered if people lived in the houses he saw. They were in poor shape, almost pitiable, much poorer than the ones in Obeledu. They were all too closely packed and he wondered if the people living in them swept compounds. If there was any compound to sweep.
Ahanna paid the okada man. He took the feeble notes and counted them. 'Oga, una money na 250,' he said, his hand stretched out to Ahanna to return the money.
'250? From Charity to here?'
'Abeg, pay me jor!' He shook the note to mean Ahanna should take the money back fast, as if the quicker he returned it ensured he got the complete pay.
'Nwoke m, that's what I pay,' Ahanna said, turning to beat his bag to send out dust. 'I live here and I go out every day.'
Obinna saw the man park his motorcycle to the corner of the road and get down.
His eyes ran to Ahanna. He looked unworried, prepared. He wondered if he had dual personalities now; one adapted to life in Obeledu and the other for Lagos.
He stretched out a N100 note to the man before he could get close to Ahanna.
The okada man collected the money and murmured a curse in Yoruba before climbing his okada.
Ahanna told him he shouldn't have, that that was how okada men in Lagos behaved and that he should get used to it.
'Forget that he spoke Yoruba o, he might even be our kinsman,' Ahanna told him. 'This is what we see in Lagos every day; you have to get used to it.'
He began hoping he would.
He looked round.
The street as small as it was, was crowded.
Dusty cars lined each side.
Hawkers with food items he'd not seen before walked past with their trays.
Lanky shabbily-dressed men and boys with rectangular boxes which they strike once in a while to create a ringing noise— to create attention, he was sure—passed too.
A thin man in dirty clothes walked past with a rectangular metal cart. About twelve black, 25-litre jerry cans were arranged in it.
A young woman tying a wrapper ran out from the nearby compound and called, 'Mai ruwa!' waving.
There were shops, kiosks with boxes of Indomie, Omo, long bars of green soap, arranged on a table in their fronts.
Bright-coloured sachets of detergents, Nutri-C, Milo and CowBell, hung on nails on the doors.
There were so many children in the street, most of them half-naked and dirty, but they were all smiling and playing and running around.
'Let's go!' Ahanna said to him.
His voice was loud, almost on the verge of harsh, and again he thought that he was different in Lagos, behaved different. He searched for the reason, and couldn't find one satisfactory enough.
It probably was the journey, he tried to comfort himself with, even though he thought differently.
They crossed to the other side of the road and filtered through a small gate, barely wide enough for two grown-ups to pass at the same time.
Obinna was surprised to see so many people in the small compound. A middle-aged woman sat at a corner, washing in a big bowl. The thin baby on her back was wailing.
Once in a while she nudged the baby, but it never stopped crying.
A man and a woman sat on a short bench by the wall, holding hand fans. They tied the same kind of wrapper and Obinna knew they were a couple.
There were even more children in the yard. He wondered where they all lived, if there was another bungalow behind the near-dilapidated one he was seeing.
He didn't understand why Ahanna would decide to buy a house that old.
'Papilo!' the tenants cheered as they saw them. Ahanna smiled back at them. A tall, skinny young man wearing only a pair of boxer shorts came out through the central passage. 'Papilo!' He held his hand up in the air in greeting. Ahanna shook hands with him.
'Welcome, where bread?' he said.
'How you dey?' Ahanna replied.
'O boy.' The young man was scratching his head, forehead lined.
'Papi darling!' a thin female voice called.
Obinna turned. A yellow girl was coming out from a small building at the other end of the compound.
She held a red bucket and a yellow soap dish. A damp, faded-blue towel covered her from the chest down. Obinna stared at her. She joined her two legs together on a flat stone outside the structure and poured water on her legs.
'Ife mi, bawoni?' Ahanna said.
'Fimile jor!'
'Aa-ah.' Ahanna was smiling. 'Wetin I do now na?'
'Shebi you run early morning go your village without telling me.'
Ahanna laughed. 'No worry, we go talk about that one later.'
Obinna's eyes were still on the girl. He didn't know if he'd call her pretty or not. She was fair, the kind people in his village would call, 'ocha-ka-omaka—fair beauty.'
The girl looked at him and did something like a smile. 'Who follow you come?' she asked.
'Na my brother,' Ahanna said.
'This your brother fine o!' the girl said. She was staring at Obinna. 'Arewa omokunrin omo-igbo.'
Her eyes nearly got Obinna embarrassed. He wondered if she was one of the prostitutes.
They entered through the central passage. Ahanna's room was at the far end. The rooms faced each other, an architectural design Obinna had not seen before.
Ahanna pulled the curtain, a loose faded white fabric, and asked him to come in. 'Nwanne, welcome,' he said.
He looked round the room. A small naked mattress was at the corner of the wall on top a carpet so threadbare he couldn't tell what colour it had been.
Ahanna pulled a plastic chair for him. 'Sit!'
He took the seat, his eyes still exploring the room. As if there was anything to explore. He was sure the Akira TV on the table no longer worked, owing to the thick dust film that lay on it.
Ahanna picked a small radio from the table and turned it on. A female voice was reading the news. The current governor just held his second-term campaign in one of the major markets and people were trampled as they hustled to get the rice and salt he brought.
Ahanna pitched a long hiss. He grabbed the radio and turned it off. 'Nonsense!'
Obinna stared at him.
'These thieves only remember the masses when it's time for election.'
Obinna inhaled deeply. He was used to that phrase, people calling politicians thieves. But he thought thieves were everywhere, that everyone was capable of stealing. That nobody's stealing was better. He didn't want to keep quiet. But he was tired.
When his father was alive, Asika, his father's friend, always aggressively protested the governance of the then local government chairman. He spoke bitterly of how he squandered the money meant for the community water project.
But when his father gave him fifty thousand naira to help him procure cheap corrugated iron from the market in Onitsha where he owned a shop, Asika returned after many months, saying the building materials dealers have stopped selling at that rate.
But he didn't return his father's money.
'Change into something else so you can go and have your bath,' Ahanna said to him.
'Ok.' He stood up. He removed his shirt and pulled down his trousers.
Ahanna gave him a towel and a bar of Premier Soap.
'Can I go out like this?' he asked, gesturing around his boxer shorts.
'Sure.'
'Ok.'
'We'll get water outside. Let's go.'
'Wait, can I get some tissue?'
Ahanna turned to him. 'Tissue? You wan go toilet?'
'Yes. That stew we ate at that stop is making my belly turn.'
Ahanna gave him a look, scratching his head.
He didn't understand. 'If there is no tissue, give me newspaper na,' he said.
'That's not the case.'
'What then?'
'You can't go to toilet now.'
'Ah ah, why?'
Ahanna dropped one hand on his shoulder. 'You see, my brother, we no dey shit for day time for this place.'
Obinna found this hard to grasp. Ahanna continued before he could put a question through. 'You see, since last month our soak-away spoil, na short cut we dey do.'
He did not know what short cut is.
He did not bother to ask either.