by Daniel Nkado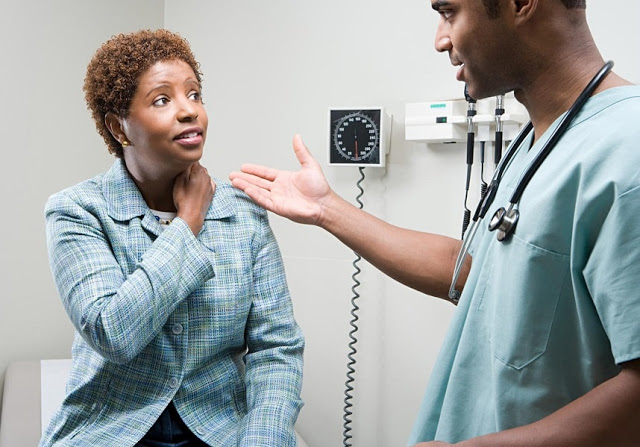 I saw it first yesterday, in the morning.
It had rained all night.
The power was out yet sleep was awesome. Very awesome.
But in the morning that followed came a great sadness.

I stood in front of the huge round mirror in my bedroom, naked and crying as I recalled how only about a decade ago my mother slipped out of these shoes that I am now in.
Her pain and her tears—they came live in me all over again.
I pressed at the lump one more time and it ran round my fingers. There was yet another prick of pain.
My nipple was stiff and tingly, but unlike in my mother's case, there was no discharge.
None yet.
That would come later, I know. Maybe in the evening of this same day, or maybe the next day.
Whenever it deemed right, it would start.
And the tall, slim doctor at the Teaching Hospital would do to me what he'd done to my mother twelve years ago.
He would cut off my breasts and smile each time he prescribed yet another pill for me.
He is a cute liar, I know. He never told the truth.
'You will be okay,' he said to my mother.
'It won't spread.'
'You will be fine now.'
Lies!
All lies!
He never told my mother, or any of those women in the unit he'd butchered, what truly lay ahead.
He stuffed them with hope instead.
False hope.
And even dared to smile while at it!
***
The door opens now and he walks in, the saw doctor.
I remember him well.
Very well.
His big nose.
Square shoulders.
The smooth brown colour of his skin.
Liar.
I warned my mother about him. I did.
'He is a liar,' I'd told my mother. 'Avoid him.'
'Don't let him touch you!'
'Don't show him your breasts!'
'Don't!'
'In this country we don't have as many good breast doctors as we have excellent breast-suckers!'
'Suck them, they can. And readily would! But treat a simple tumour, they flop!'
'How do you feel now?' he asks me again.
Again, I say nothing to him.
He comes closer. 'Is everything okay?' he asks.
Liar.
'Doctor, I don't want my breasts cut,' I tell him, finally. 'Just give me something that will kill me.'
There should be an injection that delivers death in a painless package, after all.
He is a doctor, he should know of it.
I look at him again; he is smiling now. That his lying, deceiving smile.
I hate it.
I hate him.
'Did you hear what I said?' I ask him.
'No,' he says—lies. 'Tell me again.'
'I said I don't want my breasts cut! Just inject me with a poisonous substance. Or give me a pill, whichever will be faster.'
'And why should I do that?' he asks.
I say not a word.
'Let me look at your breasts again,' he says, carrying one of the round organs over even before his words are fully out.
I allow him.
What's there to hide again about ailing, tumoral breasts!
He might as well bend down and suck at the nipple too, perhaps suck in some cancer water into his mouth, I do not care!
I no longer do!
'When did you notice this lump?' he asks.
'Yesterday morning, why?'
'And you said it is painful?'
'Yes.'
'Are you presently in your period?' He is examining the other breast now.
His touch is delicate, nearly sensual. As if attracted to the breasts.
'You've asked me all these questions before na!' I say.
'Yes.' He cast a soft glance now.
I would have told you he is one cute dark-skinned fellow, but now is not the time.
'Well, the mammogram shows the lump is non-cancerous. Usually lumps like this that are mobile and painful are benign. It's probably a cyst.'
'A cyst?' I ask.
'Yes.'
'What kind of cancer is that one?'
'A cyst is not a cancer! This woman, what is your problem?' He lets go of the breast, gently, as if with respect.
'But my mother had a lump like this before her breast was cut,' I tell him.
'Still does not mean you will get breast cancer too. And even if this had been cancer, you are quite in luck because you noticed it on time.'
'Are you saying this is not breast cancer?'
'No.'
'You are not going to cut my breast?'
'No, why should I do that?'
'Doctor?'
His brows go up slightly. 'What?'
'Suck my nipples, please!'
***
For my most awesome Aunty, Mmeri.


Daniel Nkado is a Nigerian writer and the founder of DNBStories.com.


Get his books on DNB Store, OkadaBooks or BamBooks!