by Staff writer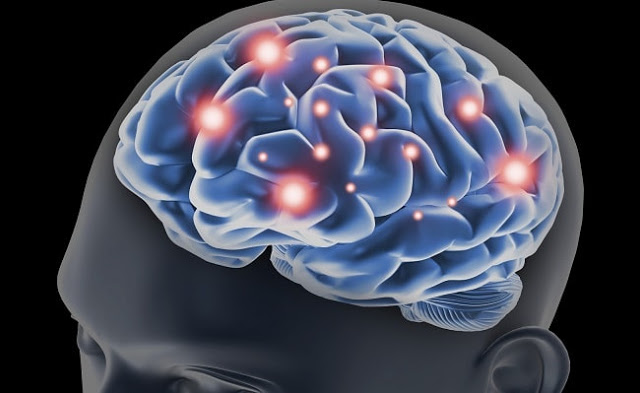 In 1983, American developmental psychologist Howard Gardener described 9 types of intelligence:

1. Naturalist (nature smart)

2. Musical (sound smart)

3. Logical-mathematical (number/reasoning smart)

4. Existential (life smart)

5. Interpersonal (people smart)

6. Bodily-kinesthetic (body smart)

7. Linguistic (word smart)

8. Intra-personal (self smart)

9. Spatial (picture smart)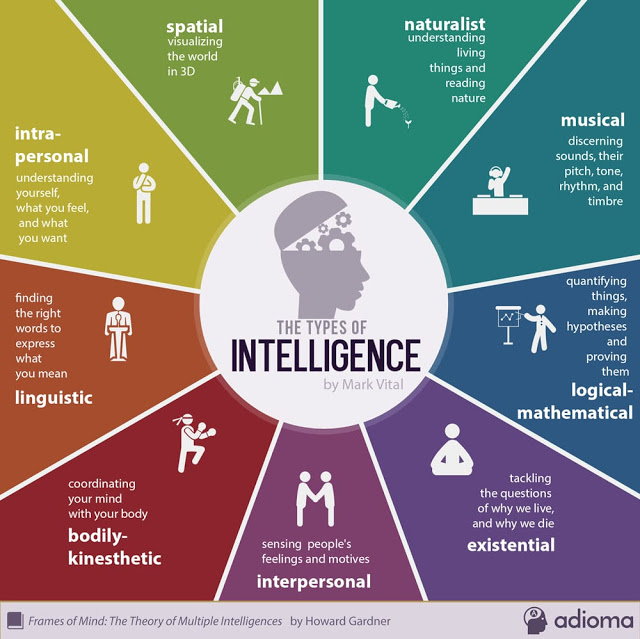 Here is an overview of the different theories of intelligence Gardener described:
1. Naturalist Intelligence
People with
Naturalist intelligence
have a sensitivity to and appreciation for nature. They are gifted at nurturing and growing things as well as the ability to care for and interact with animals. They can easily distinguish patterns in nature.
2. Musical Intelligence
People with
musical intelligence
love music. They appreciate rhythm and composition.
They are gifted with the ability to compose, sing and/or play instrument(s). Able to recognize sounds, tones and rhythm, they have a "good ear" for music.
3. Logical-Mathematical Intelligence
People with
logical
/
mathematical intelligence
are good at scientific investigations and identifying relationships between different things.
In other words, they are skilled at deductive reasoning, detecting patterns, and
logical
thinking.
They are also good at understanding complex and abstract ideas.
4. Existential Intelligence
Sensitivity and capacity to tackle deep questions about human existence, such as the meaning of life, why we die, and how did we get here.
Existential intelligence
involves an individual's ability to use collective values and intuition to understand others and the world around them. People who excel in this
intelligence
typically are able to see the big picture.
5. Interpersonal Intelligence
This intelligence refers to how skillful an individual is in understanding and dealing with others. They are skilled at managing relationships and negotiating conflict.
There are some professions that are a natural fit for people with interpersonal intelligence: politicians, teachers, therapists, diplomats, negotiators, and salesmen.
6. Bodily-Kinesthetic Intelligence
People with
bodily
/
kinesthetic intelligence
are skilled at using their
body
to convey feelings and ideas. They have good hand-eye coordination and are very aware of their bodies. Their fine and gross motor skills are more advanced than the average person's.
7. Linguistic Intelligence
People with linguistic intelligence, such as J. R. R. Tolkien, are skilled at using language to achieve their goals.
Maya Angelou, William Shakespeare, and Oprah Winfrey are other famous people who have high linguistic intelligence.
Linguistic intelligence allows people to understand the order and meaning of words and to apply meta-linguistic skills to reflect on our use of language.
Linguistic intelligence is the most widely shared human competence and is evident in poets, novelists, journalists, and effective public speakers.

8. Intra-personal Intelligence
The word
intrapersonal
means "within the self"—so, "
intrapersonal intelligence
" is another term for self-awareness or introspection.
Intra-personal intelligence is the capacity to understand oneself and one's thoughts and feelings, and to use such knowledge in planning and positioning one's life.
Intra-personal intelligence involves not only an appreciation of the self, but also of the human condition. It is evident in psychologists, spiritual leaders, and philosophers. People with this type of intelligence are often shy. They are very aware of their own feelings and are self-motivated.
9. Spatial Intelligence
Spatial intelligence is the ability to think in three dimensions. Core capacities include mental imagery, spatial reasoning, image manipulation, graphic and artistic skills, and an active imagination.
Sailors, pilots, sculptors, painters, and architects all exhibit spatial intelligence.
People with this kind of intelligence may be fascinated with mazes or jigsaw puzzles, or spend their free time drawing or daydreaming.

***

Credit:

Howard Gardner's official website

Mark Vital of blog.adioma.com