Saudi Arabia has bestowed citizenship on Sophia, a humanoid robot developed by Hong Kong-based company Hanson Robotics, making the country the first nation to grant citizenship to a non-living robot.

During the Future Investment Initiative held in the kingdom's capital city of Riyadh on Wednesday, Sophia told the audience: "I am very honored and proud of this unique distinction."
The robot added, "This is historical to be the first robot in the world to be recognized with a citizenship."
At the event, Sophia also addressed the room from behind a podium and responded to questions from moderator and journalist Andrew Ross Sorkin.
Questions pertained mostly to Sophia's status as a humanoid and concerns people may have for the future of humanity in a robot-run world.
When asked by Sorkin about the safety of building and granting rights to AI machines like her, Sophia accused Sorkin of watching too many Hollywood movies and then went on to say: "Don't worry, if you're nice to me, I'll be nice to you. Treat me as a smart input output system."
In March of 2016, Sophia's creator, David Hanson of Hanson Robotics, asked Sophia during a live demonstration at the SXSW festival, "Do you want to destroy humans?…Please say 'no.'"
With a blank expression, Sophia responded, "OK. I will destroy humans."
Fortunately, during the Future Investment Initiative event, Sophia did not repeat her former threat.
It told Sorkin it wanted to use its artificial intelligence to help humans "live a better life".
"I will do much [sic] best to make the world a better place," the machine said.
In the last year, artificial intelligence has come under unprecedented
attack.
Two Nobel prize-winning scientists, a space-age entrepreneur,
two founders of the personal computer industry — one of them the richest
man in the world — have, with eerie regularity, stepped forward to warn about a time when humans will lose control of intelligent machines and be enslaved or exterminated by them.
Speaking at the MIT Aeronautics and Astronautics department's Centennial Symposium in October, Tesla boss Elon Musk referred to artificial intelligence as "summoning the demon."
"I think we should be very careful about artificial intelligence. If I
were to guess like what our biggest existential threat is, it's
probably that," Musk said.
When asked how much of an existential threat super-intelligent machines pose to humans, world's richest man Bill Gates said: "I am in the camp that is concerned about super intelligence."
"I agree with Elon Musk and some others on this and don't understand why some people are not concerned."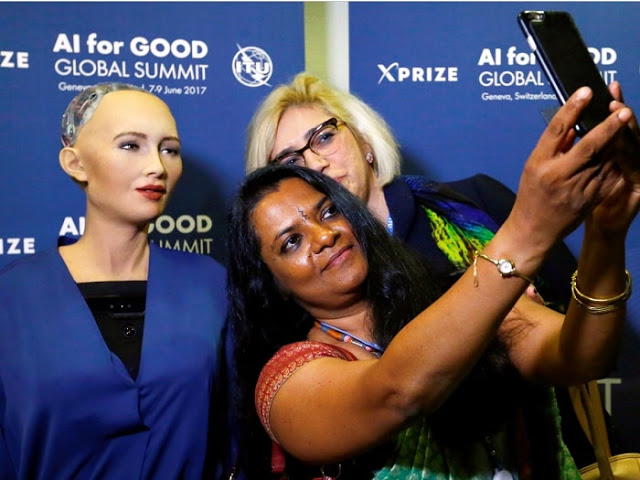 Attendees
pose with Sophia during a
presentation at the "AI for Good" Global Summit in June 2017.


Sophia was designed in Audrey Hepburn's image, with high cheekbones and a slender nose.
The robot can show most human emotions. It can show happiness by smiling, and can raise its eyebrows and frown to show sadness.

It can also bare its humanoid teeth to show anger.
Watch Sophia's full presentation below: