by Daniel Kakuru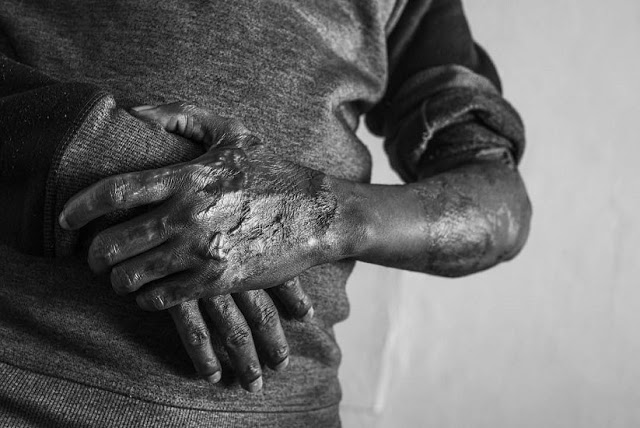 We had barely settled down for supper when the door flew open and hurled itself against the wall, scrapping off tonnes of dust, some of which found its way into my eyes.
The hinges snapped and broke, and the door crashed to the ground with a loud bang.

Mama leapt to her feet in fright, muffled screams escaping from her mouth which was still stuffed up with posho.
She held her palms over her mouth and—phhtthhoop!—she spat out all her half-chewed food.
I rose after her and scampered to the corner where she was standing. I pulled at the hem of her floral skirt. That was the skirt she always wore to all parties in the village, the same skirt she wore to funerals, the same skirt she wore to church every Sunday.
Oliva, my elder sister, did not appear shaken at the least. She remained still on the floor, seated with her legs crossed, her karahuri plate stable on her lap.
With a smirk playing at the corners of her lips, she picked up another lump of posho and swallowed it, unchewed.
Mama dropped the semi-solid particle she had just spat out and it fell to the floor with a thud. She swiftly rubbed her hands together, as though she were trying to dry them.
The night outside was dark and stony silent, like the inside of a coffin. Mama kept her eyes staring outside without blinking. Her mouth was wide open, her eyelids narrowed, as if there was something visible she was trying to fish out of the darkness.
A vague figure staggered from the darkness and stood in the doorway now, without making a sound.
It was a human being.
"Ab'omwangye mwasiiba muta?" the intruder breathed out.
It was Tata, my father. His voice, gruff and rough, especially when drunk, couldn't be mistaken for anyone else's.
The stench of waragi clinging onto his breath floated across the narrow room, clogging my nostrils. There was also a peculiar stench exuding from his trousers. Urine. Faeces. Waragi. All mixed together to form one nauseating odour.
Mama sighed in relief, and so did I. Because it was not a gang of robbers breaking into the house at a time when we thought the night was still young.
Tata planted his foot inside the house, but fell like a sack of vegetables when he tried to drag his other foot inside.
Mama remained glued to her spot in the corner, her arms akimbo. Through her eyes which were blinking a little faster to force back her tears, I could read her mind.
She had had enough of this foolery. She had grown tired of carrying a fully grown-up man of eighty kilograms to bed after he had drunk himself foolish. She had grown weary from washing the trousers he soaked with urine – and sometimes faeces – whenever he had had too much to drink.
Tata crawled like an infant on the floor and collected himself together at the place Oliva had just risen from. There, he spent his night and woke up in the morning to fix the door he had broken.
The following night, we were saying our night prayers when he came back home. We were kneeling on the floor, our eyes closed, our hands clasped together, and huge rosaries clutched in our hands when he banged the freshly reinstalled door so hard that our hearts stopped beating and leapt to our throats as we watched the space through our open mouths.
Mama was leading the Hail Mary. Oliva and I were repeating after her, our voices floating sluggishly along in unison.
We did not respond after she had recited her opening part of the Hail Mary. We just peered at each other through the apertures we created momentarily between our eyelids and held our rosaries with firmer grips.
The second bang came hard against the door, shaking its foundation which was still raw with mud.
The third bang dragged mama to her feet and her face contorted into a snarl. She unbolted the door and hid herself behind it as it creaked open.
Tata faltered in, planting one heavy foot after another, as though he were sober. His eyes darted around the room and rested on the huge rosaries in our hands.
"Are you having those bogus chains for supper?" he asked, not sure he wanted an answer. "I want food."
"Tata, we didn't have any supper today," Oliva told him as he adjusted himself onto his stool where he always had his meals.
"You didn't have any supper today?"
"No, we didn't."
"Where's your stupid mother?"
Oliva hesitated. She did not want to respond. Our eyes kissed by fluke, and just as her lips had started to let out an answer, Mama emerged from behind the door and stood right there before Tata.
"She is here, their stupid mother. Nonyenda?" she said, unable to subdue the bitterness in her voice.
"Go to your beds, Oliva and Rubura!" Tata barked at us as he rose to shut the door.
We walked to our beds, leaving our parents exchanging bitter words. I bolted my bedroom door immediately after I had heard Oliva bolt hers.
"Why didn't my children have supper today?" I heard him ask Mama when my blanket was already pulled over my head.
"Should I have cooked my flesh?" Mama snapped back.
"Didn't I give you money to buy a kilogram of posho? Didn't I? Tell me you gave it to your other husbands!"
"You gave me that money yesterday morning! Did you think a kilogram of posho would last a week in a house where children eat like their bewitched father?"
I listened to them hurling bitter words at each other. I heard Tata's voice rise occasionally with the anger of a drunken man and fall following an equally angry response from Mama which always doused the flames of his anger.
I could hear Oliva tossing and turning and coughing in her bedroom, until the anger in our parents' voices gradually receded and they began talking the way they usually did when Tata was sober, until the door to their bedroom opened, and they went in, and the night fell silent.
I was awakened in the middle of the night by a cry that pierced through the grand silence, and scooped me from my bed, and left me on the floor sweating through every pore.
I pinched my skin, furiously, to ascertain that I was alive, and that my heart had not pumped its way out of my chest.
I heard the cry again. It was sharp and close, undoubtedly coming from Oliva's room.
It was the same cry that a goat makes after its head has been tilted backwards, and a ruthless butcher has punctured the skin of its neck with a sharp knife, and the poor goat is inhaling its own blood mixed with dusty air.
I heard scores of kicks and punches and desperate gasps for air – the ones of a departing soul – and I did not need a soothsayer to tell me Oliva was wrestling against a human being, someone evidently mightier than her.
I mustered enough courage to rise to my feet. I unbolted my door and peeked into the corridor.
It was dark, and there was no sign of life, except the scuffle that was getting more violent in Oliva's room.
Cupboards were crashing against the floor, flower vases were breaking into a million pieces.
My legs carried me to my parents' room within a split second. It was dark, and the air inside was still. There was something about this stillness that made me hesitant, but because the door was wide open like the grave of Jesus Christ, I shot myself inside.
"Tata! Tata!" I called out to my father, feeling their bed for him with the back of my hand.
I wanted to shake him awake because only he could have a viable answer at this time. "Tata! Tata!" I kept calling, even though I couldn't feel him on that wide double bed.
My bare feet stumbled upon something and I subtly scanned the floor with my eyes, struggling to adjust to the darkness.
I dropped to my knees, touched and felt what was on the floor, just in case my eyes were lying to me.
It was Mama: she was lying on her side, facing toward the bed.
"Mam'a! Maa-mam!" I gasped, but my words only came out in stammers, choking me momentarily and then spilling out in small fragments.
I shook her. She never turned. I shook, and shook her again. Then I rolled her over so that she could face me.
Mama rolled onto her back, but her head did not move with the rest of her body.
Her face remained facing the bed, her head detached from her lifeless body. Just then, iron hands grabbed me by the scruff of the neck.
I craned my head upwards to have an eyeful of who they belonged to.
It was Tata. His panga, dripping with fresh human blood, was already high in the air, and would come down before I drew a breath.
***
Daniel Kakuru is a Ugandan medical student, passionate about poetry and socio-political commentary.
He considers himself a gifted underachiever and describes himself as nothing but a Mug of Porridge.
He, in his writings, explores social injustice, failed relationships, poverty and religion.
He writes under a Facebook hashtag #MugOfPorridge and blogs at danielkakuru.wordpress.com