by Staff writer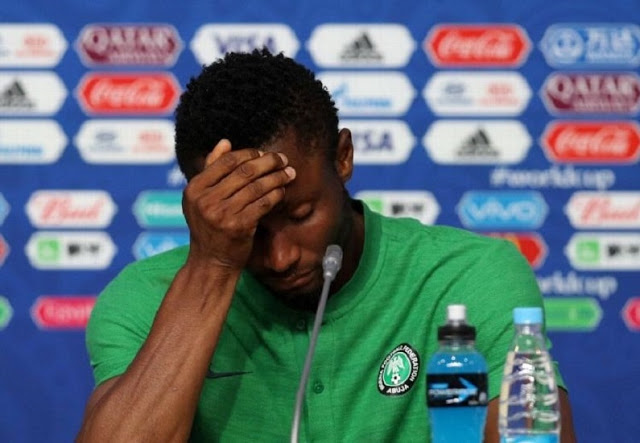 Nigeria captain John Obi Mikel faced Argentina on June 26 knowing that his father was being held for ransom, but did not tell anyone about it as the kidnappers threatened to shoot "instantly" if authorities were informed.
Mikel told KweséESPN that he received a call from the kidnappers four hours before kickoff in the decisive World Cup clash in St. Petersburg, and they demanded N10 million ($28,000 U.S.) for the safe return of his father, Pa Michael Obi.

The elder Obi was on his way to a funeral in southeastern Nigeria from Jos when he was abducted along the Makurdi-Enugu expressway on June 26. He and his driver were rescued after a "gun duel" on Monday in Egede, near the city of Udi in Enugu State, Nigeria Police confirmed Tuesday.
The news was announced by the Enugu State Police Command via its official Twitter account, and only then did Mikel speak publicly about the incident.
Mikel's father was then taken to hospital for treatment, with family sources telling KweséESPN that Obi had been tortured and required multiple stitches. He returned to hospital on Tuesday after some of the sutures broke, and Mikel is considering flying his father abroad for further treatment.
Mikel, speaking to KweséESPN after the rescue, said that he did not tell his bosses at the Nigeria Football Federation, nor did he tell coach Gernot Rohr, opting instead to keep it to himself and face Lionel Messi's team as if nothing were amiss.
"I was confused. I did not know what to do, but in the end I knew that I could not let 180 million Nigerians down," Mikel said.
"I had to shut it out of my head and go and represent my country first. I was told that they would shoot my dad instantly if I reported to the authorities or told anybody.
"And I did not want to discuss it with the coach because I did not want my issue to become a distraction to the coach or the rest of the team on the day of such an important game. So as much as I wanted to discuss it with the coach, I could not do it."
Nigeria lost that game 2-1 to Argentina and were eliminated from the World Cup. The midfielder flew home to England almost immediately to deal with the situation, and is scheduled to return to China, where he plays his club football, later Tuesday.
Enugu State Police Command spokesperson Ebere Amaraizu said in a statement on Tuesday: "The abductors started calling to demand a ransom of N10 million before police operatives acted on intelligence information and swooped on them.
"In the process of the rescue, a gun duel ensued between police operatives and the kidnappers which forced the hoodlums to abandon their victims inside the forest and they were promptly rescued."
This was the second time that Mikel's father had been kidnapped. The first incident was in 2011; he was released 10 days after being abducted.
Security will be enhanced around the player's family in Nigeria, Mikel's adviser said.