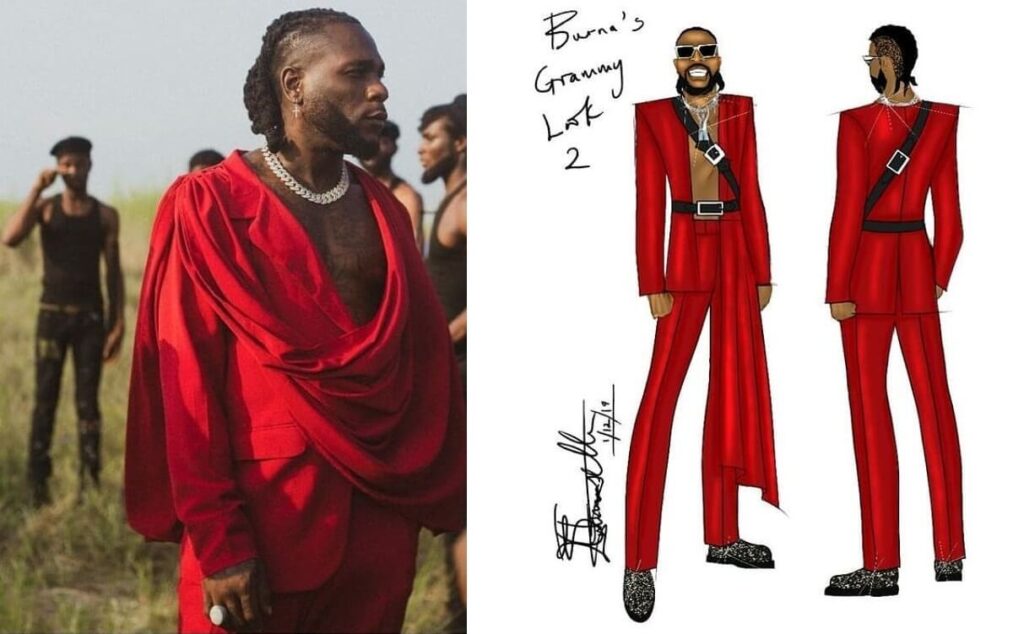 Nigerian fashion illustrator Omonigho Aito-Imonah has accused Grammy-nominated Nigerian singer Burna Boy of stealing her creation.
Omonigho accused Burna Boy's team of taking her creative design and using it in his music video without giving her credit for it.
Omonigho Imonah narrated how she reached out to Burna Boy's mother last year and sent her three looks she created for Burna Boy to wear to the Grammys that year.
Omonigho also proposed the stylists she intended to work with to actualize the designs. The creative artist said Burna Boy's mother, Bose Ogulu directed her to his sister Ronami Ogulu, who is a stylist.
Omonigho said she reached out to Ronami but she never responded to her messages so she forgot entirely about the project.
Omonigho said she was surprised to later see one of the designs she sent in one of Burna's music videos. Omonigho also shared screenshot evidence to back her claims.
Her Instagram post reads:
"Congratulations to @burnaboygram on his Grammy nomination!!… Hopefully, he'll win it this time…however, when an artist is not acknowledged for their work and it goes ahead to being used….it's in poor taste, I presume… Almost a year ago, I came up with 3 grammy looks for @burnaboygram and reached out to his mum @thenamix / management (see emails) to put them together for him. She graciously responded and directed me to his stylist sister @ronamiogulu , who NEVER responded to my many emails…fast forward to this year, your girl sees THE SAME LOOK, by the recommended designer @jzo_ng including the necklace! on @burnaboy for his Monsters you made video!!…giirlllll @ronamiogulu you no try o…but well…."