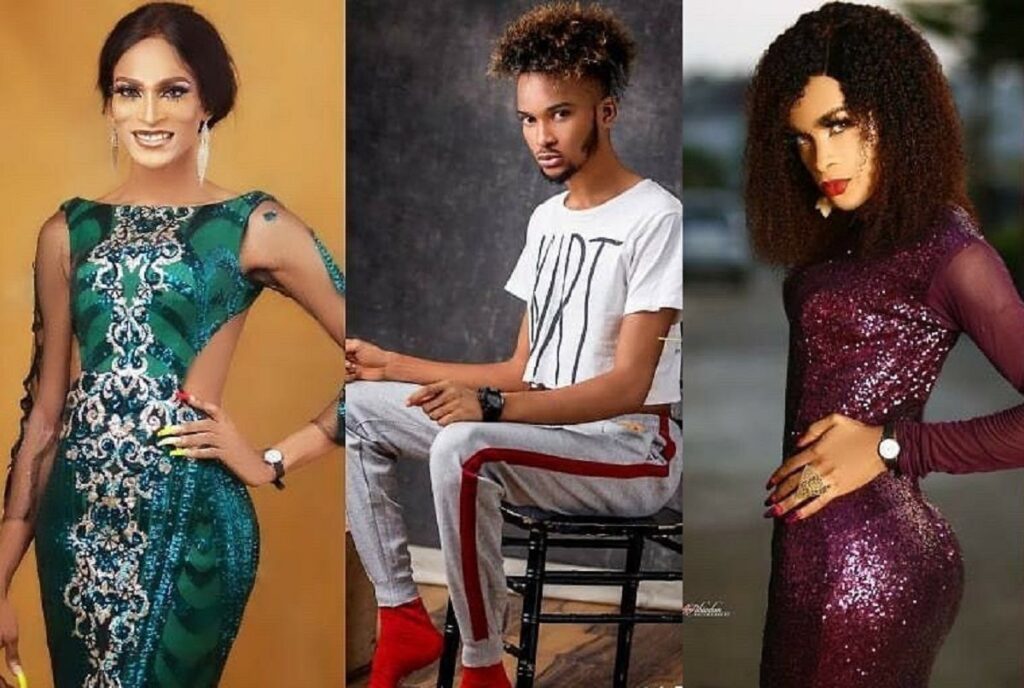 Nigerian transgender Buchi Alexandra (aka Deevah) and popular Nigerian cross-dresser and social media personality Bobrisky have been at loggerheads with each other since Sunday, March 21.
It started after Buchi Alexandra called Bobrisky out in a social media post, accusing him of being "the architect of all of the problems the Nigerian trans community have" and telling him to "receive sense".
Alexandra also called out another crossdresser, James Brown aka African Princess in her post.
She wrote on her Instagram page:
"Hello everyone, my name is Deeevah and I am a transgender here in Nigeria. We actually exist..and yes, I am a transgender and not a crossdresser and I can only blame one person for that Misconconception which is Idris. Yes, Bobrisky I am calling out to you because you are the architect of all of the problems we have here in Nigeria, the trans community.
"There is one that calls himself the princess of Africa, throwing tantrums and shouting all over the place. You are a brand, do your thing but don't come and start making all of us look bad or they start looking at us like retards or almost as though our gender identity comes first or that we cannot do anything valuable with our lives asides our sexuality or gender identity. Please receive sense Idris".
Following the call-out, Bobrisky responded by calling Buchi Alexandra a "shemale pig" and sharing old messages she sent him in the past begging for help. Bobrisky then assured all his rival crossdressers and transgenders that none of them will get noticed till he retires.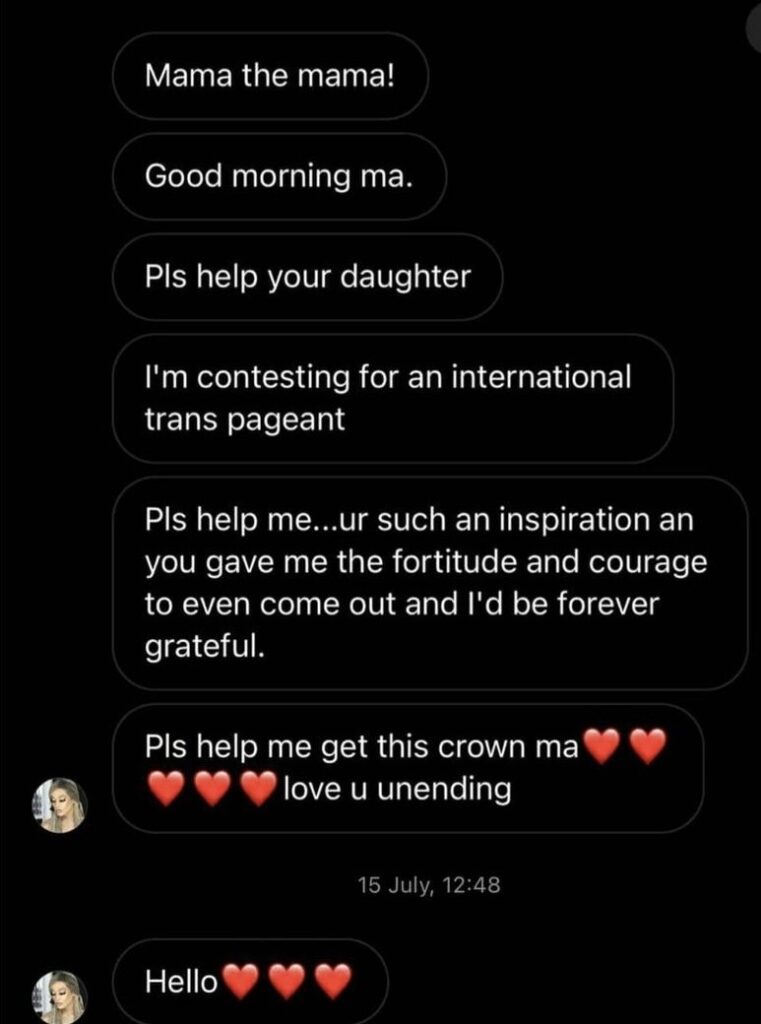 Bobrisky wrote:
"Hey baby !!!!! I noticed you have been in my DM begging me to get noticed but sad I guess have got too much messages and too busy to read dm. Going around to clout chase with my name to get noticed is bad thou… you should have waited till d day I will noticed you maybe then I can help u and make you a multimillionaire instead of a clout chasing like a shemale pig. Well, I bob still remain everyone MUMMY. I repeat non of you will get noticed till I retire bye bitch My last response on dis."
Here are 5 interesting details about Nigerian transgender Buchi Alexandra:
1. Buchi Alexandra is an actual transgender
Unlike Bobrisky who seems unsure of his true identity and has never openly addressed himself as a "transgender" and has been at his family occasions dressed as a man, Buchi Alexandra is a true Nigerian transgender. Buchi Alexandra was born male and transitioned to a female about four years ago.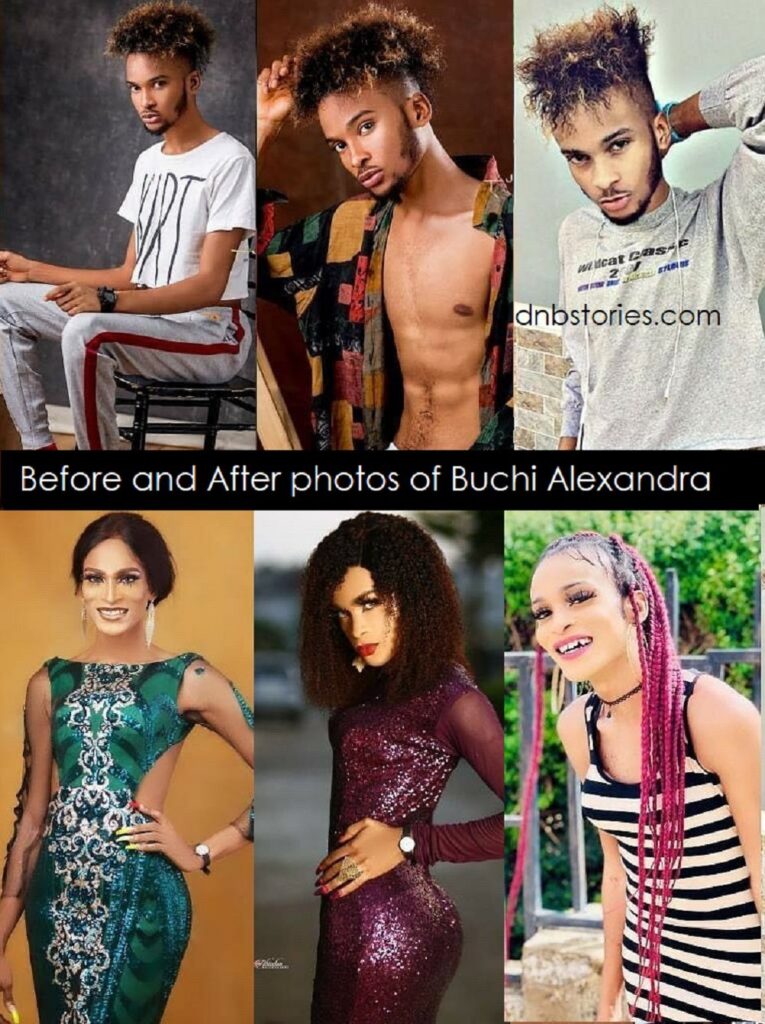 2. Buchi Alexandra's nickname is Deevah
After transitioning to a woman, Buchi Alexandra picked the name "Deevah" for herself. She has since been known by the name by her close friends and supporters.
3. Buchi Alexandra is from the south-eastern part of Nigeria
Buchi Alexandra is from the Igbo tribe of Nigeria.
4. Buchi Alexandra is active on Instagram
Buchi Alexandra's Instagram handle is @dee_vaaah. She appears not to be active on Twitter.
5. Buchi Alexandra is a transgender activist and model
Buchi Alexandra is a transgender activist and fashion model who has represented Nigerian in various transgender pageant competitions.