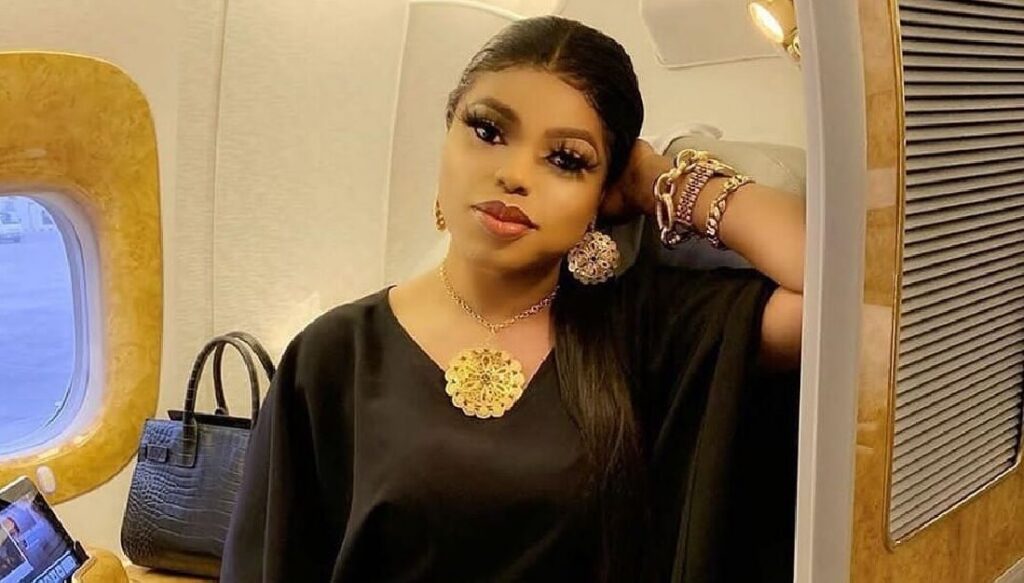 Very few people have mastered the art of monetizing controversy as Bobrisky does. A major part of Bobrisky's business is stirring up internet controversies (most times using herself) and then turning around to profit from it.
Born Okuneye Idris Olanrewaju, Bobrisky courted controversy and gained public attention early on by dressing up as the opposite sex in her Snapchat videos. Bobrisky's crossdressing videos in those days were so heavily viewed that she was dubbed the "Snapchat king" of Nigeria. As Snapchat popularity dwindled, Bobrisky moved to Instagram and quickly established there, commanding nearly 3 million followers as at now and counting.  
Most people still aren't sure what pronoun to use when referring to Bobrisky – Bobrisky has admitted once that she is a transgender but in another interview she denied this, saying she is only just a crossdresser. Bobrisky also denied being neither gay nor bisexual. For the sake of fairness, Bobrisky will be addressed interchangeably as both "he" and "she" throughout this article.
Bobrisky cars and houses
As one of the most controversial Nigerians, Bobrisky's fame has brought him a sizable fortune. The social media personality frequently flaunts her riches on Instagram. Bobrisky claims to own a fleet of cars which includes a 2019 Range Rover, Mercedes Benz AMG and a Bentley. The 28-year-old Instagram celebrity also shares pictures and videos of his mansion in Lekki, one of the choicest places to live in Lagos. Bobrisky also attributes a portfolio of other investments to his name.
How does Bobrisky make her money?
This is one of the most asked questions about Bobrisky. Bobrisky's penchant for acquiring wealth can be traced back to her university days. Bobrisky attended the University of Lagos where she studied Accounting. She worked as a dance choreographer while in school and would often leave school to dance at parties and events.
Growing up, Bobrisky's family nicknamed him 'Bobo', identifying back then as a male while experimenting with cross-dressing behind closed doors. She was challenged by an unnamed person to carry out a risky dare that involved her wearing feminine clothes on the streets of Lagos. Bobrisky carried out the dare and ended up in jail by the end of the day. And that's probably how Bobrisky was born. What started as a dare one fateful day has now become a way of life for the socialite.
Bobrisky's sources of income
Lots of people have often wondered how Bobrisky makes her money. Her followers on Instagram and Snapchat will testify to the luxurious lifestyle she lives. From trips to either Dubai or the United States to flaunting shopping bags from luxury brands, it's hard to claim the glamour Bobrisky displays on her social media is all fake. 
Everyone is well aware that millions of followers on social media does not translate to money in the bank. How then has the Snapchat sensation made her money?
1. Bobrisky's cosmetic brand of skin-lightening products 
Bobrisky's main source of income is her personal brand of skin lightening products she sells on social media. Her cosmetic products include body scrubs, knuckle creams and shower gels that cost as much as one hundred thousand naira per package, and she boldly claims she makes as much as two million naira in a week. Do the maths on that.
2. Brand promotion
With over a million fans on Instagram, Bobrisky is regularly approached by brands and musicians seeking exposure. The internet celebrity charges hundreds of thousands of naira to promote brands and artists on social media.
3. Commercials and endorsements
Bobrisky has appeared on several paid commercials for brands and companies. She has also worked with a number of businesses as a brand ambassador.
Bobrisky's sugar daddy or bae
Bobrisky has often boasted on Instagram of having 'friends' in the highest echelon of the Nigerian government. Of particular note is the individual Bobrisky calls bae who she has disclosed showers her with money and gifts and comfort.
On 30 July 2020, Bobrisky revealed the name and pictures of his bae to be one Sir Henry Ike, a real estate investor, author and music CEO, based in New York City.
Bobrisky's controversy with Olusegun Runsewe, DG of NCAC
One of Bobrisky's recent controversies is the disruption of her 28th birthday party by the Lagos State Police Force.
In the days leading up to her birthday party on August 31, the Internet star engaged in a heated exchange of words with Olusegun Runsewe, the Director-General of the National Council of Arts and Culture who threatened the social media personality saying, "If he is caught on the streets of this country, he will be dealt with ruthlessly." 
Bobrisky sensationally retorted, "I roll with his bosses in government".
Bobrisky's updated net worth (2020)
Bobrisky's net worth can only be estimated at this time until a certified report of her earnings becomes public. An estimate of Bobrisky's current net worth based on calculated earnings from her income sources puts it at around $1.6 million or over N600 million naira.