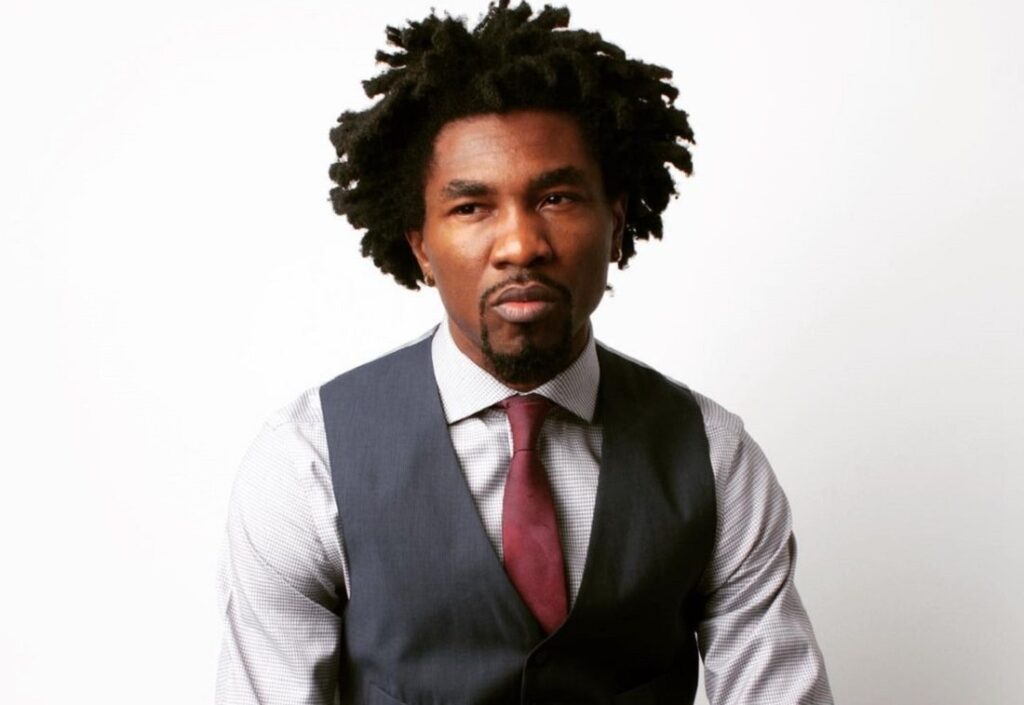 Who is BBNaija Boma?
Boma is one of the housemates of the 2021 BBNaija season 6 edition tagged 'Shine Ya Eyes'. He got into the show on Saturday, July 24, 2021.
BBNaija Boma's full name is Boma Akpore. He is an actor, and has featured in several movies and TV series, including the popular Hollywood crime thriller series, "The Blacklist" where he played a Nigerian gunman.
During his entry into the show, Boma described himself as 'sexy, intelligent, strong, adventurous, and fit.'
Full data profile of BBNaija Boma
| | |
| --- | --- |
| Full name | Boma Martins Akpore |
| Age | 34 years old |
| Gender | Male |
| Birthday | January 23, 1987 |
| State of Origin | Delta State |
| Parents | Unknown |
| Height | 6"6 inches |
| Marital Status | Divorced |
| Tribe | Igbo |
| Career | Actor, Model, Mixologist, Producer |
Boma's childhood and education
BBNaija Boma was born on January 23, 1987. He is currently 34 years old. Boma is a native of Delta State, but he was born and raised in Lagos, Nigeria. He is also the only child of his parents.
Boma has described his childhood as 'extremely tough' because he was forced to handle so many responsibilities with little financial backup. He was raised by a single mom along with his grandmother.
BBN Boma attended his primary and secondary education in Lagos State. In 2009, Boma gained admission to the University of Lagos (UNILAG) to study Applied Science, but he dropped out in his final year due to financial constraints.
Boma mentioned that dropping out of school was the toughest decision he had to make in his life at that point.
He was finally able to relocate to New York, United States, where he bagged a Diploma in acting from the New York Film Academy.
BBNaija Boma's career
Boma has engaged in a couple of jobs before his audition into the show. His major career path, however, is acting. He has featured in a number of Hollywood movies before joining Big Brother, some as an actor and others as a stunt performer.
Boma was a stunt performer in the TV series – "See You Yesterday", "First Wives Club" and "The Glow Up".
List of BBNaija Boma movies/TV series includes:
See You Yesterday
Protector of the Gods
First Wives Club
Lit
The Blacklist
Brooklyn Coven
The Glow Up
BBNaija Boma has also been seen on set in a few Nollywood movies. He revealed that he used to work side jobs as a bartender at night, and a masseuse during the day.
Boma is also a model. He participated in the Nigeria Fashion Week Show in 2004, and he was reportedly the youngest model to grace the runway at that time.
BBNaija Boma has also modelled for top brands and designers, including Emma Collins, Adedakare Couture, JD 7, among others.
In addition, BBN Boma has worked with top advertising companies in Nigeria and abroad, including the popular TBWA Worldwide – an international advertising agency headquartered in Midtown Manhattan, New York.
Boma also mentioned that he used to be a footballer. His football career, however, ended abruptly due to a fracture he had in his legs during training. He also calls himself a mixologist – a person who is skilled at mixing cocktails and other drinks at bars and clubs.
Boma's list of achievements has made lovers of the BBNaija show accuse the organisers of bias. They feel Boma is already made, and should not have been picked as a contestant.
Boma's relationship and marriage
BBNaija Boma is currently divorced. He was once married, but the marriage failed which resulted in bouts of depression for him. He also mentioned that 2017 was a turnaround year for him.
It is not clear yet whether the housemate is willing to try on new relationships while in the BBNaija house.
Boma's net worth
Based on calculated earnings from Boma's income and gigs, his net worth is currently estimated at $100,000 dollars (about N50 million naira).
Boma on social media
Boma is active on social media. His Instagram account is @bomaakpore. His Twitter handle is @_BomaAkpore_.
BBNaija Boma Instagram verification
BBNaija Boma has emerged as the first housemate of his season to be verified on Instagram. It is not sure whether he was verified before or on the show, but when his name was searched for on Instagram, it already had the verified tick.