Who is Clarion Chukwura?
Clarion Chukwura is a Nigerian actress, businesswoman and humanitarian. She is also popular for being the mother of Nigerian music video director, Clarence Peters.
Clarion Chukwura's full name is Nneka Oluwatoyin Folashade Chukwura. She was born on the 24th of July 1964 in Lagos State as the only daughter in a family of four.
Though she is originally from Anambra State in the South-Eastern part of Nigeria, Clarion was born and bred in Lagos State. From the age of 11 to 14, she stayed in Aba and Onitsha and then relocated to Ibadan and lived there till the age of 19.
Unfortunately, she lost her father at the age of 11 and her already fragile world shattered. According to her, her father was the centre of her life and when he died, everything fell apart. It was the beginning of a whole different chapter of her life.
Education
Clarion Chukwura had her nursery school education in Moluka and Lady-Lak Nursery School in Yaba, Lagos. Her primary school was All Saints Montgomery Road, Yaba, Lagos, and her secondary school was at Queen of Rosary College, Onitsha.
She then proceeded to study Acting and Speech at the Department of Dramatic Arts in Obafemi Awolowo University.
How Clarion Chukwura started her career
Clarion Chukwura began her acting career in 1979, and she has since then featured in hundreds of movies. She started with both stage and television in Ibadan, including the Yoruba and English theatre, but found equal success in movies and drama.
Her first time on stage was in 1979 when she starred in Bode Sowande's play as a house girl. Then between September and October 1979, she shuffled between the stage and the television from Bode Sowande's play to Victor Ashaolu's theatre and Jumoke Payne's rehearsals at NTV Ibadan.
She came into the limelight after featuring in a soap opera titled "Mirror In The Sun" which she followed up with roles in other television series such as "Super Story" and "Ripples".
Clarion Chukwura has featured in over 300 movies since the start of her career. She has appeared in movies alongside other notable Nollywood actors, including the likes of Pete Edochie, Olu Jacobs, Justus Esiri, Eucharia Anuobi, Ngozi Ezeonu, Patience Ozokwor, etc.
As a businesswoman, Clarion Chukwura is currently the CEO of a creative arts production company called Capital Dreams.
Clarion Chukwura wiki profile
Full name
Clara Nneka Oluwatoyin Folashade Chukwura
State of origin
Anambra State
Date of birth
July 24, 1964
Age
57 years old
Marital status
Single (divorced)
Husbands
Late Tunde Abiola (m. 2003)
Late Femi Oduneye (m. 2004)
Anthony Boyd (m. 2016)
Alma mater
Obafemi Awolowo University (OAU)
Instagram
@clarionchukwurah
Clarion Chukwura marriage and wedding
Veteran Nollywood actress Clarion Chukwura has been married and divorced three times.
Clarion Chukwura's relationship with Sir Shina Peters
Clarion met Afro-Juju musician Oluwashina Akanbi Peters popularly known as Sir Shina Peters in 1982.
The duo was cast in "Money Power", a movie by veteran filmmaker Ola Balogun. Clarion Chukwura was just 18 years old when she got to play the role of "Yemi" in the movie.
This came after her impressive performance as "Moji" in "Camwood On The Leaves", a play written by her professor, Wole Soyinka. Sir Shina Peters was cast alongside Chukwura in the movie and this sparked the beginning of a romantic relationship between the two.
The relationship led to the birth of their son together, Clarence Abiodun Peters, in 1983. The two never married and, unfortunately, their relationship ended as quickly as it started.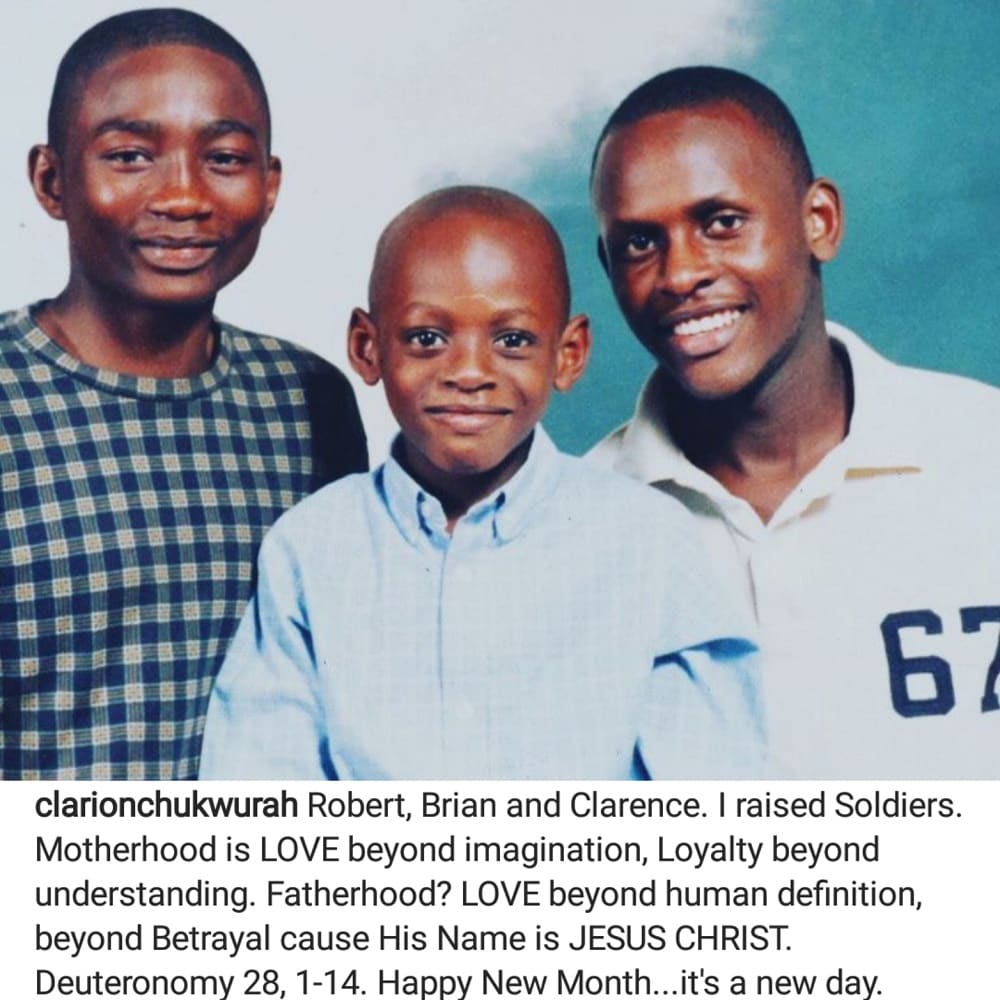 Clarion Chukwura's first marriage to ex-husband Tunde Abiola
After ending her relationship with Sir Shina Peters in 1983, the veteran actress got married to Mr Tunde Abiola in 2003.
Tunde Abiola happens to be the younger brother of Bashorun MKO Abiola (winner of the June 12, 1993, presidential elections, who was killed on July 7, 1998).
The marriage was short-lived and ended in same 2003.
Unfortunately, Tunde Abiola reportedly later died 14 years later in a mysterious circumstance. He was allegedly having a property war with one of the wives of his late brother.
According to reports sighted by DNB Stories Africa, the late Tunde was ill for some time before he passed on Wednesday, May 24, 2017.
Clarion Chukwura's marriage to Tunde Abiola produced a son named Brian.
Clarion Chukwura's second marriage to ex-husband Femi Oduneye (Femi Egyptian)
Following her divorce from Tunde Abiola, Clarion Chukwura tied the knot the following year with Femi Oduneye, a popular socialite also known as Femi Egyptian.
The two got married on February 14, 2004, barely a year after Chukwura's first marriage with Tunde Abiola ended. They parted ways on May 5, 2016.
They got back together years after but separated again shortly after.
Strangely, Femi Oduneye (Femi Egyptian) died of an undisclosed cause following complaints of heat and headache on Friday, November 3, 2017 – the same year Tunde Abiola died. Clarion Chukwura made headlines that year for losing two ex-husbands in the space of five months.
Clarion Chukwura's third marriage to ex-husband – Anthony Boyd
After her marriage to Femi Oduneye (Femi Egyptian) crashed in 2016, Clarion Chukwura got married for the third time to an American man named Anthony Boyd the same year.
Their wedding took place in Savannah Street, Georgia, in the United States of America. Sadly, Clarion Chukwura's third marriage to Anthony Boyd also did not last.
According to reports, the major problem encountered in the marriage was Boyd's religion as a Jehovah Witness, which Clarion Chukwura struggled to accept.
Clarion Chukwura and her third husband Anthony Boyd did not have any children.
Clarion Chukwura children
As of the time of publishing this article, Clarion Chukwura is the mother of two biological sons – Brian and Clarence – but the actress is also raising her nephew Robert (aka Bobby). Altogether, Clarion Chukwura refers to the three boys as "her soldiers".
Brian and Clarence both have different fathers while Robert is her elder brother's son.
Clarion Chukwura's first son, Clarence Peters is an award-winning music video director and filmmaker.
Often referred to as a child of fate by his mother, Clarence has grown to become one of the most sought-after music directors in Nigeria and has directed music videos for some of the biggest names in the Nigerian music industry, including the likes of Wizkid, Banky W, 9ice, P-Square, 2Baba, Naeto C, and many others.