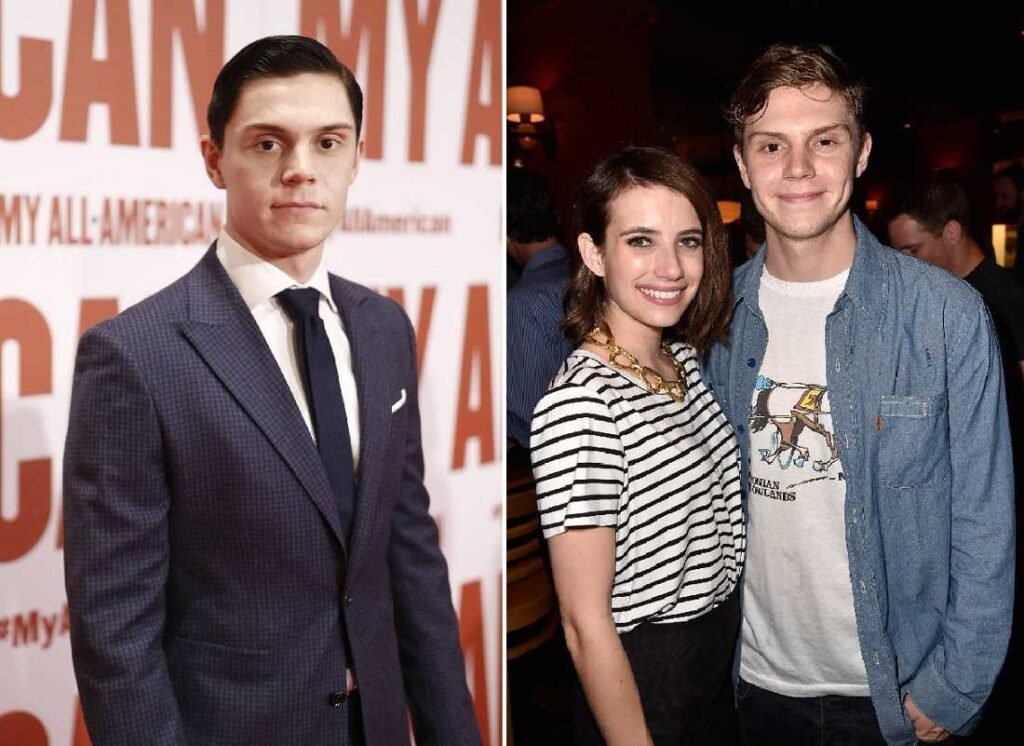 Who is Evan Peters?
Evan Peters is an award-winning American actor and model. He is famous for playing various characters in the FX Horror TV series "American Horror Story." Peters is well-known for his versatility in acting and his skilled delivery of eccentric characters in movies and TV shows.
Recently, he gained more attention for his stellar portrayal of American serial killer "Jeffery Dahmer " in Netflix's "Monster: The Jeffrey Dahmer Story."
Evan Peters' full name is Evan Thomas Peters. The actor was born on January 20, 1987, in St. Louis, Missouri, US. Peters is 35 years old as of December 2022. Peters, alongside his two siblings, was raised by their parents in a religious home. In fact, the actor attended a Catholic grade school because his parents were devout Catholics.
Evan Peters' parents
Evan Peters' parents are Julie Peters (mother) and Phillip 'Phil' Peters (father). When Evan Peters was a kid, his family lived in the suburb of Ballwin in St. Louis, Missouri. However, they later moved to Grand Blanc Michigan in 2001. Evan Peters' parents, especially his mother, have always supported his acting career. In fact, they enrolled him in his first acting lessons at Flint Youth Theater.
About Evan Peters' father – Phillip Peters
Evan Peters' father, Phillip Peters is a former vice president of administration for the Charles Stewart Mott Foundation – a private firm that sponsors nonprofit programs mostly in the US. Phillip served as vice president of the organization for 15 years before retiring in 2015. He has a daughter known as Michelle, from his previous relationship.
Evan Peters' mother – Julie Peters
Evan Peters' mother Julie Peters is the backbone of his acting career. Even though much isn't known about Julie's personal life, the impact she had on her son's career cannot be ignored. For instance, when Evan Peters was 15 years old, she took him to Los Angeles to ensure he got a shot in the movie industry.
Evan Peters' siblings
Evan Peters has one full brother from his parents' marriage and a half-sister from his father's prior relationship. The names of Evan Peters' siblings are Andrew and Michelle Peters.
a. Andrew Peters
Andrew Peters is the direct older brother of Evan Peters. He is Evan's only full sibling. Andrew Peters is the first child of Julie and Phillip Peters (Evan Peters' parents). Unlike his younger brother Evan, Andrew Peters isn't in the spotlight hence his details are scarce.
b. Michelle Peters
Michelle Peters is the older half-sister of Evan and Andrew Peters. They share the same father, Phillip Peters but different mothers. Michelle's mother is Phillip's ex-lover whose identity is not known. Meanwhile, Michelle Peters and Evan seem to share a great relationship despite being half-siblings. In the past years, the two siblings have graced several red-carpet events together, often alongside their brother, Andrew.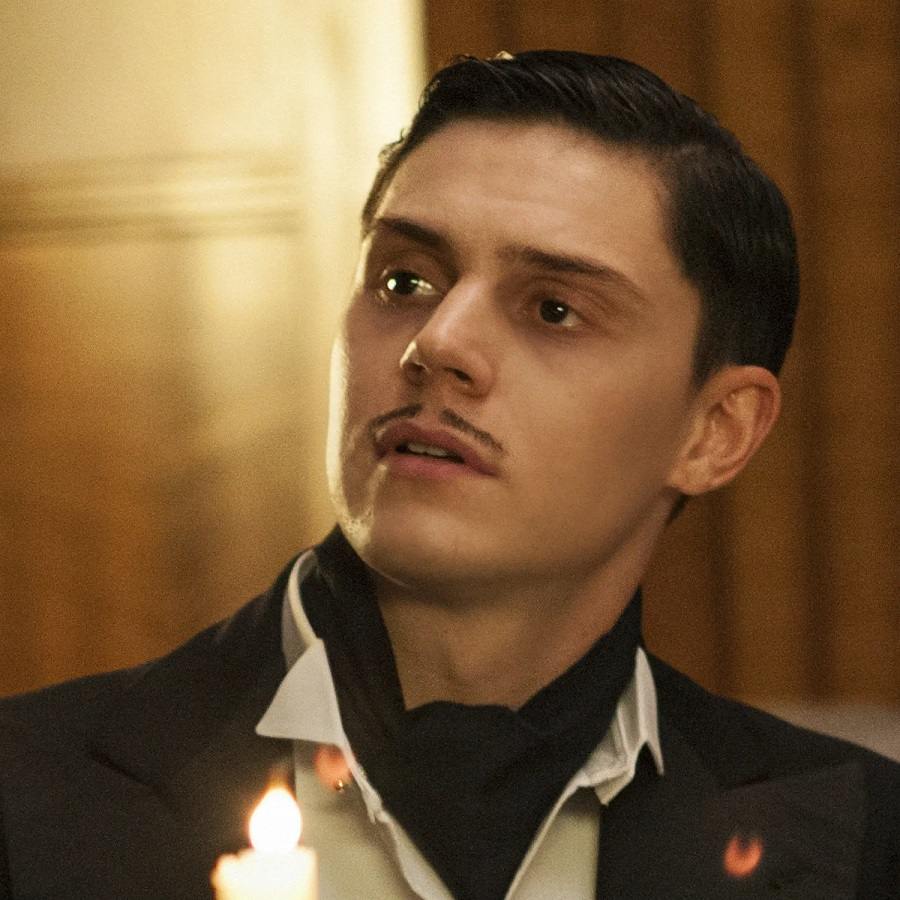 Evan Peters' wiki profile
| | |
| --- | --- |
| Full name | Evan Thomas Peters |
| Place of birth | St. Louis, Missouri, USA |
| Date of birth | January 20, 1987 |
| Age | 35 years old |
| Marital status | Single |
| Wife | N/A |
| Height | 5″10 ft (1.8m) |
| Occupation | Actor, model |
| Nationality | American |
| Net worth | $5 million (estimated) |
How Evan Peters started his career
Evan Peters originally started his career as a model in 2001 while also taking acting lessons at Flint Youth Theatre in Michigan, US. However, the next year, Peters and his mom left Michigan for Los Angeles, where he pursued a career in acting in earnest. According to Peters, he admired the Olsen twins so much back then, and "the acting thing seemed like the best way" to meet the twins in person.
Peters didn't get a chance at acting until 2004 when he got his first role in the drama film "Clipping Adam". Evan Peters, who was 17 years old at the time, got lucky at his second audition, to play "Adam Sheppard" in the film.
Between 2004 and 2010, Evan Peters got modelling jobs for top brands like PlayStation and Kellogg's. During the same period, Evan Peters also landed supporting roles in movies like "Gardens of the Night" and "Kick-Ass." Luckily, Evan Peters' career took a huge leap in 2011, when he landed a role in the FX horror TV series "American Horror Story". His great performance in the series quickly made him famous and also earned him a Satellite Awards nomination.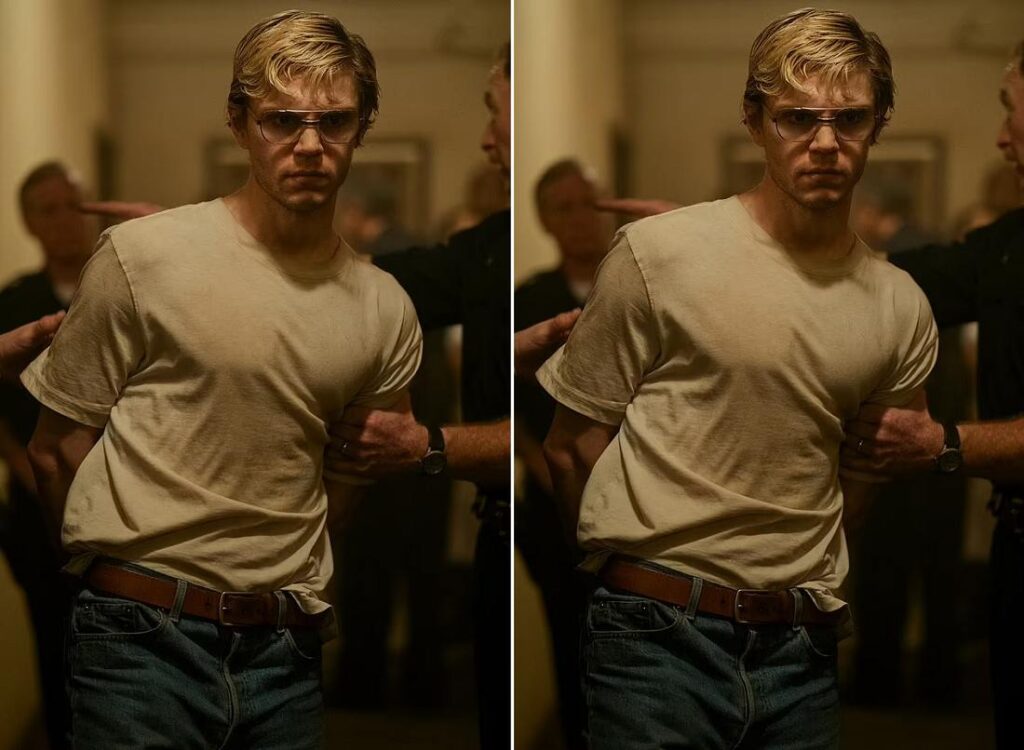 Evan Peters sexuality
There have been discussions about Evan Peters' sexuality due to some of the characters he has portrayed in movies. Questions about Evan Peters being gay were renewed in 2022 following his role in Netflix's "Monster: The Jeffrey Dahmer Story." In the limited series, Evan Peters plays "Jeffery Dahmer", a gay serial killer whose victims were mostly black gay men. However, despite his great portrayal of queer characters, Evan Peters identifies as heterosexual (straight) in real life. In fact, the actor has only openly dated women in the past years.
Evan Peters' marriage and wedding
As of the time of publishing this article (December 2022), Evan Peters is unmarried and has no wife. In fact, Peters has never been married. While Evan Peters is not married yet, he has been in a couple of high-profile relationships. Notably, Evan Peters dated actress Emma Roberts for six years and singer Halsey for almost a year.
Peters and Emma Roberts, who are co-stars of "American Horror Story", got engaged in 2014. But sadly, their relationship, which seemed toxic, ended in March 2019. After they parted ways, Peters began dating "Without Me" singer Halsey the same year. Unfortunately, the lovers ended their brief romance in 2020. As of December 2022, Evan Peters is single, or perhaps he has succeeded in keeping his love life off the media.
List of Evan Peters' ex-girlfriends
American actor Evan Peters has reportedly dated or hooked up with over five women. Here's the list of the women Evan Peters has reportedly dated.
Evan Peters and Alexandra Breckenridge dated for three years (2007 – 2010), reports say.
Evan Peters and Pixie Geldof dated briefly for one year (2010 – 2011).
Evan Peters and Alexia Quinn hooked up briefly after meeting on a play set in 2011. But sadly, the ex-lovers called it quits in 2012.
Evan Peters and Emma Roberts were in an on-and-off relationship for seven years before finally separating in 2019.
Evan Peters and singer Halsey dated for less than a year. The duo who made their public debut as a couple in October 2019, ended their romance in March 2020.
About Evan Peters and Emma Roberts' relationship
Evan Peters' ex-girlfriend Emma Roberts is an American actress best known for her roles in thriller and horror movies. Some of her popular movies include "Paradise Hills," and Nickelodeon's "Unfabulous". Emma, who is a niece to veteran actress, Julia Roberts, was born on February 10, 1991. She is 31 years old as of December 2022.
Emma Roberts and Evan Peters first met in 2012 while they were filming the movie "Adult World". Their relationship didn't start instantly, though, rumors of their romance began to spread a few months after they met on set. Meanwhile, the ex-lovers didn't come out publicly as lovers until January 2013, when they appeared in matching outfits at a red-carpet event.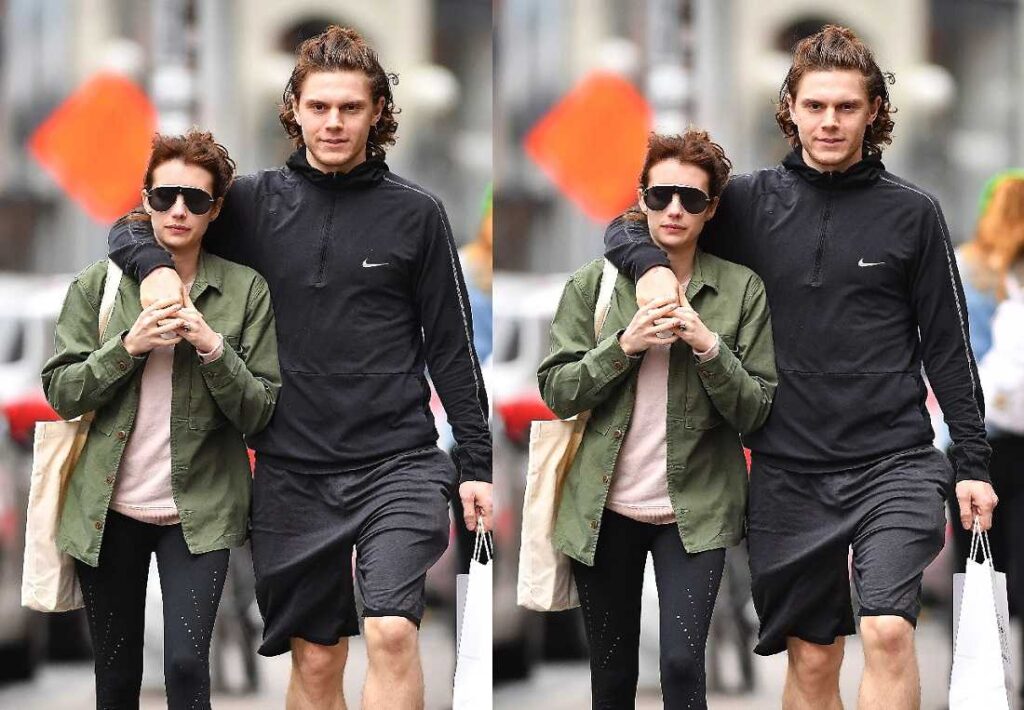 About Evan Peters and Emma Roberts' fight, engagement and breakups
In July 2013, Emma Roberts and Evan Peters got into an argument while lodged in a hotel in Montreal, Canada. The argument soon led to a messy fight. Thereafter, Emma Roberts was arrested and later charged with domestic violence after a passerby, who overheard them, invited the Police.
Police arrested only Emma Roberts because she had no visible injuries at the time, while Evan Peters had sustained some visible injuries from the fight. However, Peters did not press any charges against the actress, rather they rekindled their love and moved past the awful incident.
In 2014, Evan Peters asked Emma Roberts to marry him while they were on vacation in New York City. According to reports sighted by DNB Stories Africa, the pair called off their engagement in June 2015. Shortly afterwards, Peters and Roberts were seen together again on a romantic date and reports were saying they had gotten back together. However, the on-and-off couple separated for the second time in May 2016 only to reunite again later the same year.
Sadly, in March 2019, Evan Peters and Emma Roberts finally called it quits after dating on and off for 7 years without getting married. Also, the former lovers don't have a child together. Although the reason for their breakups hasn't been revealed by either of them, in June 2019, Emma Roberts told Cosmopolitan that ending her relationship with Evan was "hard".
According to US Weekly, "their romance is pretty extreme" as the duo was reportedly either fighting or "making out" even while on movie sets. After they finally split, Roberts began dating "Tron: Legacy" actor Garrett Hedlund. However, Emma Roberts and Garrett Hedlund's romance which birthed their only child, son Rhodes Hedlund, ended in January 2022. Evan Peters, on the other hand, began dating singer Halsey shortly after his relationship with Emma Roberts crashed.
About Evan Peters' relationship with Halsey
Evan Peters' ex-girlfriend Halsey is an American singer and activist. She is best known for her hit songs like "New Americana," "Nightmare," and "Without Me" featuring Juice WRLD. Halsey's real name is Ashley Nicolette Frangipane. Born on September 29, 1994, Halsey is 28 years old as of December 2022.
Halsey and Evan Peters started dating in September 2019. Before they became a couple, Halsey, who is openly bisexual, had expressed her interest in Evan, but the actor was dating Emma Roberts at the time. However, a few months after Emma and Peters broke up, he began dating Halsey.
They made their public debut as a couple at the American Horror Story 100th Episode Celebration in October 2019. Sadly, their relationship reportedly hit the rocks in 2020, after the singer wiped all of Evan's pictures from her Instagram page. While the actual reason for their split is not known yet, Halsey sparked rumours that their affair ended on a bad note after she liked a tweet seemingly shading Evan.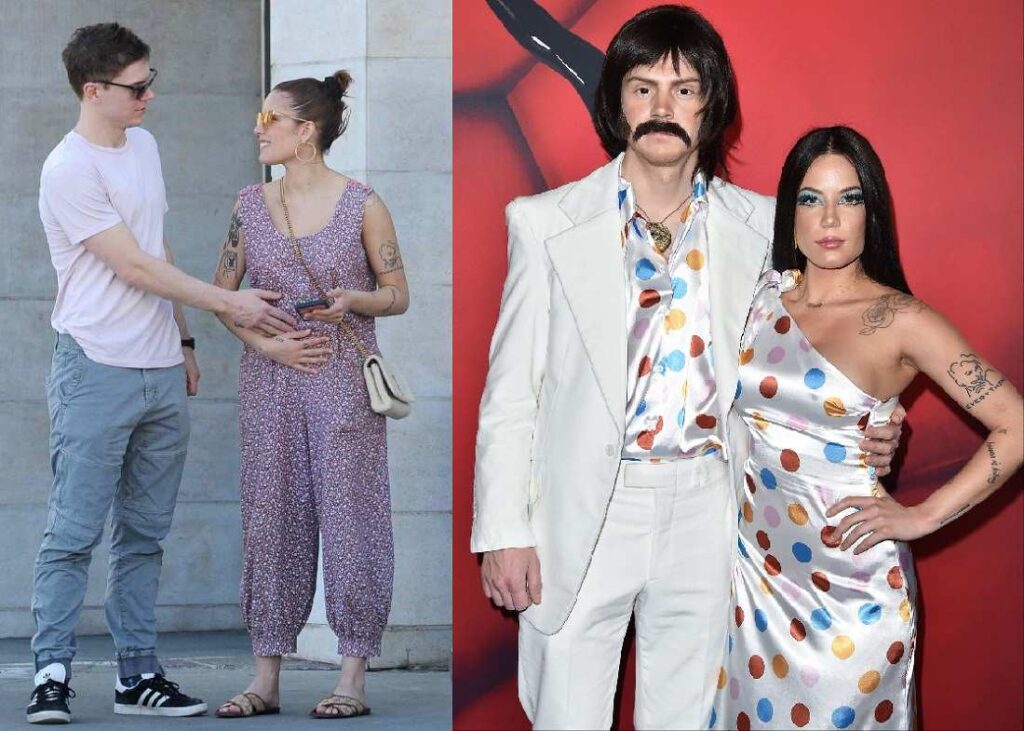 Evan Peters' kids
As of the time of publishing this article (December 2022), Evan Peters does not have any kids. There were rumours in early 2021 that Evan Peters and his ex-girlfriend Halsey were having a baby because most fans felt the ex-couple was still together. However, these rumours were later found to be false after it was revealed that the true father of Halsey's son, Ender Ridley Aydin, is her new boyfriend, Alev Aydin.
Evan Peters' net worth
As of 2022, Evan Peters' net worth is estimated at about $ 5 million. His career as an actor remains his major source of income.