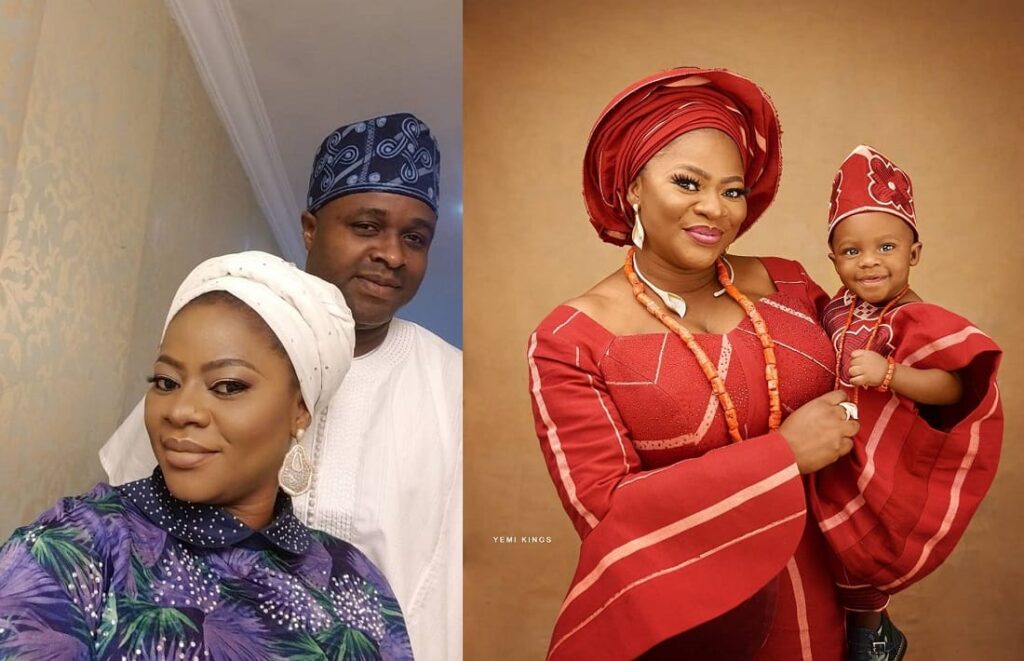 Who is Femi Adebayo?
Femi Adebayo is a Nigerian actor, lawyer, movie director, and producer popularly known as 'Jelili'. He is the second son of veteran Nollywood actor, Adebayo Salami popularly known as 'Oga Bello'.
Femi Adebayo's mother is Alhaja Risikat Ejide Adebayo.
Femi Adebayo's full name is Oluwafemi Lawal Adebayo. He was born on December 31, I972 at Ebutte-Meta, Lagos. He is currently 48 years old.
Femi is originally from Kwara state where he had his tertiary education. He obtained a Law degree from the University of Ilorin, Kwara State before proceeding to the University of Ibadan for his Master's degree.
He was appointed as the Special Adviser to the Governor of Kwara State on Arts, Culture and Tourism in 2016 up until 2018. Femi debuted into acting at the age of 13 in 1985, appearing in his father's directorial debut movie 'Ogun Ajaye'.
Femi who was called to bar in 2003 finally succumbed to his passion in 2005. He officially became an actor after two years of practising as a lawyer. It could also be said that his background as an actor's son played a role in his decision to become an actor.
Femi established a school of performing arts called 'J-15 Media' in 2008 at Ibadan. Since the official launch of Femi Adebayo's career as an actor, he has featured in over 200 movies, some of which include Apaadi (2009), Jelili (2011), Ayitale (2013), October 1 (2014), Shola Arikusa (2014), Heaven On My Mind (2018), Mokalik (2019).
Femi Adebayo's marriage
Femi Adebayo has been married twice. His first marriage was with the love of his youth, Khadijat. He met Khadijat during his days at the University of Ilorin in 1998.
As of the time of their meeting, Femi was in his third year studying Law, while Khadijat was in her first year studying Computer Science.
The two dated for six years before tying the nuptial knot in 2004. They were married for four years before their marriage began having issues in 2008, after being blessed with three children, a girl and a set of twins. The former love birds eventually went their separate ways.
Femi Adebayo took another chance at love after eight years of separating from his first wife. He got married to Omotayo Aduke Memunat on October 9, 2016, at a secret location in Maryland, Lagos.
The actor seems to be enjoying his new marriage as the couple has stayed free of controversy since their wedding in 2016. Femi Adebayo and his second wife, Omotayo Aduke Memunat, are blessed with a baby boy.
Femi Adebayo's first marriage to Khadijat and their divorce
Femi Adebayo and Khadijat started their love affair on a blissful note as undergraduate lovers. They got married in 2004, but in 2008 the pillars of their marriage began to crumble.
There were a lot of hearsays and speculations as to the reason why their marriage collapsed. Reports had it that Khadijat separated from her husband based on infidelity from his side and her inability to cope with the demands of his career.
It was even heard that she had to relocate to her parent's house at Ipe Road, GRA Offa, Kwara state in 2011 after filing for divorce at the same local court where they exchanged marital vows.
It was said that she went through a difficult time while struggling to make ends meet for herself and their three children without leveraging on her husband's influence.
There was also another rumour that Femi Adebayo started a romantic relationship with Nollywood actress Funke Akindele, popularly known as 'Jenifa', during this period.
However, the actor blatantly denied all the allegations levelled against him ranging from infidelity, abandoning his wife and three children, and that of his romantic involvement with his colleague, Funke Akindele.
According to him, he had no romantic connection with the actress and his wife separated from him because she couldn't handle the demands of his job as she did not give him the needed support. He also made it known that he did not abandon his first family as they still maintain a cordial relationship.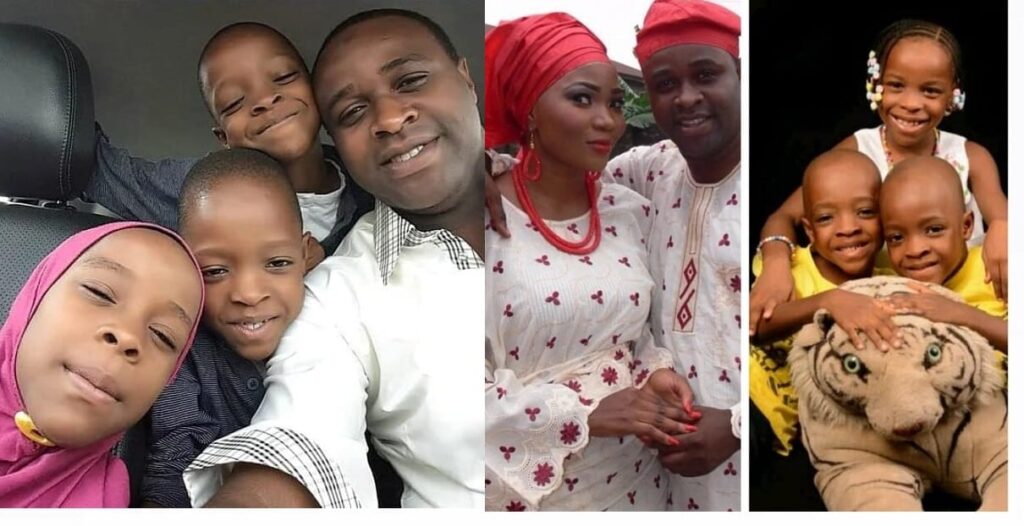 About Femi Adebayo's estranged first wife, Khadijat
Khadijat is the estranged first wife of Femi Adebayo and the mother of his first three children.
The actor's estranged wife came into the limelight after she got married to him in 2004. Khadijat was born into a strict and devoted Muslim family and she is of a humble background.
She is a graduate of Computer Science from the University of Ilorin in Kwara state. She is also a businesswoman who deals in the supply of Ghana fabrics including different designs of bags and shoes.
Reports had it that the actor's ex-wife has found love again and remarried as she is now addressed as Mrs Khadijat Balogun.
About Femi Adebayo's second wife, Omotayo Aduke Memunat
Omotayo Aduke Memunat is the newly wedded wife of actor Femi Adebayo and the mother of his son, Fadhil Aridunnu Adebayo.
She was a US-based air hostess before she got married to Femi on October 9, 2016. She is currently the CEO of a restaurant and cafe shop in Yaba Lagos called 'Iyan Aladuke'.
List of Femi Adebayo's children
Femi Adebayo is a proud father of four children, three boys, and a girl.
His first three children, a girl and a set of twins who are boys are named Firdaus Adebayo, Fadlullah Adebayo, and Fadulrahman Adebayo respectively.
They are the product of his first marriage to his estranged wife, Khadijat.
His last male child is named Fadhil Aridunnu Olatunde Adebayo. He was born on December 21, 2018, in a hospital in Houston, Texas. He was born by Femi's second and present wife, Omotayo Aduke Memunat Adebayo.
Full list of Femi Adebayo's children:
Firdaus Adebayo
Fadlullah Adebayo
Fadulrahman Adebayo
Fadhil Adebayo