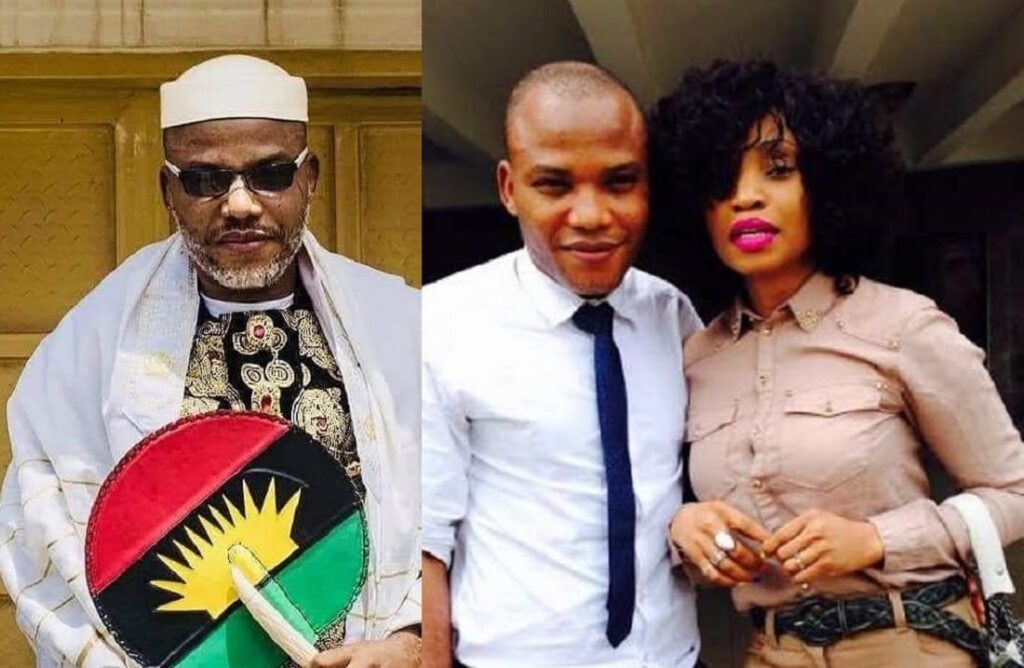 Who is Nnamdi Kanu?
Nnamdi Kanu is a British-Nigerian political activist and the leader of the Indigenous People of Biafra (IPOB). He advocates for the sovereignty of Biafra to become an independent state.
Nnamdi Kanu's early life and education
Nnamdi Kanu was born on the 25th of September 1968 in Isiama Afaraukwu, Umuahia, Abia State. He is currently 55 years old, as of March 2022.
His father, HRM Eze Isreal Okwu Kanu was the traditional ruler of the Afaraukwu community in Umuahia, while his mother, Lolo Ugoeze Sally Nnenne Okwu Kanu, held the unofficial title of the "Supreme Mother of all Biafrans", also called "Nne Biafra".
Nnamdi Kanu's mother died on August 30, 2019, in Germany following an undisclosed illness, while his father died in December 2019, four months after. The death of Nnamdi Kanu's father was blamed on the trauma he suffered two years earlier when the Nigerian Army invaded his home on September 14, 2017.
Nnamdi Kanu's education
Kanu had his primary education at Library Avenue Primary School, Umuahia. His secondary education was at Government College, Umuahia. He bagged both his Bachelor's and Master's degrees in Political Science from the University of Nigeria, Nsukka. He later relocated to the United Kingdom where he obtained a PhD in Political Science from the London Metropolitan University.
Nnamdi Kanu's wiki profile
Full Name
Nwannekaenyi Nnamdi Okwu Kanu
State of Origin
Abia State
Date of Birth
September 25, 1967
Age
55 years old
Tribe
Igbo
Marital status
Married
Wife
Uchechi Okwu Kanu (m. 2009)
Height
5″8
Career
Political activist
Alma mater
University of Nigeria/
London Metropolitan University
Nnamdi Kanu's marriage and wedding
Nnamdi Kanu is a happily married man with two children. He has been married to his wife, Uchechi Okwu Kanu since 2009 and their union is blessed with one child, but Kanu already had another child from a previous relationship.
About Nnamdi Kanu's wife – Uchechi Okwu Kanu
Uchechi Okwu Kanu is the legally wedded wife of political activist Nnamdi Kanu. She hails from Abia State and was born on the 18th of April.
Her exact age and date of birth are not known but she is rumoured to be in her early 40s.
Information about her background and profession is also sketchy at this time, but it is speculated that she is a lawyer who currently resides in the UK with their children. She is said to be a huge supporter of her husband's cause for an independent nation of Biafra.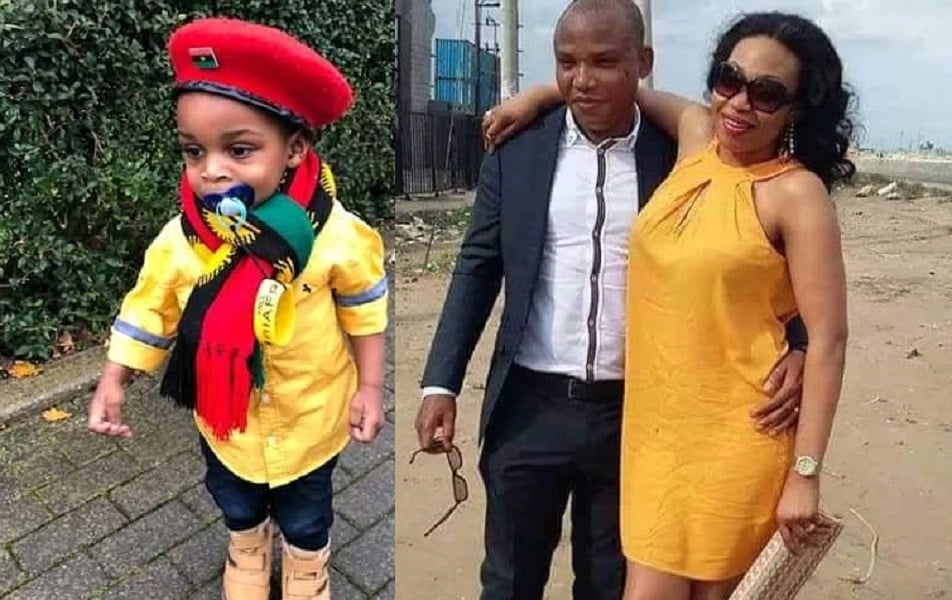 Nnamdi Kanu's children
Nnamdi Kanu is a proud father of two boys, as of the time of publishing this article. His first son whose name is unknown was birthed by an undisclosed woman, while his second son, Nnabuikem Nnamdi Okwu Kanu was birthed by his wife, Uchechi, on January 5, 2016, in the United Kingdom.
Nnamdi Kanu was in detention at the time the boy was born. DNB Stories Africa gathered that Uchechi Okwu Kanu currently resides in the United Kingdom with her son and stepson, as of March 2022.
How Nnamdi Kanu started his political struggles
Nnamdi Kanu founded IPOB, the Indigenous People Of Biafra, in 2014. The sole aim of IPOB is to create an independent state for the people of the Old Eastern Region of Nigeria. Nnamdi Kanu believed that every ethnic group in Nigeria is different from each other and are not meant to be together as one nation.
To some Nigerians, Nnamdi Kanu is a troublemaker, while to others, he is a hero and a leader.
The 55-year-old political leader rose to popularity when he was arrested in his hotel room at Golden Tulip Essential Hotel, Lagos State by Nigeria's DSS operatives on October 14, 2015. The news of the arrest led to mass protests across different parts of the South-East and South-South regions of Nigeria.
Some writers have argued that Nnamdi Kanu's arrest in 2015 contributed to IPOB's influence and recognition as a secessionist group.
On October 19, 2015, it was reported that Nnamdi Kanu had been granted bail after a secret arraignment at the magistrate court in Abuja. There were speculations that the bail was a political move to calm down the agitation by IPOB members and supporters.
Nnamdi Kanu was released on bail in April 2017 for medical reasons. He fled the country in September of the same year after the Nigerian Army invaded his home in Afara-Ukwu.
He was rearrested again in June 2021 and brought back to Nigeria. As of the time of publishing this article, Nnamdi Kanu is still locked up by the DSS and facing charges of terrorism levelled against him by the Nigerian Government.