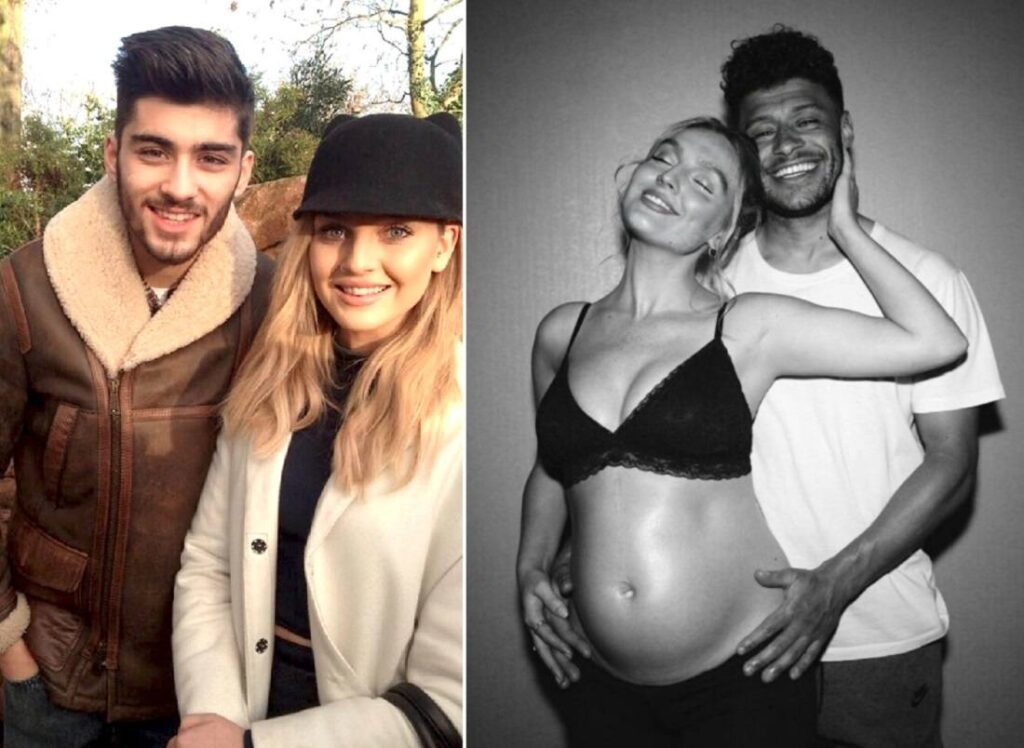 Who is Perrie Edwards?
Perrie Edwards is an English singer. She is popularly known as a member of the British girl group "Little mix", one of the world's best-selling girl groups. Perrie Edwards and her group "Little Mix" has released six studio albums and achieved five number-one singles on the UK Singles Chart.
Perrie Edwards's full name is Perrie Louise Edwards. She was born on July 10, 1993, in South Shields, United Kingdom. She is 29 years old as of January 2023.
About Perrie Edwards' parents
Perrie Edwards was born to Alexander Edwards (father) and Deborah "Debbie" Duffy (mother). She was raised in the Whiteleas area of South Shields, Tyne and Wear, in North East England. She is of English, Scottish, Irish and Swedish heritage. Perrie's parents separated while she was young and are both remarried.
About Perrie Edwards' father- Alexander Edwards
Alexander Edwards has a career in the music industry. According to online reports, he is known for being a fixture on the Northern club circuit for over 20 years. In the 1980s, he was with the band "Wallop" before moving on to "Six of the Best".
Later on, he formed his own band called "Alexander's Palace" in 1995 and has been thrilling crowds in the United Kingdom, Europe, and the Middle East with his band's mix of rock classics and modern pop hits from the Top 20. He was married to Deborah Duffy (Perrie Edwards' mother) for some time and they have two children.
About Perrie Edwards' mother- Deborah "Debbie" Duffy
According to reports, Deborah Duffy is a soul singer. She was previously married to Alexander Edwards (Perrie Edwards' father) and they have two children together. Not much information is known about her.
Perrie Edwards' siblings
Perrie Edwards was born to her parents as the second of two children. Her elder brother is known as Jonnie Edwards. Also, through her father's second marriage, she gained a half-sister named Caitlin Edwards.
a. Jonnie Edwards
Jonnie Edwards is the older brother of Perrie Edwards. He works as a fireman and was formerly in the navy. He was born on December 30, 1989, in South Shields, United Kingdom. He is 33 years old as of January 2023.
b. Caitlin Edwards
Caitlin Edwards is the younger paternal half-sister of Perrie Edwards. She was born to Alexander Edwards (Perrie Edwards' father) and his second wife, Joanna Wells. Caitlin was born on November 4, 1999, in England, United Kingdom. She is 23 years old as of January 2023. According to online reports, Caitlin Edwards describes herself as a qualified lash technician, proficient in gel nails and "Hi Define" brows.
Perrie Edwards' marriage and wedding
As of the time of publishing this article (January 2023), Perrie Edwards is not married and does not have a husband. However, the "Little Mix" singer is currently engaged to professional footballer Alex Oxlade-Chamberlain. The pair got engaged in June 2022 after dating for six years.
According to information gathered by DNB Stories Africa, the couple first sparked relationship rumours when Alex was spotted at the X Factor studios to visit Perrie and Perrie was later seen at an Arsenal game. Despite not being officially married (as of the time of writing), the pair are doting parents to a baby boy named Axel, who was born in August 2021.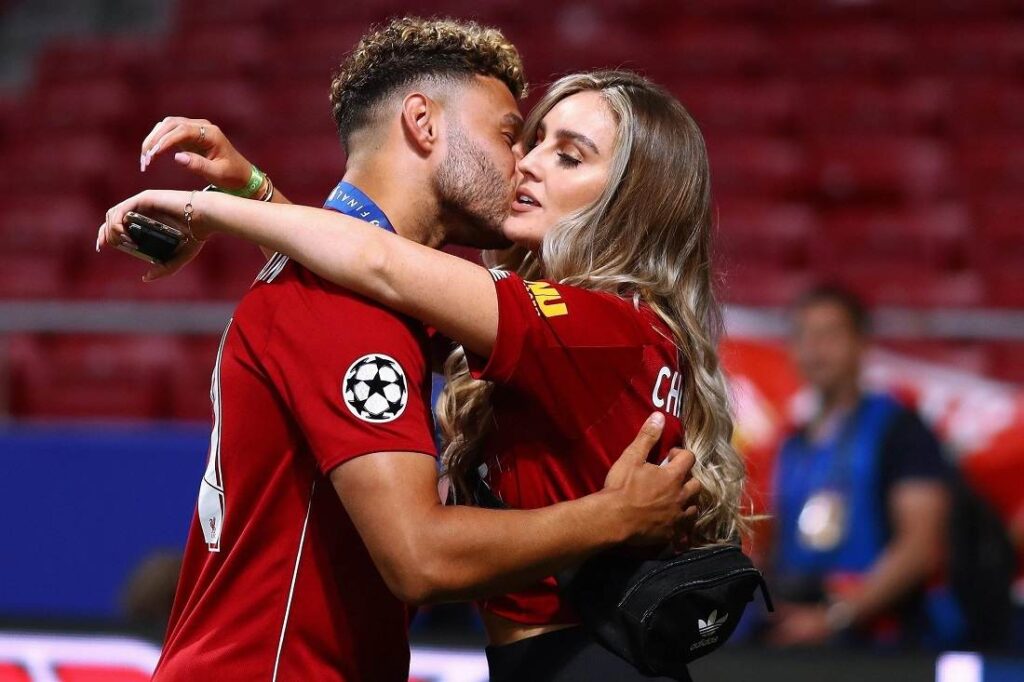 List of Perrie Edwards' boyfriends
According to reports, Perrie Edwards has only been in a few publicly known relationships before Alex Oxlade-Chamberlain. Below is a list of the men Perrie Edwards has dated in the past. The list also includes her current fiancé Alex Oxlade-Chamberlain.
Perrie Edwards was in a relationship with Zayn Malik in 2012, according to reports.
Perrie Edwards was rumoured to be in a relationship with Leon King in 2015.
Perrie Edwards was romantically linked to Luke Pasqualino in 2016.
Perrie Edwards started dating Alex Oxlade-Chamberlain in 2017.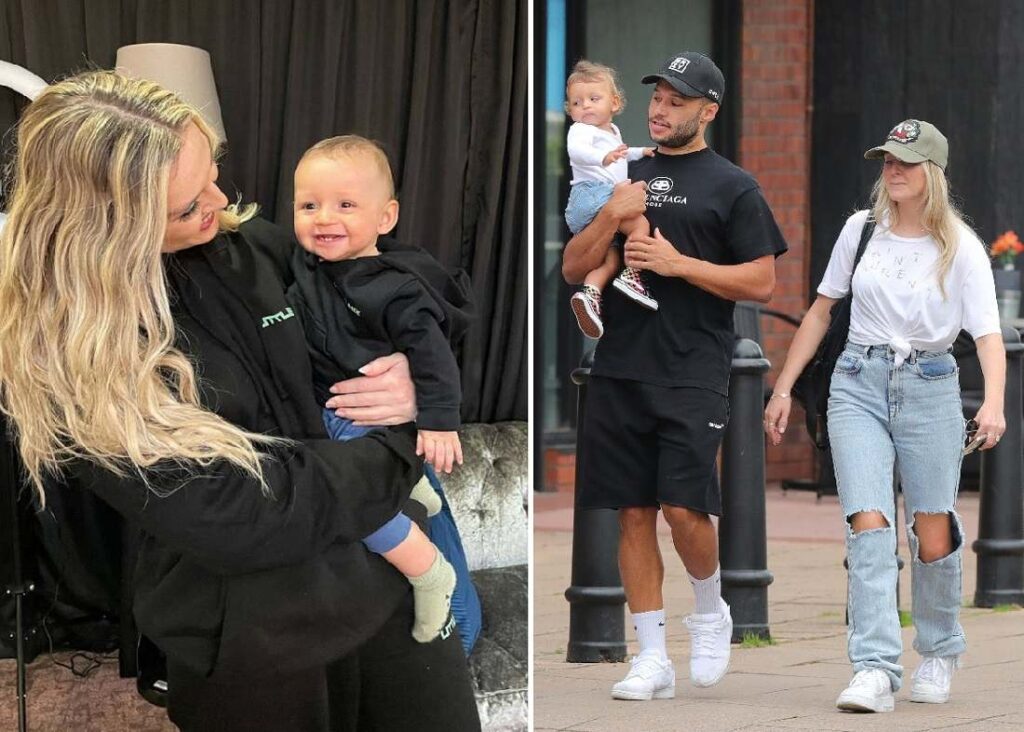 About Perrie Edwards' and Zayn Malik's relationship
Zayn Malik is an English pop and R&B singer. He was born on January 12, 1993, in Bradford, United States. He is 29 years old as of December 2022.
Perrie Edwards and Zayn Malik met on the set of the X factor reality show in 2011. But it wasn't until after Perrie's band "Little Mix" won the competition's eighth season that their friendship blossomed into a relationship. They reportedly started seeing each other after sharing a steamy encounter following One Direction's performance on The X Factor show in November 2011. Later that month, Perrie Edwards addressed the dating rumours where she denied dumping Zayn.
She said;
How can I possibly have dumped someone that I barely even know? It's actually massively embarrassing.
On August 21, 2012, it was reported that Zayn Malik cheated on Perrie Edwards when a video of Zayn allegedly hitting on a girl surfaced online. In September 2012, another cheating rumour emerged. However, two months after, their relationship finally came alive when the pair adopted a puppy together. On June 2013, Zayn Malik showed the world that he is committed to Perrie Edwards by getting a tattoo of her inked on his arm.
He talked about how great their relationship was and how he wanted to get an image of her. Two months later, the pair got engaged and that same month, they walked the red carpet together at One Direction's "This Is Us" film premiere in London.
On March 2015, things started to go downhill for the couple when more cheating rumours from Malik's side surfaced. A photo of Zayn Malik with a mystery girl broke the internet which prompted Zayn to declare his love for Perrie on Twitter.
He said;
I'm 22 years old. I love a girl named Perrie Edwards. And there are a lot of jealous fucks in the world. I'm sorry for what it looks like x.
A few months later, news broke on the internet that the pair had called off their engagement. In November 2015, Zayn Malik breaks his silence on the split and denies rumours that he dumped Perrie by a text message.
He said in a statement:
I love her a lot and I always will, and I would never end our relationship over four years like that.
Speaking on the split, Perrie Edwards confirms that the calling off of their engagement was pretty tough. She also confirmed that Zayn Malik dumped her by text.
She said in a statement;
It was horrible, the worst time of my life. A four-year relationship and two years of engagement ended with a simple text message. Just like that. Even though things in my career were going well, it was incredibly difficult for me. After I split with my partner, out of the blue, I had nowhere to go, which was incredibly stressful. For a while, I had no idea what to do.
A year after the split, Zayn Malik was spotted on a date with supermodel Gigi Hadid. Their relationship was confirmed a few weeks later when the singer shared a selfie with his new girlfriend on Instagram.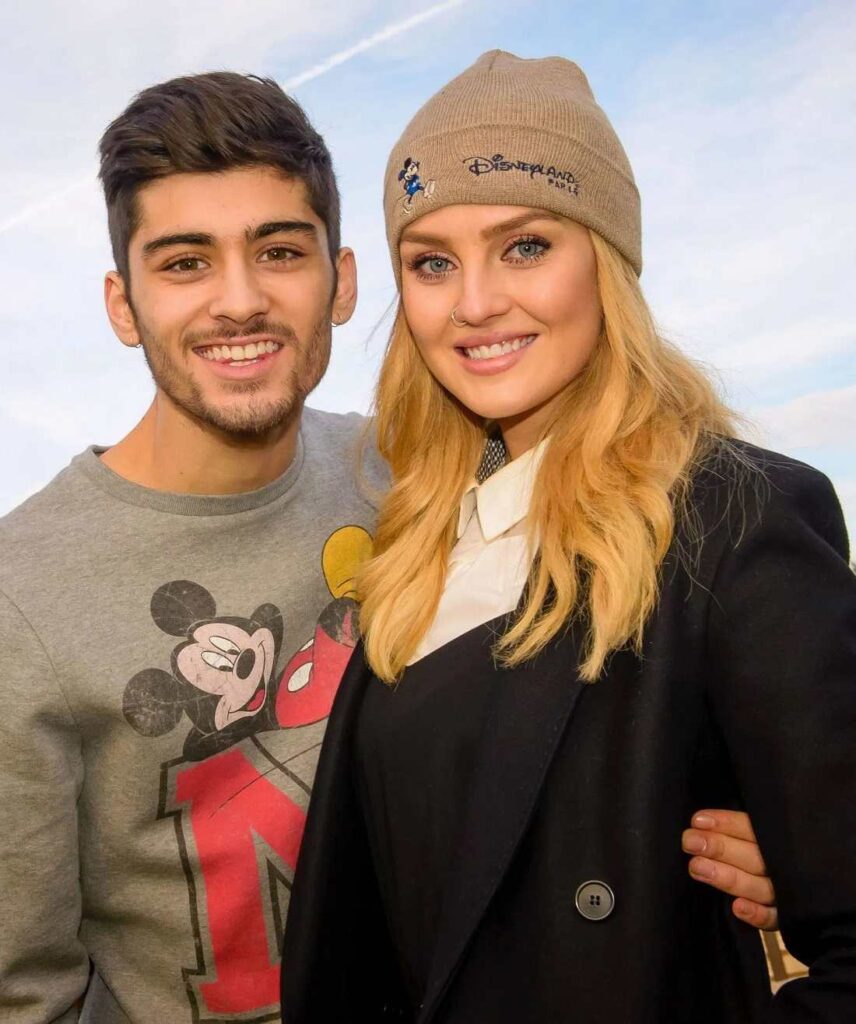 About Perrie Edwards' and Alex Oxlade-Chamberlain's relationship
Alex Olxlade-Chamberlain is the current fiancé of Perrie Edwards. He is an English professional footballer who currently plays as a midfielder for Premier League Club Liverpool. He was born on August 15, 1993, in Portsmouth, United Kingdom. He is 29 years old as of January 2023.
Perrie Edwards and Alex Oxlade-Chamberlain first met in an early interview with BT Sport. According to online reports, the pair were spotted spending time together shortly after. Rumours of their dating started spreading after Perrie Edwards was spotted attending the North London Derby, a nickname for the rivalry between Arsenal F.C and Tottenham Hotspur. Around January or February 2017, Perrie Edwards appear to have confirmed their relationship by sharing a sweet snap of Alex sitting next to their dogs.
However, Perrie deleted the photo shortly after, convincing fans that they had already split. In February 2017, Perrie confirmed their relationship once again by posting an Instagram photo of them making out in front of the Eiffel Tower. In February 2019, the couple made their red-carpet debut at the 2019 Brit Awards. Later that night, Little Mix won an award for Best British Video for "Woman Like Me".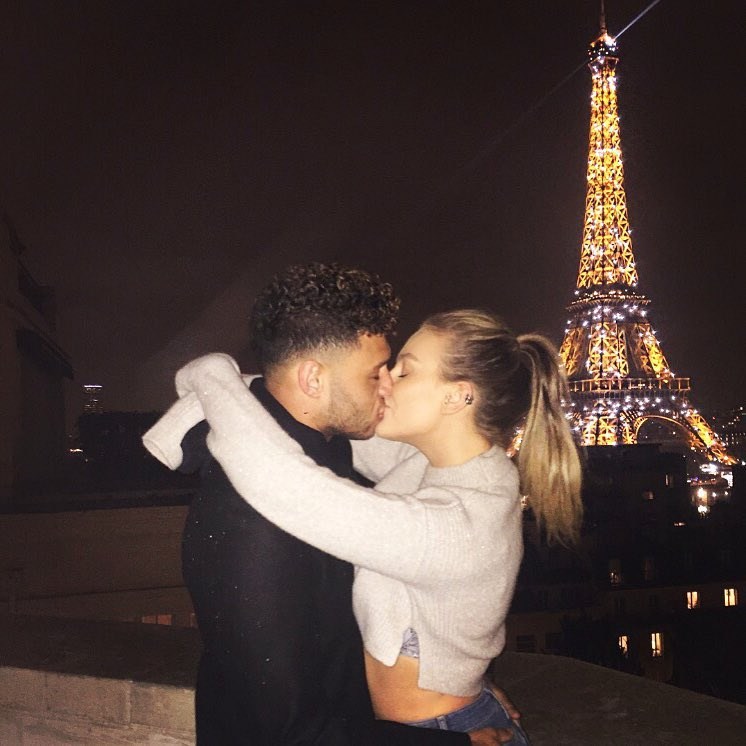 Two years later, the couple welcomed their first child. On June 18, 2022, Alex Oxlade-Chamberlain proposed to Perrie on the beach at sunset. Four months later, the couple were robbed at their home in England. According to reports, the couple were downstairs with their son and were unaware of the intruders. Expensive jewellery and handbags were stolen.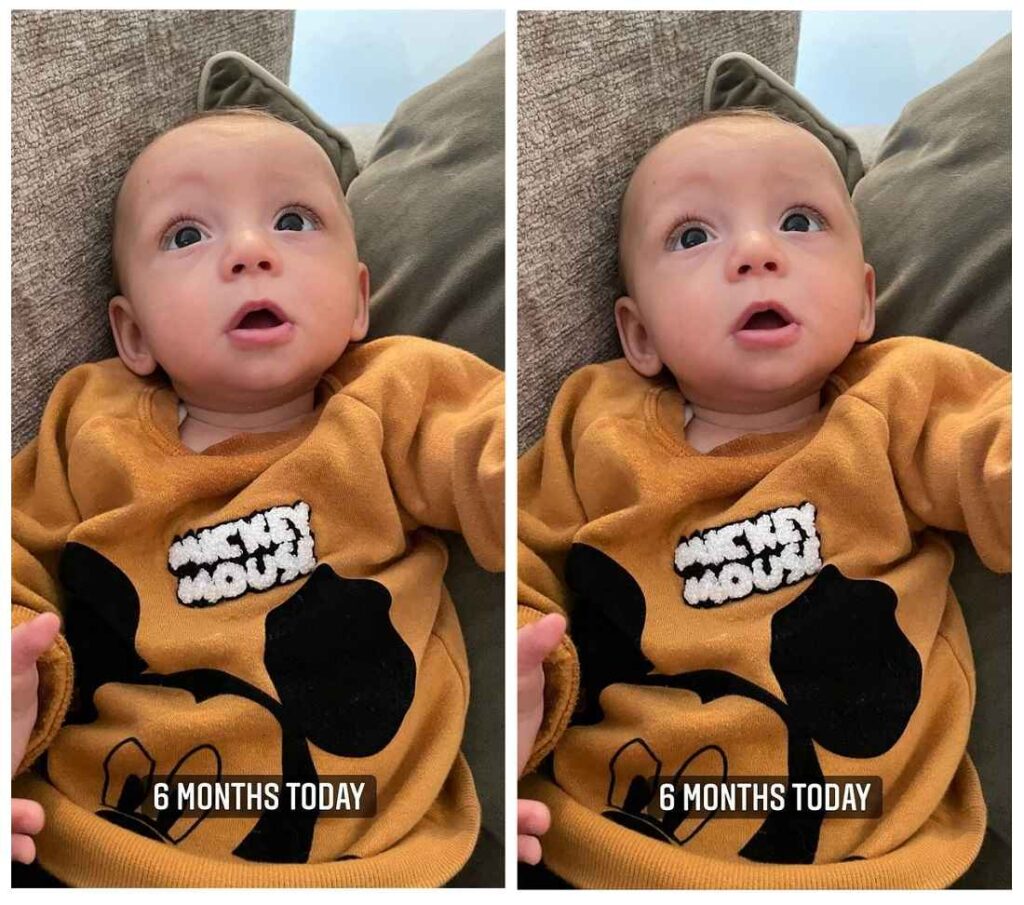 Perrie Edwards' children
As of January 2023, Perrie Edwards is the proud mother of one child name Axel Oxlade-Chamberlain. He was born on August 21, 2021, in England. He is a year old as of January 2023.