NINE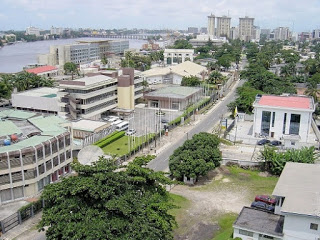 Obinna dropped his wet shirt back into the bucket. Rubbing his hands on his knickers, he ran into the house.
The noise was coming from Room Four. Ore's room.
He put his ear to the door. Ore and her visitor were arguing in raised voices.

He tried to listen, tried to understand what they were arguing about, but there was just so much Yoruba going on.
He finally decided to think that was how Yoruba people argued—after all, he'd always thought they talked a little louder than average.
And he was the only one that had run to Ore's door.
He was turning to leave when he heard the sound of a hard slapping and the accompanying squeal of pain.
It was Ore that was slapped, he knew at once.
He pounded the door. 'Ore?' Again. 'Ore, are you inside?'
'Obinna, please help me, please!' he heard and the next second, dull sounds of repeated blows followed by Ore's cries.
It appeared his presence had only angered her tormentor the more.
He tried to open the door; it was bolted from inside. He drew back and came back to it with force. The door flew open.
He dived at the guy beating Ore on the bed and flung him away. He held Ore; her mouth was bleeding. 'Are you okay?' he asked her.
Ore pointed to his back. Before he could fully turn, the stool had slammed into his head.
He reeled and fell away.
'Obinna!' Ore was running to him when the guy that had hit him grabbed her by the hand.
He said something in Yoruba. 'Shebi oun leleyi.'
On the ground, Obinna shook his head and staggered back to his feet. He lunged towards the guy and both of them locked in a tight struggle of muscles.
Ahanna flew into the room then with another neighbour. They separated the fight and the other tenant who was Yoruba too started asking Ore what happened.
The visitor straightened his shirt, pointed at Ore and murmured something and then walked away.
Ahanna asked Obinna if he was okay.
He shook his head, eyes rolling, as if to reset his brain back into order.
Later in evening, as Ahanna handed him a blister pack of Panadol, he reminded him that this is Lagos where heroes don't last.
He nodded and swallowed the tablets.
Ore would later tell him that the boy used to be her boyfriend and that she just told him she was no longer interested in the relationship when he got upset and slapped her.
'Why did you tell him you are no longer interested?' he asked her.
Ore said nothing and walked quietly away.
***
Adaku was surprised she wasn't having the normal anxious feelings associated with checking results.
The day they'd gone to pick their WAEC, she'd felt so nervous she nearly threw up.
When she finally got the envelope, she'd given it to Obinna to open and tell her only if she should cry or not.
Obinna had opened the folded paper gently, glancing up at her from time to time.
The white sheet of paper straight in his hand, his eyes widened in horror.
Adaku felt a hard pound in her chest.
'Ada, I'm sorry,' he said, his voice low with sympathy. He folded the paper back, shaking his head slowly. 'All others were good, but you failed English and Maths.'
Adaku suddenly felt like crying.
He extended the envelope to her, deep concern on his face. 'Don't be so sad, I'm sure you will do better next year.'
She breathed hard and took the envelope from him. She made no attempt to open it.
'You don't want to open it?' he asked.
She shook her head, her lips compressed.
He started to laugh.
Her eyes ran to him.
'Open your result jor!' he said. 'With that much A's, I'm sure Principal Eze will preach with your name at the assembly for months!'
She slowly straightened the paper, her heart still thudding.
And then she smiled, and slapped his head. 'Mkpi!'
He was chuckling.
'Let me see yours,' she said.
He gave her. She nodded as she whispered each grade: C5, C6, C5, B2, C4, D7…
She turned to him. 'D7 in Geography?'
He nodded. 'Didn't touch that map sheet.'
She handed it back. 'Good result.'
'Thank you.'
They hugged and walked home holding hands.
But now that she was on her way to the Computer Centre in Adazi with her scratch card and printout, she was surprised she wasn't feeling the usual prick of anxiety at her sides.
She stared boldly at the computer screen as Emma typed in her details.
He was smiling, both at her and at the screen. She didn't understand the smile, she didn't bother to try either.
'So which other schools did you choose?' he asked her.
'Just UNIZIK,' she said.
He turned to her. 'Only UNIZIK?'
'Yes.'
He left his eyes on her for a while, and then on a consoling note said, 'You will get it', before turning back to the screen.
Adaku gave a perfunctory nod.
'Awka is close,' Emma added.
Another nod. 'Yes.'
He finished typing and submitted.
They waited, staring as the short bar at the top of the page slowly filled with green.
The loading got to the near end and paused. An error page popped up instead.
Emma looked at her with guilt, as though he was somehow the cause of the poor network.
He clicked on the back link and re-submitted.
'Wow!' he screamed even before the page could fully load. 'You are admitted! Nne, you have admission o!'
She did not know how to feel. A complex mix of joy and something else flowed through her.
Then suddenly the smiles on Emma's face started to die.
'Zoology,' he murmured. 'Ada, they gave you Zoology.'
She peered at the screen and it was really Zoology.
'What courses did you fill?' Emma asked.
'Pharmacy,' she said.
'Haa.' Emma hissed, in the way people do to show they are very sad about something. 'You should have asked me.' His voice was now low. 'You should have asked me. UNIZIK does not admit for Pharmacy yet.'
'I didn't know,' she said.
'Haa.' Emma swayed his head and hissed again.
Adaku stared at him, wondering why he seemed so sad.
Zoology, she knew had to do with animals. She wouldn't mind it at all.
After all, she owned a hen called Nkoli who she pretended to talk to.
When Nkoli in her manner of doing things the inexplicable way, decided to hatch her chicks in the kitchen roof, she was the only one Nkoli allowed to touch her babies and bring them down for her.
And truly she did not like Chemistry which she knew is the bone of Pharmacy that much.
She had only chosen Pharmacy because her mother had asked her to study 'doctor' so that she'd finally find a lasting cure to her periodic arthritic pains.
Because she knew she could not stand the sight of human blood, she'd opted for Pharmacy instead which she hoped would be an adequate substitute to medicine for her mother.
She looked and Emma's eyes were still on her. 'Emma, print my result,' she said.
'Ok.' He turned to look at her again before bending to set up the printer.
The concerned look was still on his face as he handed her the printout and gave her her change.
It was as though he couldn't imagine someone like her studying that course.
'Thank you. Bye-bye,' she said.
'Bye-bye,' Emma said, his voice so low she barely heard him.
She did not turn to look, otherwise she would have seen how he swayed his head in the way people do to show pity.
***
Today, the two boys were exceptionally happy.
They were meeting with Chief today. They were finally going to get their wares and couldn't wait to start selling, making millions.
After they told him their money was complete, Okechukwu had told them Chief would be returning to the country in a week, and that was today.
They have so many customers lined up already, one even said he needed four bags straight and was going to pay double if need be.
The baking powder was the scarcest thing in Lagos now anyway. Not even in Alaba International Market, could you find any more than 20grams to buy at once.
But this evening they were going to get the 10 bags they'd paid for.
'Obyno, I done leave you go!' Ahanna was already outside.
From inside the room, Obinna heard him strike his leather flip-flops against the wall to clean them.
He hurried with his shirt.
'Let's go,' Ahanna said as he came out. The Ghana-Must-Go they'd use to carry the bags of powder was folded into four and held under his armpit.
The bike they took stopped them at Oshodi Express. In his blissful spirit, Ahanna waved down a taxi.
When Obinna gave him a surprised look, he told him to keep quiet and better start adjusting to the new life of money and comfort.
The taxi driver said he'd collect N3000 'last' to take them to Lekki where Chief lived. Ahanna did not protest. He gestured to Obinna to enter the car.
He hesitated.
'Nwokem, enter na! Na so the poverty done do you reach?'
Obinna held the front door handle to open it.
'Enter the back!' Ahanna barked, nearly startling him.
He joined him as he entered, mumbling that they have to enjoy what they paid for.
Obinna did not understand why staying at the back meant more enjoyment than the front.
He would have preferred to sit in the front. He liked to stick his head out to look at the tall buildings and busy traffic.
He was annoyed when they got to the bridge and he could not see the ocean well.
The silent sea spread over the horizon like an endless dark-grey blanket. He wondered if the small figures on tiny wood structures he saw on the water were really people.
He held himself not to gasp at the sight of the tall buildings that lined the ocean.
But when he saw a slim structure that towered high into the sky perforated with over a thousand windows, the gasp flew out of him without his notice.
'That's NITEL Tower,' Ahanna told him.
'How do people climb it?' he asked.
Now Ahanna smiled, the double-faced smile of city people. 'They use elevator.'
'Oh.' Though he did not know what an elevator is, how it looked, he didn't bother to ask either. He hated to get that smile from people, Ahanna least of all.
Finally, they were in Lekki, the part of Lagos that looked nothing like Lagos. Where the day appeared to move at normal speed and people looked more human, not like the crazed figures he saw in Oshodi.
The houses looked like they were built for people too.
The air felt like air and he saw trees and grasses and even a grasshopper.
The taxi stopped them at No. 11.
Ahanna 'settled' the taxi man and they walked towards the gate—wide and black, made from smooth metal. He raised a hand and struck the gate.
They waited.
Ahanna knocked at the gate again.
A small, square hole opened on it and they saw two eyes. Then a portion of the gate slid back and a young man in blue and black appeared.
'We are looking for Number 11 Adebayo Street,' Ahanna said.
'This is Adebayo Street, how can I help you?'
'We are here to see Chief.'
'Chief?'
Okey appeared at the gate then. 'Boys, wetin happen na?' he said. 'Chief done dey wait tey tey!'
'We are sorry,' Ahanna said.
As they followed Okey in, Obinna wondered what he would have said had they not used a taxi.
He stared at the house in awe. Whoever that was strong enough to mould something like that in Lagos is worth his respect.
Inside, they sat on the cream-colored couch and waited for Chief.
Obinna felt uncomfortable surrounded by so much expensive things: the glass table with silver legs, the gleaming dark-green tiles, the wide TV, the…
Chief appeared and his eyes ran to him.
They quickly stood and greeted him with a bow.
He was in a long loose robe, a tall large man with elegant slowness. He did not drink from the glass of wine in his right hand; a fancy black walking stick was in his other.
He sat down on the couch facing them and dropped his glass of wine on the table. He inclined his walking stick to the arm of the chair.
'Sir, I have brought them,' Okechukwu said.
'I see.'
'Good afternoon, sir,' Ahanna greeted again.
'Good afternoon, sir,' Obinna joined, as if to be sure Chief did not sense any disrespect and decide not to help them again.
'How do you do, young men?' he asked them, his voice wealthily calm.
'We are fine, sir,' they chorused.
He asked them what they'd like to take and they said, together as usual, that they were ok.
Chief nodded and asked Okechukwu to collect the money from them.
Ahanna handed him the black package.
Okechukwu counted the money and nodded at Chief.
'How much is there?' he asked.
'One hundred and sixty, sir.'
'Ok. Go in and get them the products.'
Two at a time, Okechukwu brought out the 10 bags of the expensive powder for them—transparent 5kg sachets.
Ahanna packed all into their Ghana-Must-Go and they thanked Chief and left.
When they got home, Ahanna placed the bag under the TV table and spread a wrapper over it.
He changed his shirt and walked to the call booth at the end of the street to call the people interested in the powder.
He called the one that disturbed them the most first, the one that said he was willing to pay double the price.
The number returned unavailable.
He tried another and it was same.
After the third number and none was able to connect, he walked back to the house smiling.