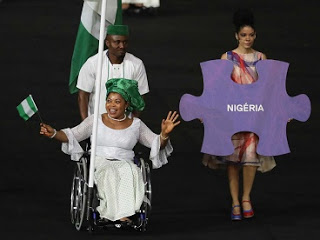 Nigerian weightlifter Lucy Ejike has shattered the Paralympic and world record three successive times by winning gold with a lift of 142kg at the Rio Games on Sunday.

The 38-year-old wheelchair user, who has polio, is representing her country for the fifth time at the Paralympics and dominated the women's -61kg power-lifting event.
Ejike first broke the Paralympic record by lifting 136kg before subsequently adding lifts of 138kg and 142kg to seal the world record and hand Nigeria with their third gold medal of the Games.
Buoyed by her astounding success, the Nigerian requested for the weights to be set at 145kg outside of competition but was unable to repeat her record-breaking feat for a fourth time.
Having won two gold medals before, at the 2004 and 2008 Games in Athens and Beijing respectively, Ejike picked up silver in London four years ago.
This time around, silver went to Fatma Omar, from Egypt, who lifted 140kg, while Yan Yang from China picked up the bronze with 128kg.
Ejike, who was the country's flag-bearer at the opening ceremony, is the third Nigerian to win gold, joined by Roland Ezuruike and Paul Kehinde.