by Staff writer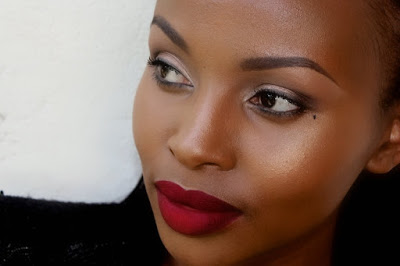 Red lipstick is the makeup equivalent of slipping on a sexy pair of pumps. It's the easiest way to instantly upgrade your look.


"Red gives off a femme fatale vibe—you wear it to get noticed," says makeup artist Nick Barose, whose clients include Lupita Nyong'o, Brie Larson, and Uzo Aduba.

The trickier part? Knowing the right shade and intensity to complement your complexion.

Here are the top 3 red options for your expensive dark skin.
1. Orange-Red

On cocoa complexions, high-pigment orange-reds stand out without the risk of appearing milky or pastel.
"The color contrasts well with deep tones because of the depth and richness," says Barose.
To keep any bright red from looking too jarring, he recommends a raisin or bronzy-brown lip pencil to blur the outer edges "so they meet the skin in a less drastic way."
2. Plum Red

When applied on dark-brown skin, the red undertones become enhanced in these elegant shades. Dab a hint of gloss in the center of your pout for added dimension.
3. Oxblood

While they may seem dramatic in the tube, these are definitely daytime hues.
"Many times a lipstick can look red, but it doesn't read that way when applied on dark skin," says Barose.
The solution: Select earthy, brown-based opaque options to make a muted statement. The texture helps camouflage the various tones commonly found in darker lips, adds Wilson.
***
Credit: Allure.com