Born on May 26, 1877 (some sources say 1878), in San Francisco, California, Isadora Duncan was a trailblazing dancer and instructor whose emphasis on freer forms of movement was a precursor to today's dance techniques.

As was widely reported, Isadora Duncan developed a very unique approach to dance that emphasized naturalistic movement.
She was a hit in Europe in the early 20th century as a performer to classical music.
Her exceptional talents and art led to the opening of schools that integrated dance with other types of learning during her time.
Female audiences, in particular, adored her: In an era when classical
ballet was falling out of favor among many sophisticated people, Duncan's performances celebrated
independence and self-expression.
However, Duncan's life was not entirely all roses and bliss.
Duncan lived a self-consciously bohemian, eccentric life offstage. She was a feminist and a Darwinist, an advocate of free love and a
Communist. (For this, her American citizenship was revoked in the early
1920s.).
With accounts varying, her parents divorced when Duncan was just an infant, and she was raised by her mother, Dora, a piano teacher with a great appreciation for the arts.
At the young age of 6, Duncan began to teach movement to little children in her neighborhood; word spread, and by the time she was 10, her classes had become quite large.
She requested to leave public school so that she, along with her older sister Elizabeth, could earn income from teaching dance.

Success in Europe
Isadora Duncan lived in Chicago and New York before moving to Europe.
There with her brother, Raymond, she studied Greek mythology and visual iconography, which would inform her sensibilities and general style of movement as an artist.
Duncan came to look at ancient rituals around dance, nature and the body as being central to her performance ideology.
Barefoot and clad in sheaths inspired by Greek imagery and Italian Renaissance paintings, Duncan danced her own choreography in the homes of the financially elite before becoming a major success in Budapest, Hungary, having a sold-out run of shows in 1902.
She embarked on successful tours, becoming a European sensation honored not only by enraptured audiences, but by fellow artists who captured her image in painting, sculpture and poetry.
Duncan's style was controversial for its time, as it defied what she viewed as the constricting conventions of ballet, placing major emphasis on the human female form and free-flowing moves. Duncan's achievements and artistic vision would lead her to be called the "Mother of Modern Dance"—a moniker also shared by a successor of sorts, Martha Graham.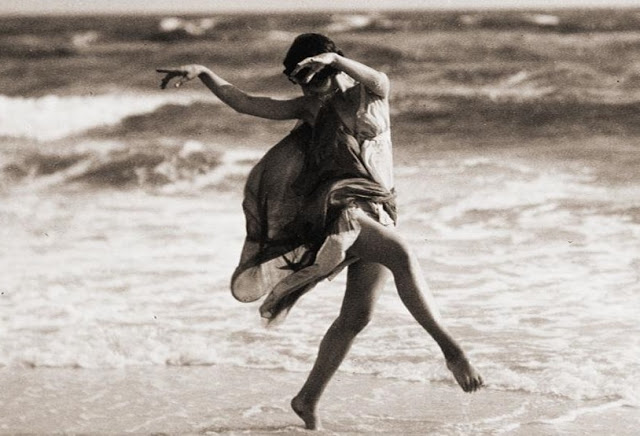 In contrast to the short tutus and stiff shoes that ballet dancers wore,
Duncan typically danced barefoot, wrapped in flowing togas and scarves.

Duncan defied social custom in other ways and was viewed as an early feminist, declaring that she wouldn't marry and thus having two children out of wedlock.
Duncan also founded dance schools in the United States, Germany and Russia, with her dance students dubbed the "Isadorables" by the media.
She developed a particular affinity for the latter country and its revolutionary movements, and in the early 1920s received patronage from Vladimir Lenin for her teaching work.

Difficult Personal Life
Duncan faced horrific tragedies in her life, with her two children and their nanny drowning in 1913 when the car they were in fell into the Seine River.
Later, Duncan married poet Sergey Aleksandrovich Yesenin in 1922, favoring a legal union to allow him travel to the U.S.
However, the couple was ostracized due to the serious political unrest at the time, and Duncan declared that she would not return to America.
The marriage wouldn't last, with Yesenin suffering from severe mental health issues and finally committing suicide in the mid-1920s.
Duncan struggled emotionally during her later years.
She died in Nice, France, on September 14, 1927, when her scarf got caught in the back wheels of an automobile in which she was riding.
On the day that she died, Duncan was a passenger in a brand-new convertible sportscar that she was just learning to drive.
As she leaned back in her seat to enjoy the sea breeze, her enormous red scarf ("which she had worn since she took up communism," one newspaper reported) somehow blew into the well of the rear wheel on the passenger side.
It wound around the axle, tightening around Duncan's neck and dragging her from the car and onto the cobblestone street. She died instantly.
Mary Desti, Duncan's friend who saw Duncan off as she was going for the driving lesson had asked her to wear a cape in the open-air vehicle because of the cold weather, but Duncan insisted she would wear the scarf.
As they departed, she'd reportedly said to Desti and some other companions, "Adieu, mes amis. Je vais à la gloire!"
("Farewell, my friends. I go to glory!")
The same year of her death, Duncan's autobiography was published, My Life, which has gone on to become a critically acclaimed work.
Over the years, many other books, along with several films, have offered accounts on Duncan's life and art.