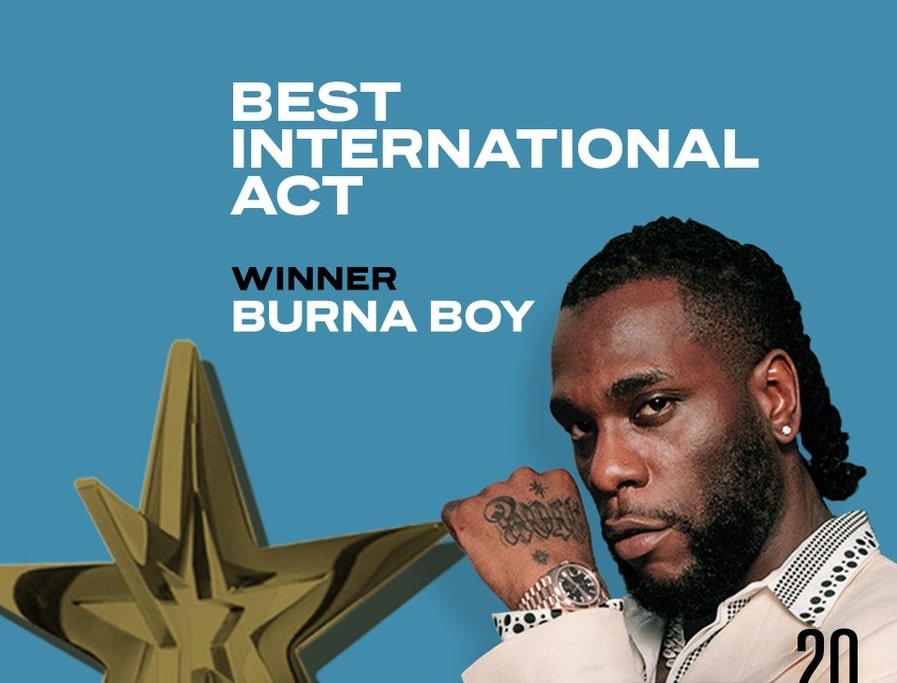 The 2020 BET Awards took place Sunday night, June 28, 2020.
The award ceremony which like its previous others celebrates Black achievements in entertainment and sports. Due to the ongoing coronavirus travel and social gathering restrictions, the 2020 BET Awards was held online.
Many African music talents got a nod at the 2020 BET Awards, including three of Nigeria's greats.
Burna Boy who was nominated under the coveted "Best International Act" category knocked off talents from other nationalities to win the award.
Other artistes nominated under the Best International Act category with Nigeria's Burna Boy are:
a. Innoss'B (Democratic Republic of Congo)
b. Sho Madjozi (South Africa)
c. Dave (U.K.)
d. Stormzy (U.K.)
e. Ninho (France) and
f. S.Pri Noir (France).
Burna Boy (Nigeria) won the 2020 BET's Best International Act award.
Wizkid who was nominated under the BET Her Award category for his collaboration with Beyoncé, Blue Ivy Carter and Saint Jhn in Brown Skin Girl also won.
Nigerian fast-rising star Rema who was nominated under the Viewer's Choice: Best New International Act alongside many other talents lost the award to Zimbabwe's fast-rising star Sha Sha.
Artistes nominated for the 2020 BET's Viewer's Choice: Best New International Act are:
a. Rema (Nigeria)
b. Sha Sha (Zimbabwe) *WINNER
c. Celeste (U.K.)
d. Young T & Bugsey (U.K.)
e. Hatik (France)
f. Stacy (France)
One of the major highlights of the 2020 BET Awards night was Beyoncé receiving the prestigious Humanitarian Award which was presented to her by former first lady Michelle Obama.
Michelle praised Beyoncé for her passion in promoting Black excellence.
"To my girl, I just want to say you inspire me. You inspire all of us," Michelle Obama said.
Beyoncé dedicated her award to all those who have been marching in support of racial equality. "Your voices are being heard and you're proving to our ancestors that their struggles were not in vain," she said in a pre-recorded acceptance speech.
She then urged Black people to vote like their lives depends on it.
"Now we have one more thing we need to do to walk in our true power and that is to vote. I'm encouraging you to continue to take action. Continue to change and dismantle the racist and unequal system."
The 38-year-old superstar added: "We have to vote like our life depends on it, because it does!"