by Steve Knopper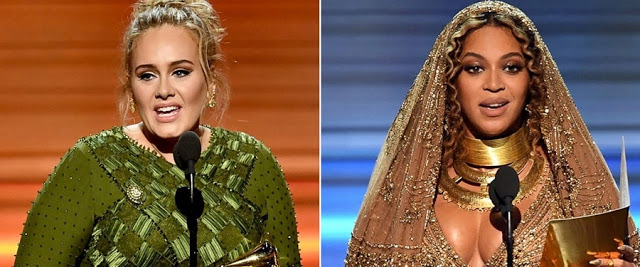 Even Adele, who won Grammy Awards in all the major categories, couldn't believe it. "I thought it was her year," she said of Beyoncé, whose acclaimed album Lemonade dominated critical discussion in 2016 yet was shut out last night.
"What the fuck does she have to do to win album of the year?"

Lemonade did win a lesser category, Best Urban Contemporary Album, which was akin to Michael Jackson grabbing Best Male R&B Vocal Performance in 1980 when Off the Wall wasn't even nominated for Album of the Year. (Slighted, MJ resolved to make an album that no award voter could ignore, ever, and set to work on Thriller.)
It's too bad Beyoncé, whose sole top-category Grammy was 2010's "Single Ladies (Put a Ring on It)" for Song of the Year, has to deal with the same old story. Here are some theories on why.
1. Grammy voters are white. And male …

Perhaps not coincidentally, Beyoncé chose the Year of Trump to make her most explicit statement on African-American pride, particularly in "Formation," in which she sings: "I like my Negro nose with Jackson 5 nostrils." Numerous Republicans hated her fantastic Super Bowl performance of the song last year – one congressman called Beyoncé "pro-Black Panther and anti-cop."
Although record-industry folks tend to be more liberal than the population at large, they're still heavily white and male. People of color are traditionally better represented in the Grammys than in the Academy Awards – Chance the Rapper did win Best New Artist last night – but it's not hard to envision a campaign similar to #OscarsSoWhite.
2. … and old

One Grammy voter had predicted to Rolling Stone that the not-quite-cutting-edge nature of the electorate could favor Adele over Beyoncé. "Beyoncé should win because her song was more culturally significant and more innovative. Adele – we feel like we've seen that show before," the voter said. "But I would not underestimate the average age of Grammy voters, and the chance that the sort of 'elder median age' could put Adele in."
The Grammys have a post-nominations panel designed to avoid embarrassing gaffes, like Jethro Tull's defeat of Metallica in the Infamous Hard Rock Upset of 1988. But giving an Album of the Year award to Adele? Seems safely in the "not a gaffe" category.

3. The 25 LP was simply more popular than Lemonade

Grammy voters were far more likely to have actually heard the Adele album (which has nearly 20 million sales worldwide, including more than 9 million in the U.S.) than Lemonade (not even 2 million). Although Beyoncé was more culturally important than Adele in 2016, swinging a baseball bat in an indelible image in the Lemonade video album, playing a Hillary Clinton rally in Ohio and grossing more than $256 million on tour, Adele was more visible.
Her tour hit just $168 million in sales, but she played 107 shows to Beyoncé's 49, according to Pollstar.

4. Adele put out 25 the old-fashioned way

For all the Spotifys and Pandoras, CD and digital-album sales still generate the most cash for record labels. Adele refused to stream 25 for months after it came out in late 2015 – and her strategy worked, racking up nearly 7.5 million sales by the end of the first year. Beyoncé, by contrast, streamed Lemonade exclusively through Tidal for its early weeks, in a deal that shut out Spotify and Apple Music users and, most likely, benefited Beyoncé more than her label.
By year's end, so many stars, from Drake to Rihanna, were doing these kinds of streaming exclusives that the world's biggest label, Universal Music, announced an outright ban on the practice. Could label types, who vote in the Grammys, have punished Beyoncé for this business move, or at least favored Adele? Probably not explicitly, but it's certainly plausible.

5. The vote may have been split

Vox theorizes that Lemonade, Justin Bieber's Purpose and Drake's Views split the pop and hip-hop vote, leaving Adele to compete among the biggest slice of the electorate against Sturgill Simpson's extreme dark horse A Sailor's Guide to Earth. This was almost certainly the explanation for Beck's 2015 Album of the Year victory, when Morning Phase beat out pop albums by Beyoncé, Ed Sheeran, Sam Smith and Pharrell Williams.
This year the argument is not as persuasive: Adele is pop, and she and Beyoncé are reigning divas. They could have easily split the vote themselves, allowing Drake or Bieber to slip in an underdog victory. But it didn't happen.
***

This article first appeared on Rollingstone.com