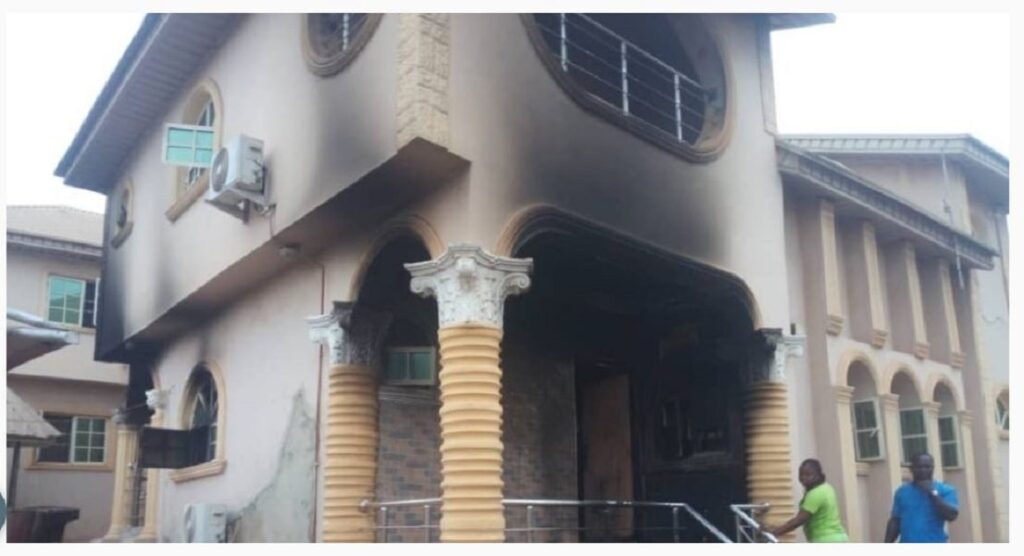 Yoruba youth leader and activist Sunday Igboho has confirmed a section of his house in the Soka area of Ibadan was set on fire by hoodlums early Tuesday morning.
Mr Igboho during a visit to the scene of the incident said he was sleeping in his old house around 3:00 am when he got a call from his younger ones informing him that hoodlums came to the house and were shooting. They then set the house on fire.
Sunday Igboho said he is shocked that some Yoruba people aided the "Fulani herdsmen" that came to attack him.
He told reporters:
"The herdsmen are killing and kidnapping our people but some Yoruba people are supporting the herdsmen to come and burn my house. I do not suspect anybody but if my people did not support them, they wouldn't come."
Mr Sunday said the cost of what the hoodlums destroyed in his house is more than N50 million naira.
Igboho also denied claims he is being sponsored by politicians.
He said:
"They just want turn my fight against Fulani herdsmen into politics. They want to destroy my reputation. No politician can pay me to do what I am doing. No politician is sponsoring me."
Mr Sunday Igboho also debunked reports of some social media posts attributed to him, stating that he doesn't post anything on Twitter or Instagram.
The Oyo State Police have confirmed the fire incident at Sunday Igboho's house and said the matter is currently being investigated.