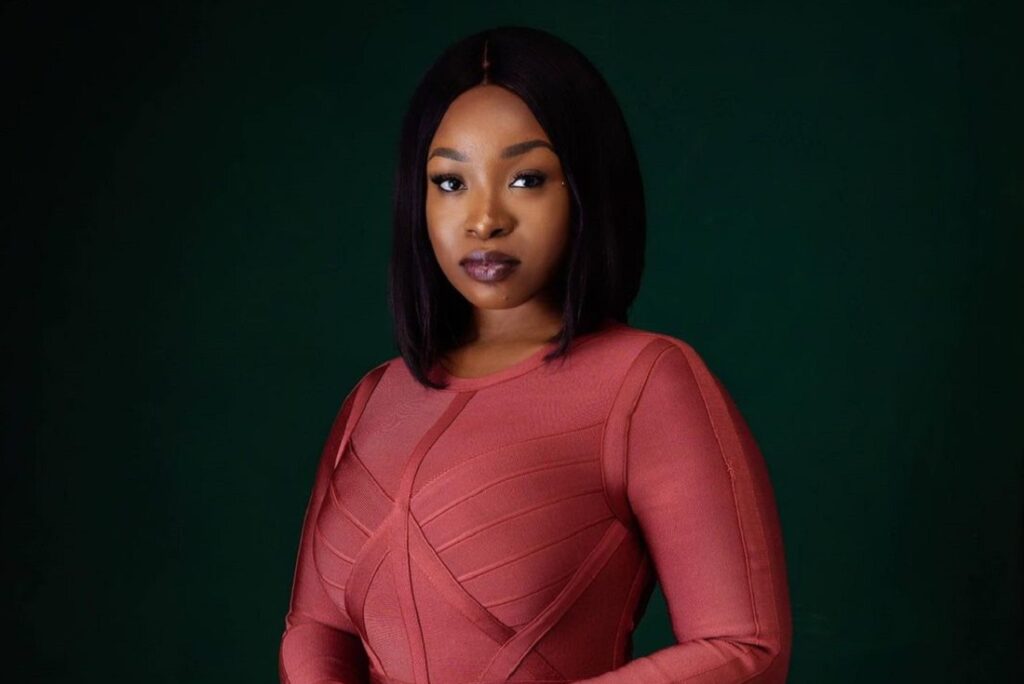 Who is BBNaija Jackie B?
Jackie B is one of the female housemates of the 2021 BBNaija Season 6 Edition tagged 'Shine Ya Eyes'. She got into the show on Sunday, July 25th, 2021.
BBNaija Jackie B's full name is Jackie Bent. She is a certified event and wedding planner as well as an interior designer.
Jackie B is the daughter of former Adamawa senator, Grace Folashade Bent.
During her entry to the show, Jackie B described herself as an introverted extrovert who is shy but confident.
Jackie B also called herself an adventurous person who gets bored easily, but maintains a high drive for money and success.
Jackie B has revealed she is a single mother of one and her child is the reason she auditioned for the BBNaija show.
The housemate has gained the support of former Minister of Aviation, Femi Fani-Kayode, who said he would like her to emerge as the show's winner. FFK described Jackie B's mother as a sister and friend.
Full data profile of BBNaija housemate Jackie B
| | |
| --- | --- |
| Full name | Jackie Bent |
| Age | 29 years old |
| Gender | Female |
| Birthday | December 1, 1992 |
| State of origin | Adamawa |
| Parents | Mr and Mrs Grace Folashade Bent |
| Height | 5″6 |
| Marital Status | Single |
| Tribe | Hausa |
| Career | Event Planner, Wedding Planner, Interior designer |
Jackie B's childhood and parents
BBNaija Jackie B was born on December 1, 1992, in Adamawa State.
Her mother is Mrs Grace Folashade Bent, an ex-senator of Adamawa South from May 2007 to May 2011 under the PDP regime.
Senator Grace Bent is originally from Osun State, but she married an Adamawa man named Jackson Bent.
The housemate has revealed that she has eleven siblings, eight brothers from her father and three sisters from her mother.
Jackie B's education
According to Jackie B, she went to different secondary schools in Nigeria as she was always being bullied and she had to relocate to the United Kingdom in her teenage years to further her education.
She studied Business Management and International Strategic Enterprise at Nottingham Trent University, London, and also has a Master's Degree in International Fashion Business.
The proud mother of one also made it known that she had her son, Nathan during her university days in the United Kingdom at age of 18.
BBNaija Jackie B revealed in an Instagram post that Nathan was nine months old when she graduated from the university.
Jackie B's career
Jackie B started her career as an interior designer before she ventured into events and wedding planning.
She launched a fashion store on December 1, 2018, called 'Lureino Bent' in Abuja to celebrate her 26th birthday.
BBNaija Jackie B is the CEO of her own events and wedding planning company called Jackie Bent Signature, before becoming a housemate in the BBNaija show.
Jackie B's relationship and boyfriend
Although a single mother, Jackie B came to the house as a single lady.
However, she was seen telling a male housemate, Pere, that she was ready to give love a chance after shutting the door at it for a while.
Jackie B explained that though there are a lot of guys she has liked, she has not been fully in love with any of them since her baby daddy who happens to be her first love broke her heart some years ago.
According to her, she is ready to go into a relationship with any housemate that is ready to tolerate her excesses.
Jackie B's child
Jackie B's son, Nathan was born in October 2011, while Jackie B was still studying in the UK.
BBNaija Jackie B has described her son as her best friend and she is always seen doting on him on social media.
Jackie B's baby daddy
Personal information about the identity of Jackie B's baby daddy is not available at this time but the housemate has revealed that he was her first love who later broke her heart.
Jackie B's net worth
BBNaija Jackie B has an estimated net worth of about N70 million naira before joining the BBNaija show, making her one of the richest housemates of the BBNaija Season 6 edition before the show.
Jackie B on social media
Jackie B's Instagram handle is @thejackiebent. Her Twitter handle is @realjackiebent.