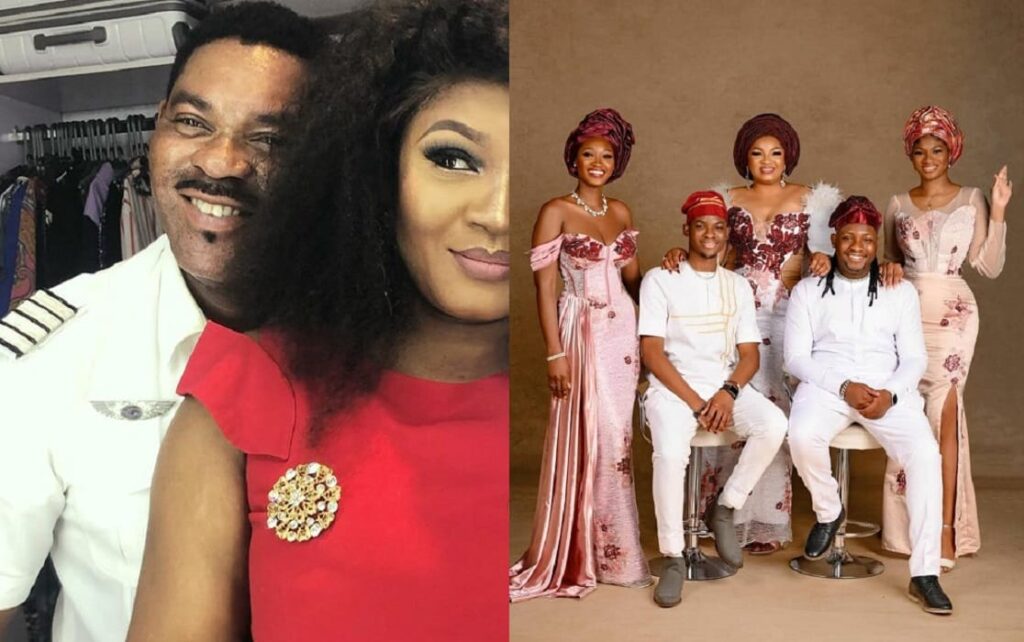 Who is Omotola Jalade Ekeinde?
Omotola Jalade Ekeinde is an award-winning Nigerian actress, model, singer, and philanthropist. She is popularly called 'Omosexy' by her fans and she is known across Africa for her humanitarian work.
Omotola Jalade Ekeinde was born on February 7, 1978, in Lagos state. Her parents are Oluwatoyin Jalade nee Amori Oguntade and Oluwashola Jalade – she is their first child and only daughter.
The 43-year-old actress who is originally from Ondo state got a degree in Estate Management in 2004 from Yaba College of Technology, Lagos. Though she briefly attended Obafemi Awolowo University, the details of her time and course of study in the school are unknown to the public.
She also obtained a Doctorate Degree in Arts from Igbinedon University, Okada in 2019.
Omotola Jalade Ekeinde made her Nollywood debut in 1995 after working as a model. She starred in the movie 'Venom of Justice' which was directed by Reginald Ebere.
Omotola scored the spotlight in 1996 after playing the role of 'Kemi', a young woman suffering from sickle cell anemia in the movie titled 'Moral Inheritance'.
The A-list actress also dabbled into music for a while, launching her music career in 2005 with her debut album 'GBA'. Her sophomore album was titled 'Me, Myself and Eyes'. It was produced by Paul Play and Del B.
Aside from being an actress, Omotola has her hand in the jar of many other ventures. She is a columnist with Ok! Nigeria, a reality TV show owner, has a foundation named Omotola Youth Empowerment Project (OYEP) amongst others.
Omotola has starred in over 400 movies during the course of her career, some of which includes Moral Inheritance (1996), Jealousy (2006), King's Battle (2009), Ije: The Journey (2010), Last Celebrity 1 and 2 (2011), Alter Ego (2017), Rattlesnake – The Ahanna story (2020).
Omotola Jalade Ekeinde's marriage and wedding
Omotola Jalade is not just a successful actress but a wife and proud mother of four children. She is one of those actresses that took the marital vow at a very young age.
Omotola Jalade got married to her husband, Captain Matthew Ekeinde, at the age of 18 in a court ceremony on March 23, 1996. They later had the most talked-about white wedding ceremony in 2001 after having their third child.
The white wedding took place on board a Dash 7 airplane flying from Lagos to the Republic of Benin with close friends and family in attendance. A clergyman was also on board to bless the union.
How Omotola Jalade and her husband met
Omotola Jalade met her husband, Captain Matthew Ekeinde, in 1994 at the Solid Rock Church in Iyana Ipaja. As of the time of their meeting, Omotola was 16 years old while her husband was 26.
They were introduced to each other by her husband's elder sister and they fell in love almost immediately. They started out as friends and Captain Matthew proposed marriage to the actress immediately after she turned 18.
The couple is one of the most loved and talked about couples in the Nigerian entertainment industry. Though they have had their fair share of relationship rumours and mild controversies, their marriage has been able to stand the test of time.
Omotola Jalade and her husband celebrated their 25th wedding anniversary on March 23, 2021, which coincided with Captain Matthew's birthday. The couple shared loved-up family pictures that kept social media buzzing.
Omotola Jalade Ekeinde's rumoured relationship with Adams Oshiomole
Omotola Jalade was once rumoured to have been romantically involved with Adams Oshiomole, the ex-governor of Edo state and ex-chairman of the All Progressive Congress (APC).
The rumour hit the media on January 18, 2021, after a popular gossip blog, Gistlovers shared a picture of the actress and the politician with an intriguing caption.
The caption reads:
"Today is sabbath day so we go keep am holy, we go just dey post pictures, maybe tomorrow when no be Holy day, we go give details, abi how una see am? I come in peace."
The actress took to the media barely 24 hours after the news surfaced on January 19, 2021 to debunk the allegation. She urged her fans and lovers to report the gossip platform on Instagram and also demanded that the blog provide evidence to support their claim within 24 hours.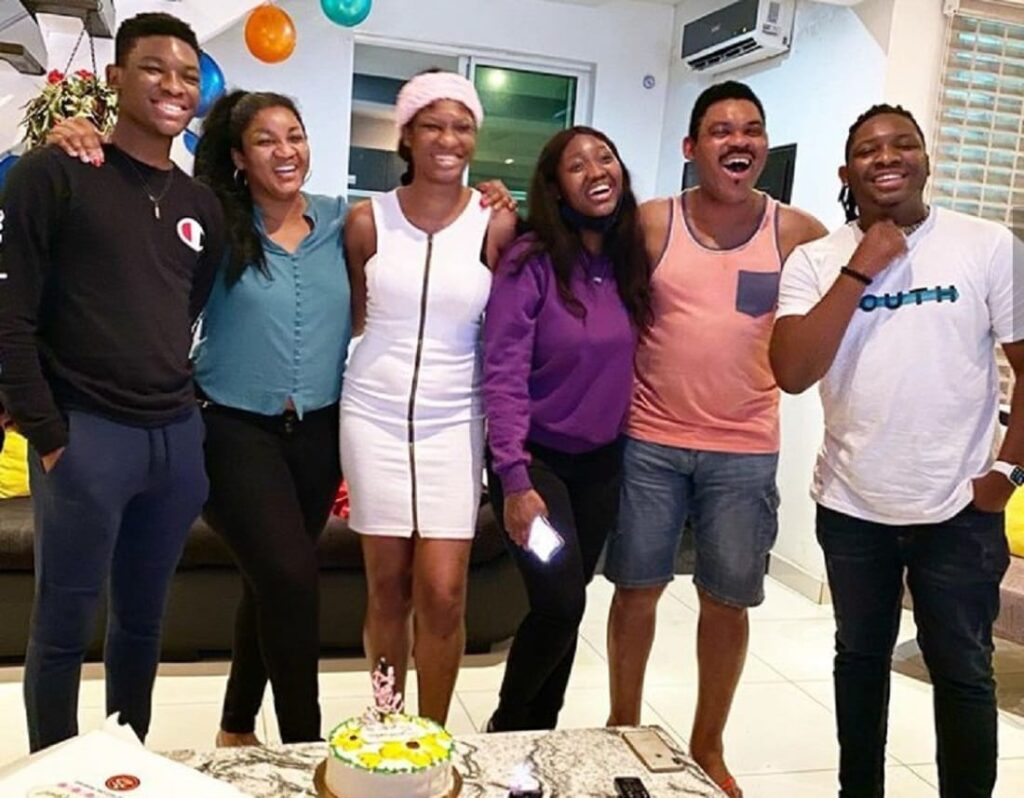 About Omotola Jalade Ekeinde's husband, Captain Matthew Ekeinde
Captain Matthew Ekeinde is the lawfully wedded husband of Nollywood actress Omotola Jalade and the father of her four children.
Captain Matthew Ekeinde is a Nigerian-born pilot and businessman from Sabongida Ora in Edo state. He was born on March 23, 1968, in the Eastern part of Nigeria, where he spent most of his early age since his father was a divisional police officer.
He began his career in England as a pilot after graduating from an aviation school before he relocated to Nigeria in 1991.
Captain Matthew has worked with different airlines like Aero Contractors, Air Nigeria, Arik Air, Bellview, Sosoliso, Air Peace, and Bristow Helicopters, also known as Pan African Airlines. He has also worked with AIC Airlines which is owned by Nigerian business mogul, Chief Harry Akande.
Omotola's husband is also the owner of Aquatic Jungle Entertainment, a tourist and entertainment centre in Badagry. Despite the nature and demands of his pilot job, Captain Matthew Ekeinde remains a loving father and caring husband who always makes out time to be with his family.
Omotola Jalade Ekeinde's children
Nollywood actress Omotola Jalade has four lovely children with her husband – two boys and two girls named Princess, Matthew, Meraiah, and Michael respectively.
Princess Ekeinde
Princess Ekeinde is the first child and look-alike daughter of actress Omotola Jalade Ekeinde. She was born a year after her mother's marriage on March 30, 1997. Princess Ekeinde is currently 24 years old. She has a degree in Hospitality and Tourism from the Mediterranean University in Cyprus.
Matthew Johnson Ekeinde
Matthew Johnson Ekeinde is the second child and first son of actress Omotola Jalade Ekeinde. He was born on August 20, 1998, and was named after his father.
Matthew Johnson is also in the entertainment industry like his mother but not as an actor. He is a music producer, sound engineer, video director, and disc jockey (DJ).
Matthew Johnson Ekeinde is also a musician with the stage name 'Captain E', though he is fondly called 'MJ' by his friends and family. MJ released his first album in 2017 titled 'Sound of Winter' and an EP in 2018 titled '20'.
Meraiah Ekeinde
Meraiah Ekeinde is Omotola Jalade's third child. She was born on February 7, 2000, which coincided with her mother's birthday.
Meraiah has a Bachelor's degree in Business Management and an Associate of Arts degree in Merchandise Product Development.
Meraiah Ekeinde is also a fashion designer and model. She was endorsed alongside her mother by Unilever's Knorr seasoning. She is currently working as a design assistant intern with a Los-Angeles based firm called 'Colourist'.
Michael Ekeinde
Michael Ekeinde is the last child of the Ekeinde family. He was born on April 19, 2002. Michael made headlines after he collapsed at the American Embassy in Lagos in February 2015.
The lad has also chosen to join the film industry but not as an actor. He is aspiring to become a cinematographer and a film director.
Michael Ekeinde is speculated to be the most private member of the Ekeinde family as he states that he is always careful about what he shares on the media.
List of Omotola Jalade Ekeinde's children and their ages:
| | | | |
| --- | --- | --- | --- |
| | Name | Gender | Age (As of 2021) |
| 1 | Princess Ekeinde | Female | 24 years |
| 2 | Matthew Johnson Ekeinde | Male | 23 years |
| 3 | Meraiah Ekeinde | Female | 21 years |
| 4 | Michael Ekeinde | Male | 19 years |