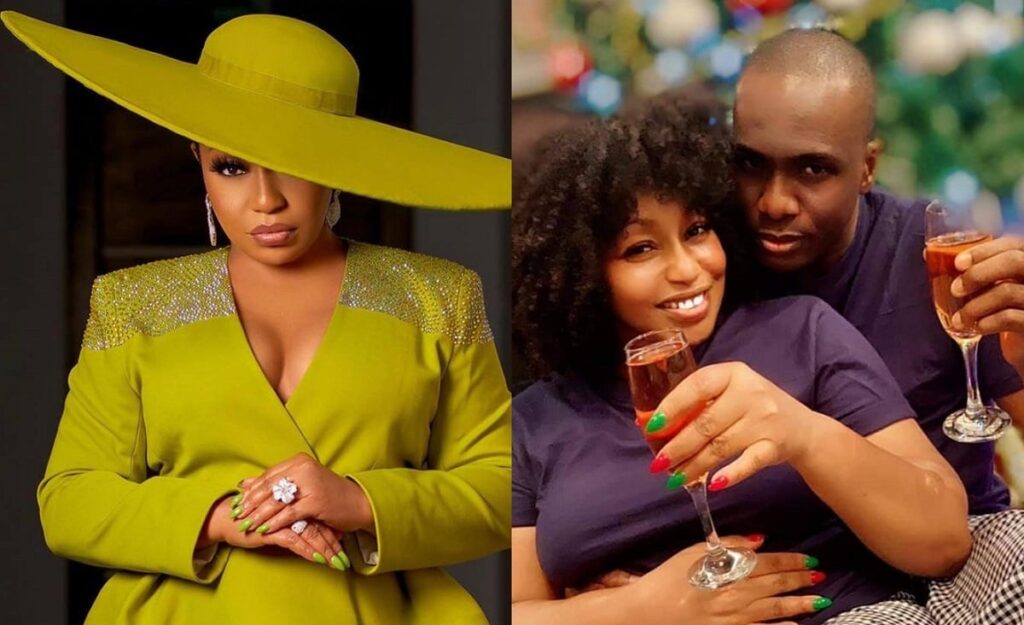 Who is Rita Dominic?
Rita Dominic is a multiple award-winning Nigerian actress, movie producer, model, and investor. She is the CEO of Rita Dominic Productions and co-founder of the Audrey Silva Company.
The actress's full name is Rita Uchenna Nkem Dominic Nwaturuocha. She was born on July 12, 1975, into the royal Nwaturuocha family of Aboh Mbaise Local Government Area of Imo state.
The 46-year-old actress from Mbaise in Imo State was born as the last child of four children.
Rita Dominic's parents
Rita Dominic's parents were healthcare professionals. Her father was a medical doctor while her mother was a nursing officer.
Rita Dominic graduated from the University of Port Harcourt in 1999 with a degree in Theatre Arts. She debuted in the movie industry in 1998 with the movie 'A Time to Kill'.
The on-screen diva has starred in over 350 movies since the launch of her career. Some of the movies she has starred in include The Intruder (1999), The Faithful (2003), Last Wedding (2004), Desperate Billionaire (2005), Girls Cot (2006), Yankee Girls (2007), White Waters (2008), Iyore (2015), '76 (2016), Mr and Mrs: Chapter Two (2018), The Therapist(2021), etc.
Rita Dominic's marriage and husband
Nollywood actress Rita Dominic is reported to have secretly married her media mogul boyfriend, Fidelis Anosike, some months ago without the attention of the media. The 46-year-old actress is also speculated to be pregnant with her first child.
UPDATE
Nollywood actress Rita Dominic and her husband, Fidelis Anosike had their traditional wedding ceremony on Tuesday, April 19, 2022. The glamorous event was held in the actress's hometown in Imo State and was attended by several Nigerian entertainers and celebrities.
Rita Dominic's relationship with Fidelis Anosike
Rita Dominic set the media ablaze on Saturday, December 26, 2020, when she shared a loved-up picture of herself and her never-before-seen boyfriend, Fidelis Anosike, on her Instagram page.
The lovebirds were seen twinning in similar pyjamas holding champagne flutes in one of the pictures, while the other had her partner hugging her from behind as they both smile at the camera.
There have been speculations in the past about Rita Dominic's romantic involvement with Fidelis Anosike, but the actress never addressed the rumours until the Boxing Day post.
The out-of-the-blue act created some buzz in the media because the actress has never been the one to share details of her romantic involvements in the past. The photos further stirred speculations that the actress would be walking down the aisle with her partner soon.
Rita Dominic: 2019 cancelled wedding
There were reports that Rita Dominic was about to get married sometime in 2019, but the wedding plan was cancelled as things did not work out between the actress and her supposed partner.
Rita Dominic later disclosed in an interview that she is happy the marriage didn't work out as she would only want to marry the 'man of her dreams' and not 'the man the society dreams for her'.
She also revealed during an interview with media personality, Chude Jideonwo, that in as much as she loved to be married, she doesn't want to rush into it as she wants to get married just once, to a partner she can grow old with, just like her late parents.
Rita Dominic's rumoured relationships and affairs
Rita Dominic has often been at the edge of relationship rumours and controversies, most of which has always turned out to be false and hearsays.
It was once speculated that she and one of Nollywood's top actors, Jim Iyke were dating and planning to get married. It later turned out that these rumours were stirred by the on-screen chemistry the two showed when paired in romantic scenes at the peak of their career.
Rita Dominic was also once speculated to be romantically involved with Nigerian footballer, Mikel Obi.
Rita Dominic: Lesbian allegations
Rita Dominic has been alleged to be a lesbian especially after she starred in the 2004 movie, 'Last Wedding' and the 2006 movie 'Girls Cot', where she acted a romantic scene with a female.
In some of the never-confirmed and rather strange reports, she was alleged of being a lesbian partner to the likes of German-born Nollywood actress and television host, Michelle Dede, Nollywood veteran actress, Genevieve Nnaji, and Beninese actress, Ella Martins.
About Rita Dominic's partner, Fidelis Anosike
Fidelis Anosike is the newly identified lover and romantic partner of actress Rita Dominic. He is a media mogul and founder of the Folio Media Group, a multi-media conglomerate controlling outfits like The Daily Times Nigeria, Ist October, Times Multimedia, Creative Africa Xchange (CAX), and so on.
Fidelis Anosike was born in 1966 to a junior police officer father. Unfortunately, the 55-year-old media businessman from Anambra state lost his father at a young age.
He graduated with a degree in Creative Arts from the University of Benin. He founded his conglomerate organization upon his graduation at the age of 24.
Fidelis Anosike also later obtained a business degree from Harvard Business School. He announced his resignation from his company's board in mid-2020. He made his resignation known in a statement on Sunday, June 7, 2020, as he unveiled new board members for the company.
As of the time of writing this report, Fidelis Anosike's marital status is not known as it cannot be confirmed if he was previously married or divorced. Though reports have it that he had had a few lovers who later broke up with him but it cannot be confirmed if he ever married any of them.
Rita Dominic's children
As of the time of writing this report, Nollywood actress Rita Dominic has no biological child of her own. However, she revealed in April 2021 that she has children she takes care of.
The actress also made it known that though she is not a mother, she would love to have her own children.
Rita Dominic's Pregnancy
Rita Dominic is currently speculated to be pregnant with her first child with her current partner, Fidelis Anosike.