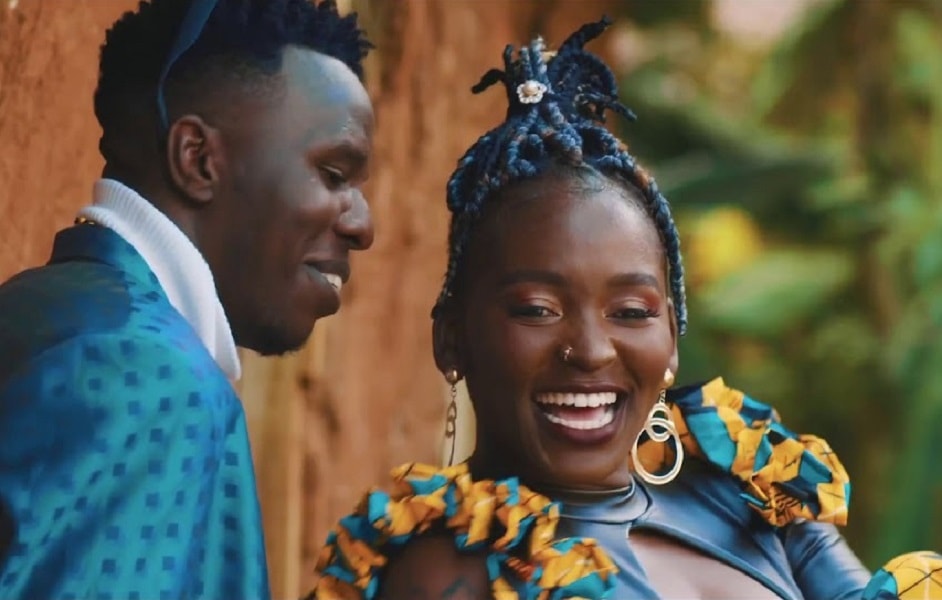 Ugandan talents FreeBoy and Winnie Nwagi made magic in 2020 with their collaboration in "Kwata Essimu", off Freeboy's album of the same name.
"Kwata Essimu" is one of those feel-good songs that captured the heart of Africans, no matter the region. The song has achieved hit status across several African states, including Nigeria, Kenya, Gambia, etc.
Release Date
FreeBoy x Winnie Nwagi – Kwata Essimu was released in June 2020.
Producer – VIVA and Swangz Avenue.
Director – Music video directed by Hillary Je and Marvin Musoke.
Where to download and listen
Stream, listen or download (MP3) of FreeBoy x Winnie Nwagi – 'Kwata Essimu' HERE.
Download MP3 HERE.
FreeBoy x Winnie Nwagi – Kwata Essimu Lyrics
Andy music
Winnie Nwagi
Freeboy (Kwata essimu)
Nkusaba kwata essimu, (fire baby)
Omukwano was searching
Omutima gunuma kuffa
Mukwano stop hurting
HmmMbu wewandaba you stopped looking
Mbu it is me boy, you were wanting
Hmm
I like yo hips olina figure am not lying (oh really)
Kati laba laba mukwano
you're laughing (hmm), sorry
My money I was spending
Nkugulira bu chips ne shisha
Mukwano you were eating (hmm)
Don't you know buh am dying
Hmm..lwakuba tobiraba
You and me we're fitting
Hallo hallo beibe
Hmm..mukwano tonziza mu kyaalo
Mu kyaalo wo wu
Nze agamba hallo (hallo beibe)
Mukwano kwata essimu (nkusaba kwata essimu)
Olwaleero tebukye eh
Empale biraka biraka
Mbiguza malala
Olwo nongoberera
Ogeza no nondeka ah (hmm)
Nze sisobola kukuleka
Ondyako ebyange
Nze nondeka wano nga ndya empuuta (empuuta)
Baby wandyako ebyange
Nondeka wano nga ndya empuuta (Ngamba empuuta nyabo)
She told me she don't love me because am local (ye ye)
Within ma life nentalya luvimbo
When I can believe it boy nkuba mu zi photo
Mwana gwe nakutamiira
Nga omwenge gwa tonto
Hallo hallo beibe
Hmm..mukwano tonziza mu kyaalo
Mu kyaalo wo wu
Nze agamba hallo (hallo beibe)
Mukwano kwata essimu (nkusaba kwata essimu)
Ongamba you were searching
N'omutima gukuluma kuffa mukwano stop lying
Nze wenakulaba stopped looking
Because is you girl I am wanting (hmm)You say
I do wana no I do wana no
I do wana nobody like you (nobody like you)
You say
I need a man with a Land Rover
Gat need a man who can come over
Who got to love and take over (and take over yee)
Hmm
Omutima gunuma
Darling lwakuba togulaba
Hallo hallo beibe
Hmm..mukwano tonziza mu kyaalo (hallo hallo)
Mu kyaalo wo wu
Nze agamba hallo (hallo beibe)
Mukwano kwata essimu (nkusaba kwata essimu)
Hallo beibe
Hallo darling
Hallo beibe
Swangz Avenue
Hallo hallo hallo
Kwata Essimu lyrics © O/B/O Capasso