by Staff writer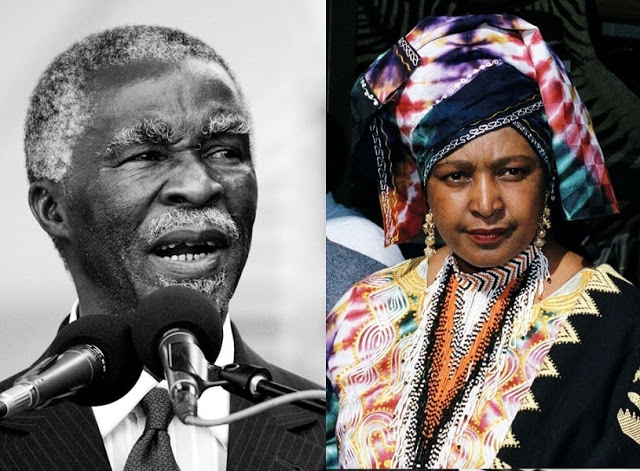 During a 2001 Youth Day event, former South Africa president Thabo Mbeki pushed Winnie Mandela aside and brushed off her kiss as the anti-apartheid campaigner made to kiss him.
Ms Mandela's motorcade had swooped into Orlando stadium in Soweto where the rally was under way, interrupting a speech by a youth leader.

The crowd turned noisy, cheering the popular ex-wife of former president Nelson Mandela as she strode onto the dignitaries' platform and headed for Mbeki.

But as she stooped to kiss him Mbeki turned his face away and flicked his hand at her, knocking off her hat in the process.

He spoke to her angrily before she walked away to take a seat.
Asked afterwards about the incident, Ms Mandela replied: "Ask him ."
South Africa's ruling party, African National Congress (ANC), later criticized the former anti-apartheid heroine Winnie Madikizela-Mandela for disrupting proceedings at a rally which resulted in a furious Mr Mbeki publicly spurning her.
The statement accused her of "behaving badly, flouting protocol and disregarding the solemnness of the occasion".
The attack was the ANC's first public denunciation of Mrs Madikizela-Mandela and reflected the break-down in relations between her and President Mbeki.
Twice in South Africa's seven years of democracy, Ms Madikizela-Mandela has worked tirelessly for a Thabo Mbeki victory.
There were reports at the time that Ms Mandela was spreading rumors and accusing Mbeki of being a womanizer.
Ms Mandela vigorously denied these claims and even wrote to the then Deputy President, Jacob Zuma, asking him to mediate between her and Mr Mbeki.
Dubbed the "Mother of the Nation" for her role in fighting apartheid in South Africa, Ms Mandela's death at age 81 on Monday has thrown many people around the world into deep mourning.
Politicians and celebrities alike have taken to various platforms to celebrate Winnie Mandela's courage and role in the liberation of her people.
However, beside all the praise and adoration are also a series of scandals and controversy.

Mrs Madikizela-Mandela was accused of conducting a virtual reign of terror in parts of Soweto by other members of the ANC in the late 1980s, and was once heard voicing her support for the practice of "necklacing" – the act of putting burning tyres around suspected informants' necks.

She was also found guilty of kidnapping and sentenced to six years' imprisonment for her involvement in the death of 14-year-old township militant Stompie Seipei.

She always denied the allegation, and the sentence was later reduced to a fine.

In 2003 she was again embroiled in hot controversy when she was convicted of fraud.