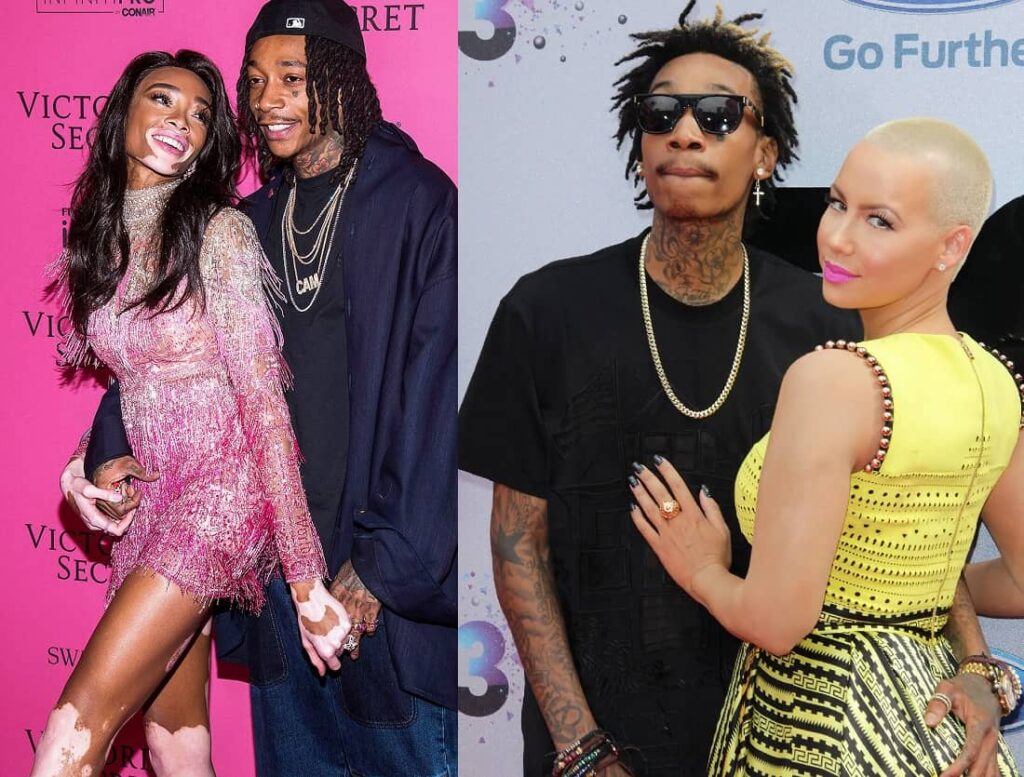 Who is Wiz Khalifa?
Wiz Khalifa is an American rapper, singer and songwriter. He is popularly known for hit songs like "See You Again", which featured Charlie Puth and "Remember You", which featured The Weeknd.
Wiz Khalifa's real name is Cameron Jibril Thomaz. He was born on September 8, 1987, in Minot, North Dakota, the United States to his parents: Laurence Thomaz (father) and Peachie Wimbush (mother). As of June 2022, Wiz Khalifa is 34 years old.
About Wiz Khalifa's parents
Wiz Khalifa's parents served in the American military. As a result of his parents' military service, Wiz Khalifa regularly moved from place to place during his childhood. His father, Laurence Thomaz is an Air Force veteran and appears to be completely encouraging of his son's interest in music.
He said:
"Despite my military background, it was always my role to be supportive of Cam's dreams. I even bought him some inexpensive audio equipment when he was young."
Laurence Thomaz added that after Wiz Khalifa graduated from high school, he gave him one year to "make his mark" in music. He said:
"I told him if things didn't take off in the industry, then he needed to give college a try."
Speaking about his relationship with his father, Wiz Khalifa said:
"My dad told me to always give a hundred percent in anything that I do. That's why I'm standing here as an artist."
Wiz Khalifa's mother, Peachie Wimbush and his father got divorced when Wiz Khalifa was three years old. Peachie Wimbush is an activist for transgender rights and an author. She has appeared alongside her son at several red carpet events.
About Wiz Khalifa's siblings
Rapper Wiz Khalifa had a sister named Dorien "Lala" Thomaz who identified as transgender. Unfortunately, Lala Thomaz passed away in 2017 at the age of 32. She allegedly died of lymphoma, having refused all attempts to save her life. According to Peachie Wimbush, Lala Thomaz made up her mind not long after her diagnosis not to go through treatment.
Eventually, Lala Thomaz died of natural causes. Speaking about his sister, Wiz Khalifa's mother, Peachie Wimbush said:
"I also believe that people reserve the right to live and die like they want to. I believe that people deserve to have dignity in death."
Why Wiz Khalifa chose the moniker
While Wiz Khalifa was writing songs as a teenager, he adopted several variations of his stage name before deciding on Wiz Khalifa. "Khalifa" means successor in Arabic, while the "Wiz" came from "Wisdom".
Speaking about how he came about his stage name, Wiz Khalifa said:
"When I first started rapping, my uncle's name was "Knowledge" and we were all in a group. I wanted to make a name that was sort of like his so I chose Wisdom. My uncle was a Muslim so he gave me the name, "Khalifa" which means successor. I was Wisdom Khalifa for a while but I dropped the "dom" from "Wisdom."
About Wiz Khalifa's marriage and wedding
As of June 2022, Wiz Khalifa is not married and does not have a wife. However, he was previously married to Amber Rose. They got married in 2013 but things did not work out and they separated in 2014. Their divorce was finalized in 2016.
Wiz Khalifa has also dated several popular and beautiful women in the American entertainment industry, including the likes of Khloe Kardashian and Winnie Harlow.
List of women Wiz Khalifa has dated
Khloe Kardashian
Amber Rose
Rita Ora
Draya Michele
Winnie Harlow
Izabela Guedes
Natalie Nunn
Chandra Davies
Aimee Aguilar
Apryl Jones
Raven Felix
Indyamarie Jean
About Wiz Khalifa's relationship with Amber Rose
Amber Rose is an American model, television personality and former stripper. After Wiz Khalifa said in an interview that he would like to date Amber Rose, Amber Rose reached out to him on Twitter to send him a pair of her designer sunglasses. Later on, they arranged a meetup in Los Angeles and then hit it off from there. Amber Rose, who was formerly involved with Ye (Kanye West) announced her relationship with Wiz Khalifa in 2011 when she tweeted:
"I'm so in LOVE. I don't care what anyone says. That's my baby. I found happiness, my heart is with Cam."
In July 2011, Amber Rose tattooed Wiz Khalifa's name on her finger. That same year, the couple took the 2011 MTV VMAs by storm. Later, in March 2012, Wiz Khalifa proposed to Amber Rose and she accepted. They got married in July (some reports say August) 2013. A few months before their wedding ceremony, Amber Rose and Wiz Khalifa welcomed their son, Sebastian Thomaz. Sadly, a year after their marriage, Amber Rose filed for divorce. At this time, there were speculations that Amber Rose was cheating on Wiz Khalifa.
Amber Rose shut down these rumours in a tweet. She accused Wiz Khalifa of being the one cheating instead. She wrote:
"Please stop with the fake stories. I would never ever ever cheat on my husband in a million years. I think you guys know this. Unfortunately, my now ex husband can't say the same."
Following their split, Amber Rose said that there was no bad blood between her and Wiz Khalifa and that they were still very good friends. She said:
"Wiz will always be my best friend, fore. We're best friends. It's kind of weird, because it's like we're almost better divorced."
Wiz Khalifa told Playboy Magazine that while he was sad about the breakup, he had made his peace with it. Wiz Khalifa said that the divorce was a blessing in disguise for him. He said:
"I feel like not being in a relationship helped me a lot. I learned how to be present where I need to be present. I'd been present in the relationship but at that age, and with what was going on, it just wasn't right for me. It helps to walk away sometimes, even though it was super hard."
He also stated that when the time was right, he would get married again.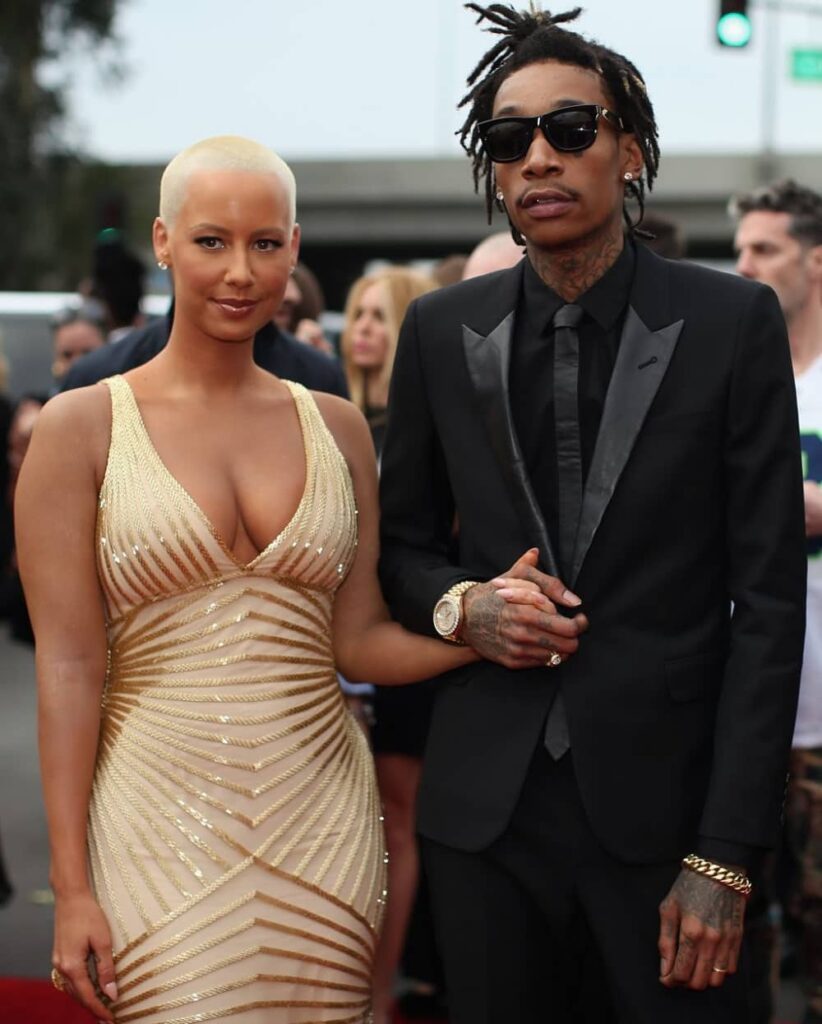 About Wiz Khalifa's relationship with Khloe Kardashian
In 2015, it was rumoured that Khloe Kardashian was in a relationship with Wiz Khalifa because she wanted to get back at Amber Rose after their Twitter feud. Khloe Kardashian's beef with Amber Rose began when Amber Rose said that Kylie Jenner was too young for Tyga. As a result, Khloe Kardashian launched an all-out war against Amber Rose. Shortly after Amber Rose announced her split from Wiz Khalifa, Khloe Kardashian was seen at a restaurant with him. Things got really messy when Wiz Khalifa sided with the Kardashians against Amber Rose.
An inside source said:
"Khloe is still secretly sneaking around with Wiz Khalifa, and Amber knows it. That's why she's really mad. After Amber dissed Khloe and her sisters on Twitter, Wiz totally took their side by posting pictures of her dirty house online and slamming her parenting. This feud is far from over. It's only going to get worse."
About Wiz Khalifa and Izabela Guedes
Izabela Guedes is a Brazilian model. Wiz Khalifa and Izabela Guedes dated from October 2016 to February 2018. They broke up because Guedes allegedly caught Wiz Khalifa cheating on her with his ex. There were speculations that the person Wiz Khalifa was seeing behind Izabela's back was Amber Rose but this was never confirmed.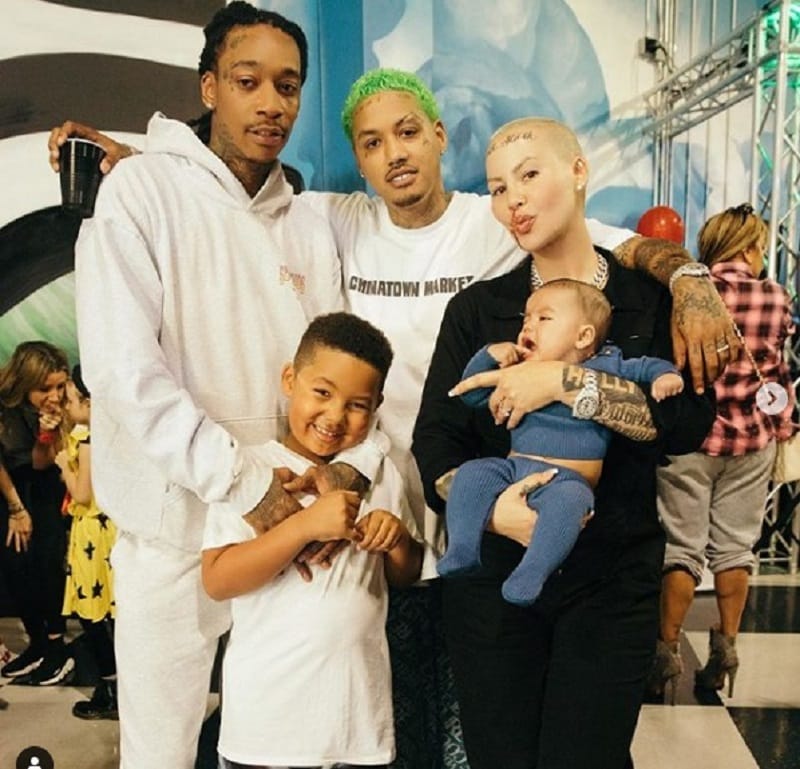 About Wiz Khalifa's relationship with Winnie Harlow
Winnie Harlow (born Chantelle Whitney Brown-Young) is a Jamaican-Canadian model and public spokesperson for the skin condition – vitiligo. She is the first model with vitiligo to walk at the Victoria's Secret Fashion Show. Winnie Harlow and Wiz Khalifa started dating in 2018, four years after his split from Amber Rose. The two first sparked dating rumours when Winnie Harlow wore a "CAM" necklace, indicating her love for Wiz Khalifa. Later, Wiz Khalifa wore a "Winnie" necklace to a concert in Atlanta.
Interestingly, Amber Rose approved of Wiz Khalifa and Winnie Harlow's relationship, saying:
"I think she's a fucking sweetheart, I love my ex husband, in a way where, he's you know, my best friend."
Wiz Khalifa also came out to support Winnie Harlow at the Victoria's Secret show. Sadly, the relationship fizzled out and they broke up in October 2019.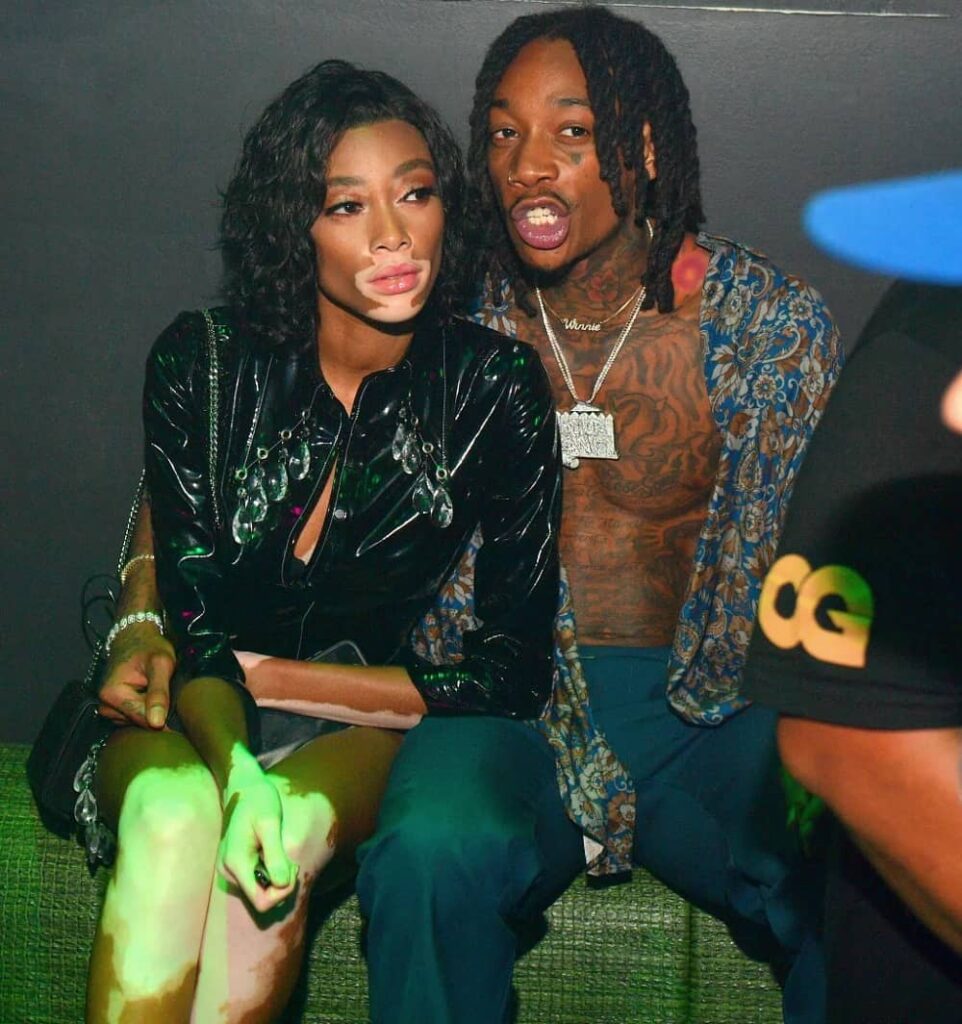 About Wiz Khalifa's relationship with Natalie Nunn
Natalie Nunn is an American reality TV star and entrepreneur. Wiz Khalifa and Natalie Nunn dated in 2010, before Amber Rose. They met in Pittsburgh. Later, when Nunn was asked about her relationship with Wiz Khalifa, she blew the camera a kiss and said; "Love you, Wiz."
The relationship later ended and Amber Rose was said to be the cause of the split. When Wiz Khalifa and Amber Rose came forward about their relationship, Natalie Nunn said:
"Natalie has two degrees. I still have two degrees that you can't take away from me. Not a degree as a stripper. You can't take that from me. Y'all gonna stop comparing me to these wack ass wannabe bad girls."
About Wiz Khalifa's relationship with Apryl Jones
Apryl Jones is an American actress and entrepreneur. She is also Omarion's baby mama. Wiz Khalifa and Apryl Jones dated shortly after his breakup with Izabela Guedes. He posted a picture with the caption – "Who u lovin'?" and Apryl Jones replied with a heart emoji.
About Wiz Khalifa's relationship with Indyamarie
Indyamarie Jean is a model. She and Wiz Khalifa dated from October 2015 to December of the same year. During their relationship, Indyamarie travelled with Wiz Khalifa to all his shows.
About Wiz Khalifa's relationship with Raven Felix
Raven Felix is a singer. Wiz Khalifa and Raven Felix dated briefly in December 2015. They also collaborated on a song titled "Bet They Know Now" in 2017. Not much is known about their relationship.
About Wiz Khalifa's relationship with Aimee Aguilar
Aimee Aguilar is Wiz Khalifa's current girlfriend. They have been together since 2019. Aimee Aguilar starred in the music videos for Tyga's "Taste" and Quavo's "How About That?" She is an entrepreneur and Instagram model. She has also made small cameos in shows like "Impractical Jokers" and "Power."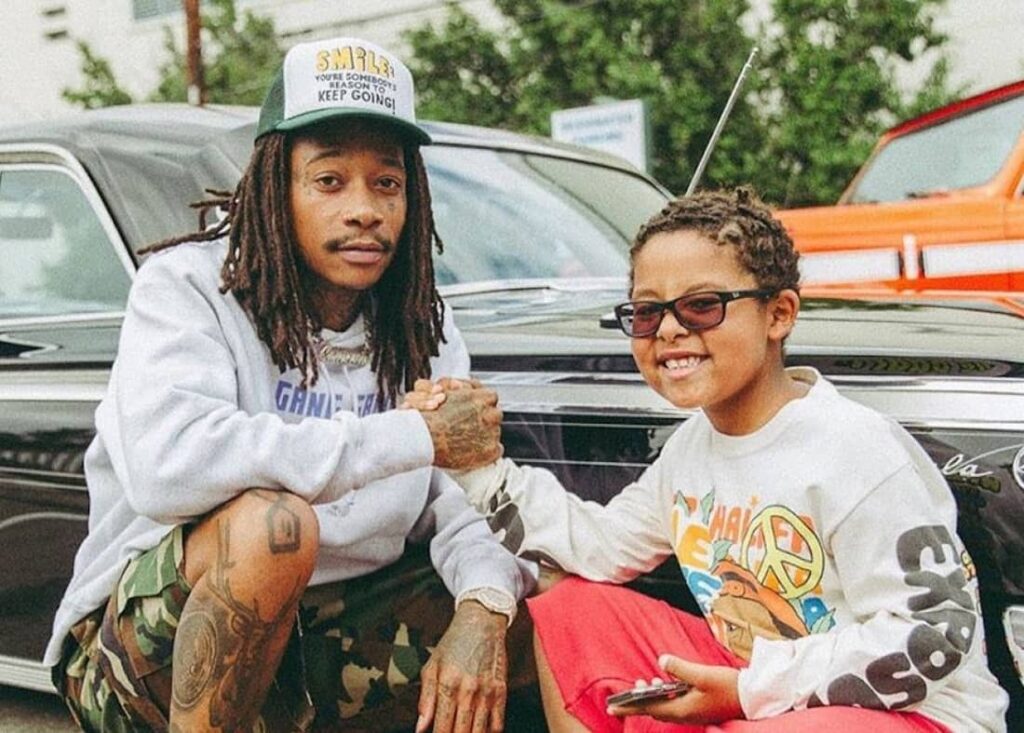 About Wiz Khalifa's children
As of June 2022, Wiz Khalifa has only one child – a son – with Amber Rose. The boy is named Sebastian Thomaz. He is fondly referred to as "Bash". Wiz Khalifa's son, Sebastian Taylor Thomaz was born on February 21, 2013. As of June 2022, he is 9 years old.