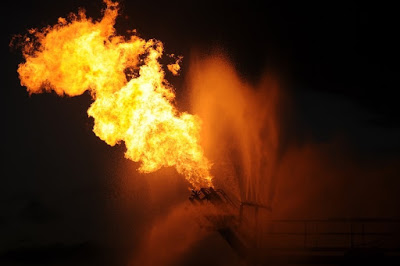 An explosion that occurred on Thursday at the Accra region of Ghana has left five people dead and a dozen others severely injured.

The explosion with its attendant fire outbreak was said to have started at about 6 p.m at a gas station located near the Zenith University College.
An eyewitness Joseph Quaye Amoo who earlier narrated the incident to Citi News said:
"I was sitting opposite the Kpogas furniture area when all of a sudden I heard a very loud explosion and I turned back and saw a huge flame! A huge furnace, so everybody started running…"
At least 12 people are in critical condition after sustaining major degrees of burns from the fire that came with the explosion.
Properties running into several thousands of dollars were also destroyed in the incident.
Witnesses said they heard a loud bang and saw flames billowing into the sky.
Injured persons reported to have suffered severe burns have been sent to the hospital for treatment.