by Staff writer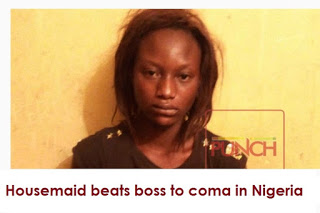 A female civil servant in Lagos State, Nigeria, has been left in coma after a severe encounter with her house girl, local media reports.

According to Punch Metro, which first broke the news, doctors at the Lagos State University Teaching Hospital, Ikeja, are still battling to save the life of the female boss after she was allegedly attacked by her maid in the Ejigbo area of the state.

It was also learnt that the assaulted woman, identified only as Mistura, had been in coma since Monday, March 5, 2018, when she was attacked by her maid.

The 18-year-old girl named Susan Samson was said to have attacked her boss with blended pepper and a wine bottle.

Despite a three-hour surgery on Wednesday, the victim had yet to come round and still in the intensive care unit of LASUTH.

It was learnt that Mistura, who taught in a public secondary school in Lagos, had employed Samson on February 4, 2018 to assist her with domestic chores.

The suspect was reported to have stolen her boss' money last Friday and Saturday.

After the stolen money was recovered from Samson's bag, Mistura was said to have alerted the agent who brought her.

The Ogoja, Cross River State native, in a desperate bid to escape from the house, which Mistura had locked, allegedly poured blended pepper on the boss while she lay on the bed.

She then grabbed a champagne bottle and smashed it on the victim's head repeatedly until she passed out.

The suspect was reportedly apprehended by residents who heard the victim's scream for help.

Punch Metro was told that the suspect was handed over to policemen from the Ejigbo division.

The victim's husband, who identified himself only as Alhaji Sikiru, said he had gone to work when the incident happened.

He said, "An agent brought her to my wife on February 4, 2018. The girl said although she was from Ogoja, Cross River State, she had her primary and secondary education in Ikorodu, Lagos State, where she had lived the better part of her life.

"I had gone to work around 6am on Monday when my wife was attacked. But when I was called, I went to make a statement at the Ejigbo Police Station where the girl was being detained. That was where she told me everything that happened.

"She said last Friday, my wife accused her of stealing some money. Again on Saturday, there was an allegation she stole another money. I was surprised because my wife did not tell me that the maid she employed was stealing her things.

"After I left the house on Monday, my wife asked her to buy balm for her down the street. While she was away, my wife went to her room and found the stolen money in her bag, including some other items which she (Samson) stole from her shop.

"My wife called the agent that brought her and asked him to come over to the house. The agent immediately called the girl to know what happened. The girl said she didn't know why she (Mistura) called him.

"At this time, she had become suspicious. So, when she got back to the house, she went to her bag and discovered that the stolen money and other items had been recovered by my wife."

He said Mistura, while awaiting the agent, locked up the two gates in the house and kept the keys.

She was said to have lain on the bed.

"When the girl saw that her secret was about to be exposed, she wanted to escape. On discovering that the pedestrian and drive gates had been locked, she became desperate.

"She went to the kitchen, took a bowl of blended pepper, and poured it on my wife on the bed. My wife could not see again, but she groped to the main gate. She started calling for help because she could not also open the gate.

"The girl went inside the house and found a bottle of champagne, which I had kept for an occasion. She smashed it on my wife's head five times. And she collapsed.

"Some residents, who had gathered outside the gate after hearing my wife's call for help, caught her as she tried to escape. They also found my wife in a pool of blood and rushed her to a hospital," he added.

He noted that during a visit of the police to the house, they found more stolen items in the suspect's room.

Alhaji Sikiru, while expressing fear over the condition of his wife, said he hoped she would make it out alive.

"She lost a lot of blood and I had to get six pints of blood yesterday (Tuesday). Because her blood level was low, the doctors gave her four pints so she could go through a surgery which started from 1am and ended around 4.30am on Wednesday. The surgery didn't bring out anything. She is still in a coma.

"My wife is in the intensive care unit of LASUTH. Her brain has collapsed and has been removed from the body and kept somewhere. Her kidney is already packing up. I hope she makes it out alive," he added.

The state Police Public Relations Officer, SP Chike Oti, said the case will be treated as an attempted murder.