NINE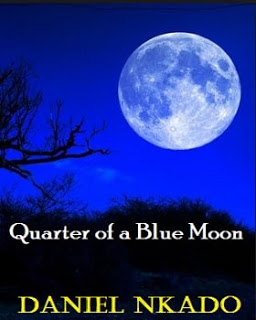 Chinelo has been thinking a lot lately.
She was very convinced that someone, something somewhere was punishing her and her family.

Perhaps it is God!
Probably for that little sin she committed as a teenager. Those nights she crept into the new reverend's apartment, after catechism on the pretence of returning prayer materials, while in the end allowing the ordained man of God to fondle her young breasts, suck on her nipples a little and then pull up her long gown.
It probably was it, that sin, that had come back to haunt her now.
Or it could also be because of her husband's own sin too.
She might be getting punished for her late husband's sin.
After all, once during sermon, the Archdeacon had said something about sins of the dead being visited on the living.
Maduka, her late husband, until his death, kept praying to his Chi. Before he ever broke a cola, he called the names of all his ancestors first before finally calling Chi-Ukwu, the greatest, to come and join in the cola.
He did this even on Sunday mornings too, before they leave for church.
Then, Chinelo would bark at him: 'Ezuzina ife ahu! Stop that rubbish!'
Maduka never listened.
To celebrate a good harvest, he would invite all his kith and kin, whether Christian, heathen, or half of the two as was common in his town in those days, to come and join in the feast.
Mmaduka—Family is greater—that was his name after all.
Chinelo knelt down in her room and began to pray. She begged God for forgiveness, even pleaded on her late husband's behalf too.
'Forgive us, Father,' she prayed, 'but allow my son to come back to me.'
'Bring him back, please. Bring them all safely back to me.'
'Will you allow a little boy, Father, to suffer for a sin he knows nothing about too?'
Later in the evening, Uzoma came by and informed her she had gone to her farm to plant cocoyam.
'Why?' Chinelo asked her.
'I have some corms left and have nowhere else to plant them.'
'What happened to all your land?'
Uzoma made a face. 'You are talking as if you don't know who my husband is. He warned me not to go near any of his lands, that he will cultivate many yams next year's planting season.'
'Okay.' Chinelo left her and walked inside.
On her way out, Uzoma murmured to herself, 'Is it possible that she will go and uproot the cocoyam that I have already planted?'
***
Sammy wanted to turn back as soon as she walked into the office space with James.
She didn't know there would be that much crowd.
Though it was clearly stated in the online vacancy post that only females should apply, she could count a number of guys on the bench too.
And they all stared at her the way job applicants always do a latecomer—like there is something about the person that threatens them. Depletes their chances of getting the job. That uniform rigid and demoralizing manner of staring.
And her coming in with a child hadn't done anything to help too.
She saw a few turning to look into their phones now, probably wanting to be sure there was no where it was mentioned in the interview invite that one should attend carrying a child.
If they saw anything like that, they will all rise immediately and burst out into the street, looking for babies to carry. Anything to ensure they got hired!
'Good morning, all!' Sammy said.
She didn't hear any response, only the sound of gazing eyes maybe.
She walked past and sat on a free seat.
James reached to the top button of her blouse, wanting to fasten it.
She held his hand and muttered to him, 'Leave it!'
A corporately-dressed girl in tall heels walked into the hall through the inner door. 'Good morning, everybody,' she said.
'Good morning,' they all chorused.
'We are starting in a few minutes, I will call you in according to your names, okay?'
Some said 'Okay', others only nodded.
'Please be sure that you have all your credentials ready, originals and extra copies.'
The candidates started opening their folders and files and handbags, getting their documents ready.
Before she sashayed away, the girl looked at Sammy again.
Sammy stared back.
'Opelenge,' Sammy muttered, as the last of the girl finally disappeared through the door.
James was touching the button again and she scolded him in a hushed voice. 'Fisile!'
'I want my mummy!' James cried, garnering everybody's attention to them.
'Say another word and I will take you outside!'
***
Angelina laughed again. 'Wait, did you say you packed your bags?'
'I did,' Rita said.
The heavy woman laughed again. 'And where are they? The bags, I mean.'
'In the back seat of the car.'
Angelina shook her head. 'Oh, Rita, you still behave like a child.'
'I said he hit me!'
'And so?'
'What?'
'Listen, girlfriend, if my husband is half as rich as Samson, even ever sponsored me on a vacation to ordinary Ghana here, not to mention Dubai or Italy, I can let him kick and punch me around as he wishes!'
'Angel! You really think of all these as a joke, don't you?'
'I am serious, my dear friend! Very serious. Listen, my main problem is not husbands that beat their wives, my concern is those shameless animals who have nothing to offer, yet dare raise their poor, penniless hands on their wives. I can't stomach such.'
'So you won't care if Tunji beats you?'
Angelina laughed. 'Tunji beat me? If Tunji beats me, I will pick him up from the ground, fold him into two and throw him over the fence.'
'So what then are you saying?'
'My dear, Samson is different. Samson has all the money in the world to afford to beat me, but Tunji, with his struggling bank job, how dare he?'
'I went to Fiona's school to withdraw her, the house mistress wouldn't allow me.'
'You want to withdraw your daughter from her school?'
'Yes.'
'Nne, you are taking this thing too far o, you are taking it too far. What is even the issue sef, why did Samson beat you in the first place?'
'You should have asked me this question a long time.'
'I'm sorry,' Angelina said. 'Oya tell me.' She lifted one heavy leg and dropped it on the other.
Even without the face Angelina was on, Rita could tell her friend's apology was shallow. She isn't that much bothered about why a rich man would beat his wife.
'I'm listening,' Angelina reminded.
'He asked me to give his account manager control over all my accounts, can you imagine that?'
'Hia, in that case it should have been you that slaps him not the other way round.'
'You may not know this but Samson is the most difficult person on earth. He doesn't laugh, doesn't smile. Doesn't bend! His mere presence scares me.'
'Most rich people are like that, very intimidating.'
Rita stared at her friend.
'Anyway, we can find a way around this. Let him have control over the business accounts and then you maintain your personal account. He wants to be monitoring you, score him overhead. Lodge up your personal account and then allow them take over the company account.'
'And you think he won't find out?'
'Baby, if he finds out, we move offshore! Ahn-ahn!'
'I'm not going back to that house.'
'So where will you stay? Where will you sleep at night?'
'Can't I stay here for some time?'
'What as? My maid? My sister, you have to go back to your home; Samson is not the kind of husband you leave anyhow.'
Angelina turned her eyes away. 'Rebecca!' she screamed. 'Rebecca!'
'Yes, Aunty!' The young girl called Rebecca ran out into the room.
'How many hours will it take you to prepare ordinary jollof rice, eh, this girl?'
'The rice is done, Aunty, I'm frying the chicken now.'
'You are frying the chicken for days? So the chicken has now turned to stone?'
'Please she should bring the rice first and the chicken later,' Rita said.
Angelina turned to Rebecca. 'You heard her, go and serve the rice!'
Rebecca walked away.
Angelina turned to Rita. 'You must be really hungry,' she said, her voice returning to normal again, 'when was your last meal?'
Rita responded with a sigh.
'I've told you,' Angelina said, 'if Samson keeps messing up, get yourself a small boy and he'll help you in forgetting all his troubles. You are even lucky that he's almost always away!'
***
Landlady Iya Nike looked out her window when she heard the sound of a bike stopping at the front of the gate.
She watched as Amaka, bare-footed and scruffily dressed, ran into the compound and down towards the Boys' Quarters block.
'Omo yi ko wu iwa daada,' Iya Nike muttered. 'She must go back to where she came from or they are vacating my house. Awon omo Igbo ma gba ero pupo.'
A phone on her centre table started to vibrate and ring, filling the air with a somnolent Muslim tone.
The big-bodied woman reached for the phone. 'Nike is calling again, hope it is not for money o. Emi ko ni eyikeyi owo.'
The call was cut before she could take it. 'Flashing! Always flashing!'
She saw Amaka running out again, looking even more disorganized than she previously were a few minutes ago.
Iya Nike opened her door and called out, 'Hey!'
Amaka stopped just before the gate and turned. 'Did you call me?'
'No, your ancestor! Come here!'
Amaka walked back to her.
'What is your problem?' the woman asked her.
'My baby, ma. I can't find my husband, I can't find my baby! Did you see him? Is my baby in your house?'
'Baby ko.' She splashed Amaka with some harsh Yoruba.
Amaka left her and ran back off.
***
Phillip remembered a story his father told him when he was young.
A story about the moon. How a pure, caring goddess had lived in the moon, and had through her beautiful gentle light, once guided a great warrior safely back home from a perilous journey.
Before her taking over the moon, the goddess had been human. She was struck by lightning and carried up into the moon!
On the night that he was born, his father carried him outside in front of their compound and raised him above his head and asked the good goddess of the moon to always guide him.
Just like she once did the ancient warrior of their land. That night he named him Chibuzo.
Through the open window of the uncompleted building he was kept in, Phillip fixed his eyes on the bright moon outside and prayed.
That the moon should come to his rescue.
Of course nothing happened. It was all fantasy.
But he stayed awake with the moon till it was way past midnight.
Till the two boys watching him slept off and he could hear their snores pierce the fragile quiet of the night.
He turned his eyes down and began to work on the ropes binding him together.
He tried and tried, to reach the big knot near his ankle, the one that held all the rope parts in place, but his tied hands could not reach.
He twisted, stretched and halved himself, still no success.
He was on the verge of quitting when he decided to try using his teeth.
On the second attempt, while curved catlike on the bare and dusty floor, he gripped the knot of the rope between his teeth and pulled.
He pulled again, and again, and finally the rope started to come apart.
Finally his legs came free.
And then his arms followed.
He rose at once and hopped over the window.
The noise of his feet landing on the ground got one of his keepers' attention and he opened his eyes.
Discovering he was escaping, he yelled out to his partner at once and they jumped the window in hot pursuit.
Phillip ran and ran, wading through tough grasses and thorny stems, all the while begging the moon to guide him home safely.
He was really close to the road, very close to the place called Alatunse in Ibeju-Lekki area of Lagos when a shot was fired.
And he fell to the sand, his wide open eyes fixed on the moon above. Before his sight finally cut, he muttered, 'None is to blame! Not a soul.'
And then his heart stopped.
'Why shoot?' one of the men pursuing him shouted at his partner.
'He was getting away!'
'Why shoot him?!'
'I was aiming for the leg!'
'We should leave here at once!'
And they disappeared into the darkness, leaving the stiff, dead boy on the sand.
To his death, the sky above turned deep blue and the bold moon dimmed.
###