by Staff writer
Following Facebook's recent data and privacy scandal, which has resulted in a strict two-day grilling of Facebook CEO, Mark Zuckerberg, by US congresspeople, a recent survey has shown that the trust young Americans have for Facebook may have nosedived.
In the March 2018 survey of young Americans conducted by Harvard Kennedy School Institute of Politics, only about one-quarter of respondents said Facebook could be trusted to "do the right thing" most or all of the time.

A total of 2,631 Americans aged 18- to 29 years old participated in the survey.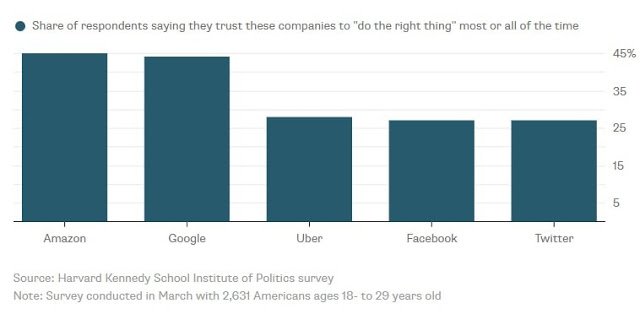 Weeks before the Cambridge Analytica story broke about the misuse of Facebook data, Harvard Public Opinion Project students were interested in young Americans' views of technology companies engaged in the public realm.
Using the same framework that applied to public institutions and agencies, the survey found that Amazon and Google are held in relatively high esteem, especially when compared to Uber, Twitter, and Facebook.
Overall, 45 percent of 18- to 29- year olds indicated that they trust Amazon, and 44 percent reported that they trust Google, "all" or "most of the time."
Approximately half as many young Americans indicate that they trust (all or most of the time) Uber, Twitter, and Facebook when compared to Amazon and Google, and nearly a quarter of the population (between 22% and 24%) never trust them.