by Staff writer


PLEASE DISREGARD THIS POST: TOSIN ODUNFA APPARENTLY IS A FRAUD!!!


So Nigerian oil mogul, Tonye Cole, was on-board an airplane with Professor Wole Soyinka, one of Africa's biggest literary heads, who Cole was clearly a fan of, when an incident occurred.
According to Cole's narration of the event on his Instagram, a young man he described as 'muscled' and wearing a 'baseball cap' with a tattooed arm had disrespected the revered Prof.

As the story goes, Professor Wole Soyinka was on the seat next to the plane's window when the said young man came and told the Prof the seat was his.
And truly it was, but, as Tonye Cole narrated, people including the flight's cabin crew tried to talk the young man into letting Prof have the seat, but he clearly refused and insisted Prof should vacate his window seat.
Wole Soyinka then quietly got up and moved to the next seat so the young man could have his seat back.
Tonye Cole's narration of this incident has created a lot of buzz online and most of the people reacting were on the side of the young man who they said did nothing wrong by demanding to have back what was his.
Nigerians also dragged the billionaire politician for the way he tried to 'paint the young man bad' by describing his physique and tattoos.
Reacting to the incident, the young man whose real name is Tosin Odunfa, said Prof didn't really get offended and even praised him for demanding for what's his.


In his post, Odunfa also explained his main reason for demanding to take back his seat was for a health reason.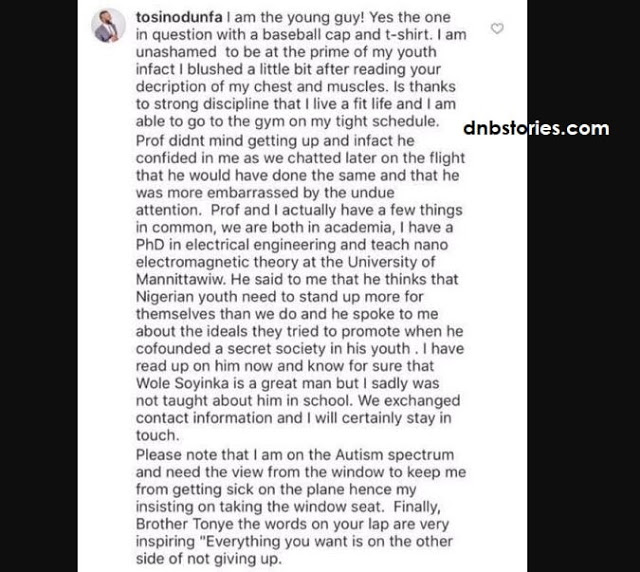 Odunfa identifies as an entrepreneur and engineer on Instagram.
In a related post, he writes that the Wole Soyinka story 'creates a plausible scenario of defence for young people who are often judged too quickly!'


***


PLEASE DISREGARD THIS POST: TOSIN ODUNFA APPARENTLY IS A FRAUD!!!