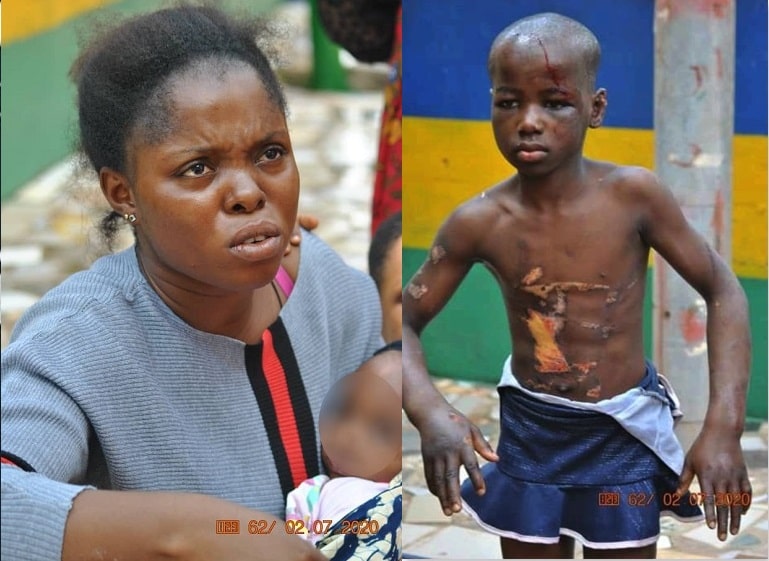 The Enugu State Police Command on Saturday arrested one Mrs Ifeoma Ezeugwu for severely abusing and battering a child put under her care.
It was gathered that Mrs Ifeoma Ezeugwu drilled long nails in two places into the head of her 10-year-old house help, Chinonye Nnadi.
Mrs Ifeoma Ezeugwu also on another occasion used a hot electric iron all over the body of the teenage girl.
It was learnt that Chinonye is a distant relative of Ifeoma Ezeugwu. Chinonye's mother who is a widow had sent her to go and live with Mrs Ezeugwu who ended up severely maltreating her.
According to a Facebook user who claimed to know the woman, Ezeugwu beat Chinonye almost every day using all kinds of weapons. She also used Chinonye for child labour.
Luck came to Miss Chinonye Nnadi's side when an NGO called WomenAids Collective (WACOL) was alerted over the incident. The NGO through the help of the police got Mrs Ifeoma Ezeugwu arrested.
WACOL's founder Professor Joy Ngozi Ezeilo called Mrs Ifeoma Ezeugwu's act evil.
She said:
"This is gory and torture of a young innocent girl whose only crime is being born to a poor widow who had to give her up to live with someone in the hope that she will get an education and survive. We pray that she recovers. "We demand full wrath of the law on this woman that inflicted such a level of physical injury on this girl.
"I spoke to the distraught mother of the victim. She is a poor widow living in a rural village in Aku, near Nsukka, Enugu state."
Professor Ezeilo said her organization will follow the case through and make sure Chinonye Nnadi gets justice.