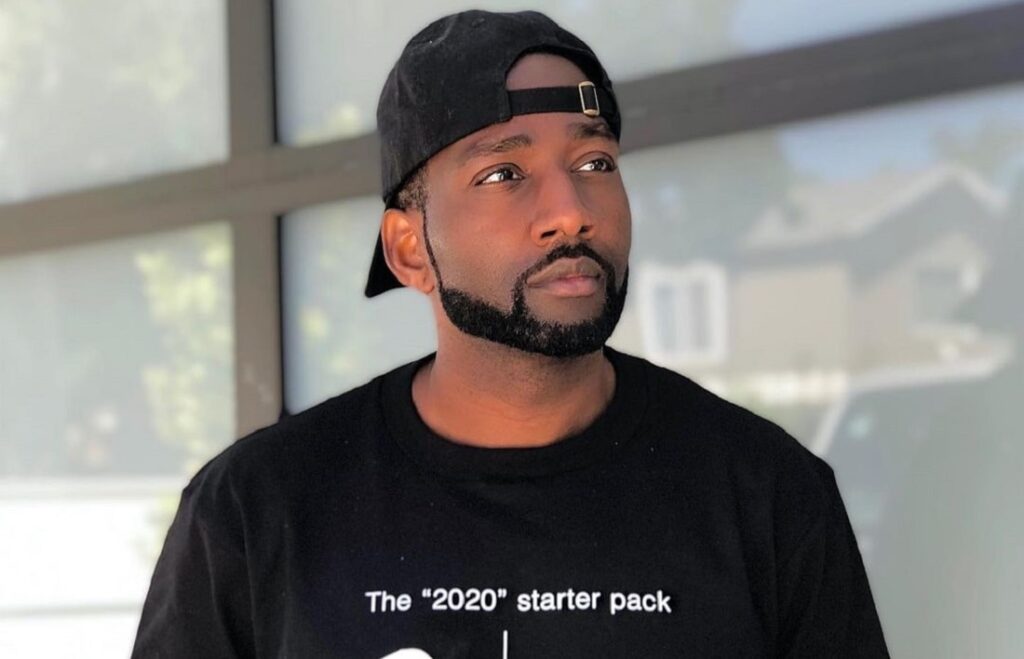 Who is DeStorm Power?
DeStorm Power is an American actor, musician, comedian and YouTube personality mostly known for his social media comedy skits.
DeStorm Power has garnered millions of followers across different social media platforms, from Instagram to Facebook and also YouTube, through his comedy videos.
DeStorm occasionally collaborates with other popular internet personalities, such as Jean Robert (Splack), Kina Grannis, Freddie Wong, Vassey, Nice Peter, etc, in his comedy skits.
Full data profile of DeStorm Power
| | |
| --- | --- |
| Full Name | DeStorm Power |
| Age | 39 years old |
| Gender | Male |
| Birthday | January 30, 1982 |
| Nationality | American |
| Parents | Mashala Power (mother) |
| Marital Status | Dating |
| Girlfriend | Alicia Gordillo |
| Children | Tayvion Power |
| Height | 6″0 feet |
| Career | Actor, Comedian, Singer, Content Creator |
DeStorm Power's childhood and education
DeStorm Power was born on January 30, 1982, in Arlington County, Virginia.
He has seven siblings; all of whom were raised by their mother – Mashala Power. DeStorm Power's mom, Mashala, died of stomach cancer in 2008.
DeStorm Power moved to New York in 2001 to start his career.
While DeStorm Power is reported to be a college graduate, information about the specific schools he attended is not available at this time.
De Storm Power's career
DeStorm Power has built an impressive career around music, comedy, and acting.
His career journey all began in 2001 when he relocated from Maryland to New York to pursue a career in music. He started as an intern and ghost songwriter at Atlantic Records, Universal. He also freelanced as a ghostwriter at other popular record labels.
A few years after, DeStorm Power found fame on YouTube as a content creator. His videos combine comedy and music, and he would sometimes create content based on his fans' suggestions, such as rapping in alphabetical order or beatboxing a song of their choice.
DeStorm Power is known by his signature phrase – "Wuz Up World?" – which he usually begins or concludes his videos with.
DeStorm Power has produced creative content for major brands, including the likes of Yahoo, Pepsi, and GE.
DeStorm Power has collaborated with other popular internet content creators and recording artists for content, such as the likes of Freddie Wong, Talib Kweli, King Bach, Mystery Guitar Man, Joe Penna, Nice Peter, Splack, and Kina Grannis.
DeStorm Power's sports career
DeStorm Power is both an athlete and certified personal trainer. He is experienced in the game of triple jump and has made it to the Olympic Trials.
DeStorm Power: "Caught – The Series"
In 2017, DeStorm Power started a short Instagram series titled "Caught".
The series featured celebrities such as Snoop Dogg and social media personalities like King Bach, Lamorne Morris, Alphonso McAuley, Lele Pons, Reedo Brown, Bradley Martin, etc.
DeStorm Power's "Caught" series achieved success across multiple social networking platforms and was even nominated for an Emmy.
DeStorm Power: The Zeus Network
As a businessman, DeStorm Power is one of the founders of the video streaming platform "The Zeus Network" which was launched in 2018.
DeStorm Power started the network along with other social media personalities, Amanda Cerny, King Bach, and television producer, Lemuel Plummer.
The Zeus network focuses on urban music, comedy, and lifestyle.
DeStorm Power's mixtapes
DeStorm Power has released two mixtapes with over 15 songs in them. Both mixtapes have received positive reviews online, accompanied by multiple likes, and shares.
DeStorm Power: Be Careful (2012)
Selfish
Love Signs
3-Minute Workout
Protest
Love All The Way
Finally Free
Champion
Baddest Mutha
Anything You Want
Hold That Pose
Watch Me
See Me Standing
The Background
Instagram
My Grind
DeStorm Power: King Kong (2013)
Let Em Talk
Invincible
Dream BiggerKing Kong
Cameras
You are a Star
Money in My Pocket
All Right
Magic
Fuckin Wit Me
Smoking on a J
Dream Bigger
Cheques
Pole Position
DeStorm Power's awards
American Music Awards for New Media Honoree (2011)
YouTube Music Awards for Innovation of the Year (2013)
Streamy Awards for Vine Comedian (2014)
Streamy Awards for Acting in a Drama (2017)
Streamy Awards for Writing "Caught The Series" (2017, 2018)
DeStorm Power's girlfriend and relationship
As of 2020, DeStorm Power is reported to be dating actress and model, Alicia "Janina" Gordillo.
DeStorm Power's girlfriend, Alicia "Janina" Gordillo is an actress, model, singer, and YouTuber celebrity. She was born on October 24, 1997, and she is currently 23 years old.
DeStorm Power and girlfriend, Alicia Gordillo, have reportedly been together for over three years now.
DeStorm Power's children
DeStorm Power has a grownup son named Tayvion Power from a past relationship.
DeStorm Power's son, Tayvion, was born on January 13, 2001, and he is currently 20 years old.
Tayvion, like his father, has started building his career as a YouTuber, actor, and comedian. He has collaborated with other YouTubers such as Malak Wilson and Carter Reynolds to produce engaging content.
DeStorm Power's child's mother
The mother of DeStorm Power's son, Tayvion, reportedly died while he was very young.
Tayvion was alleged to have been raised by DeStorm's father.
DeStorm Power wife
As of the time of writing this biography, DeStorm Power is not married but only has a girlfriend.
DeStorm Power's net worth
Based on current information about DeStorm's earnings and income, his net worth is estimated at $3 million (about N1.2 billion naira).
DeStorm Power on social media
DeStorm is active on social media. His Instagram handle is @destorm. His Twitter handle is @destorm.