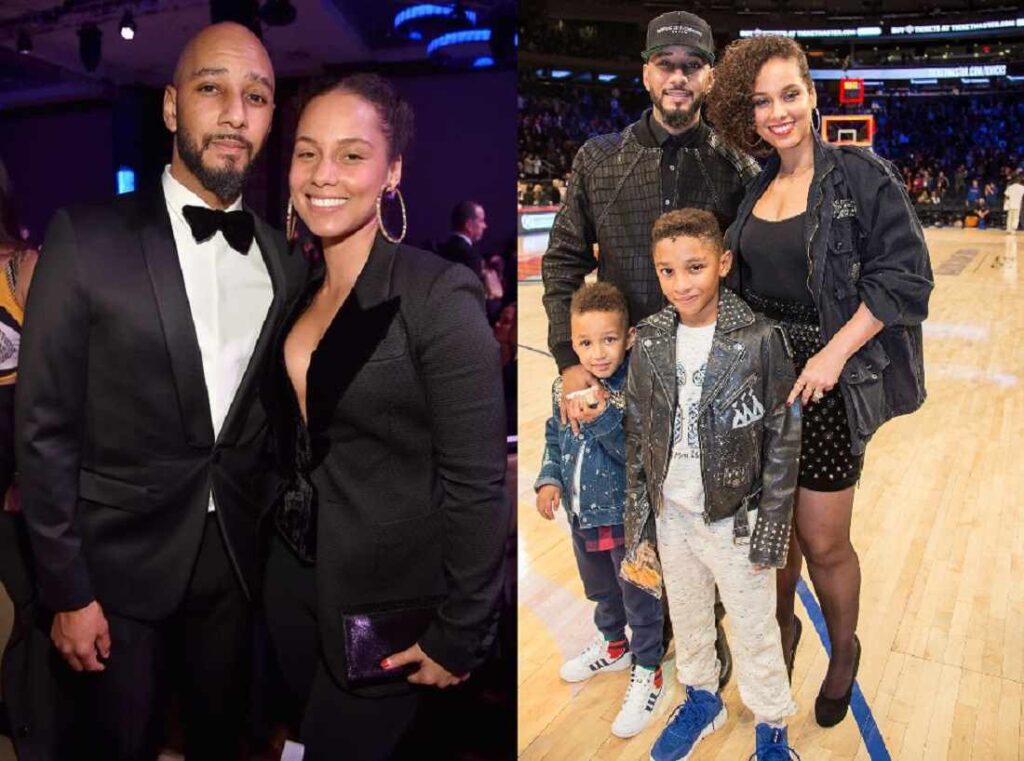 Who is Alicia Keys?
Alicia Keys is a famous American singer, actress, and songwriter. She is also a businesswoman and philanthropist. Alicia Keys is one of the best-selling artists in the world, with over 90 million records sold globally. In fact, according to Billboard, Keys is the greatest R&B artist of all time, alongside Usher, and Beyoncé.
The R&B star began singing at a young age. At age 15, she signed a deal with her first record label, Columbia Records. However, she left the label to sign a new deal with Arista Records. Alicia Keys became famous in 2001 following the success of her first album "Songs In A Minor". This album was so good that it earned her five Grammy Awards the next year. Some of Alicia Keys' hit songs include "No one," "We are here," "Girl on Fire," "If I Ain't Got You," and many others.
Another important part of Alicia Keys that makes her so inspirational is philanthropy. Keys co-founded "Keep A Child Alive," a nonprofit organization that helps African and Indian communities affected by HIV/AIDS. Even though Alicia Keys makes most of her money through music, she also runs a thriving business. Keys co-owns a skincare brand known as "Keys Soulcare," which recently introduced its first SPF moisturizer.
Alicia Keys' childhood and parents
Most people know the singer as Alicia Keys but her real name is Alicia Augello Cook. The Grammy-winning singer was born on January 25, 1981, in Hell's Kitchen, New York City. She is 41 years old as of August 2022. Even though Alicia Keys is the only child of her mother Teresa Augello ( now Terria Joseph), her father, Craig Cook has 2 other children from other relationships. Alicia Keys is mixed-race because her father is an African-American, while her mother is of Irish, Italian, and Scottish ancestry.
Growing up in Hell's Kitchen was rough for Alicia. She was exposed to street chaos, prostitution, and drugs as a young girl. In fact, the songstress recounted moving around with a knife for protection. To make things worse, Alicia's father left when she was 2 years old. So her mother, who was a part-time actress and paralegal raised her. Keys resented her dad as a child but they currently have a good relationship after reconciling in 2012. Her mother, on the other hand, has been her hero. Teresa Augello had to work three different jobs to provide for Alicia Keys. She also played an important role in Keys' music career. Despite all Alicia Keys faced growing up, she ended up a superstar making good music influenced by her childhood experiences.
As of August 2022, the 41-year-old singer is still making waves in the entertainment industry. According to information gathered by DNB Stories Africa, Alicia Keys is set to release her deluxe album titled, "Keys II" on August 12, 2022.
Alicia Keys' siblings
Although Alicia Keys is the only child of her mother, she has two half-siblings from her father's later relationships. However, only one of Keys' siblings named Cole Cook is known.
Cole Cook is Alicia Keys' half-brother. He is the son of Alicia's father, and his ex-wife, Susan Cook. A graduate of theatre Studies, Cole co-founded Timeless Eye, a creative agency. Alicia Keys and her younger brother have a beautiful relationship. According to some reports, he works with the singer's husband, Swizz Beatz. Cole Cook has been romantically linked with Harry Potter actress Emma Watson in the past. 
Alicia Keys' marriage and wedding
As of August 2022, Alicia Keys is happily married to her husband Swizz Beatz. The couple married on July 31, 2010, and currently have two children. However, Alicia Keys' husband has 3 other children from his previous relationships. 
Keys and Swizz first met in high school but there was no romance at the time. In fact, Alicia Keys initially didn't find him attractive until she drew closer to him.
They began dating in 2018, and two years later, they had a beautiful wedding at their home on the Mediterranean Sea. Meanwhile, Alicia's husband previously married singer, Mashonda Karima. But their 6-year-old marriage ended the same year Beatz married Alicia Keys. Of course, Mashonda was initially not happy about her ex-husband and Keys' marriage. She even accused Alicia Keys of ruining her marriage with Swizz. However, they have since reconciled and are currently friends. 
As of August 2022, Alicia Keys and her husband are 12 years in marriage, and their relationship seems to be prospering. On July 31, 2022, they marked their 12th wedding anniversary with loved-up pictures and beautiful captions on Instagram.
List of Alicia Keys' boyfriends
Although Swizz Beatz is Alicia Keys' first and only husband, she has reportedly dated 2 other men in the past. Here's a list of men Keys has reportedly dated or had a fling with:
Kerry Brothers Jr and Alicia Keys reportedly dated for many years after meeting in the 90s.
Justin Timberlake and Alicia Keys sparked dating rumours in 2002 after they were seen locking lips.
Swizz Beatz and Alicia Keys are married as of 2022.
About Alicia Keys' husband – Swizz Beatz
Alicia Keys' husband, Swizz Beatz, is an American record producer, rapper, and businessman. Swizz is a Muslim and his real name is Kasseem Daoud Dean. Born on September 13, 1978, Kasseem is 43 years old as of August 2022. With a net worth of about $170 Million, Alicia Keys' husband has achieved a lot in the music industry. He has produced top hip-hop songs for music icons like Lil Wayne, Whitney Houston, and Beyoncé. 
Beatz graduated from Harvard University in 2017 where he studied a management program.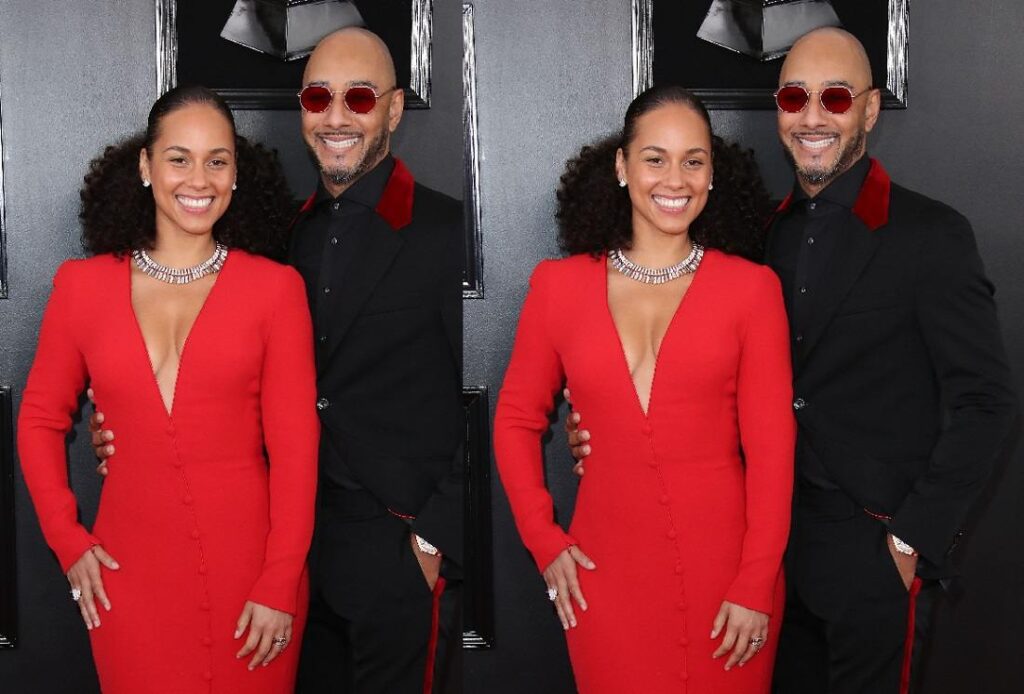 Alicia Keys' children
As of August 2022, Alicia Keys has two biological children. However, the singer is also a stepmother to her husband's three other children from his past relationships.
In 2000, before his marriage to Alicia Keys, Beatz welcomed his first child, Prince Nasir, with his ex-girlfriend Nicole Levy. Also, he welcomed a second son, Kasseem Dean Jr, with his ex-wife, Mashonda. The hip-hop producer had his third child and only daughter Nicole with singer Jahna Sebastian.
List of Alicia Keys' children:
Egypt Daoud Dean
Genesis Ali Dean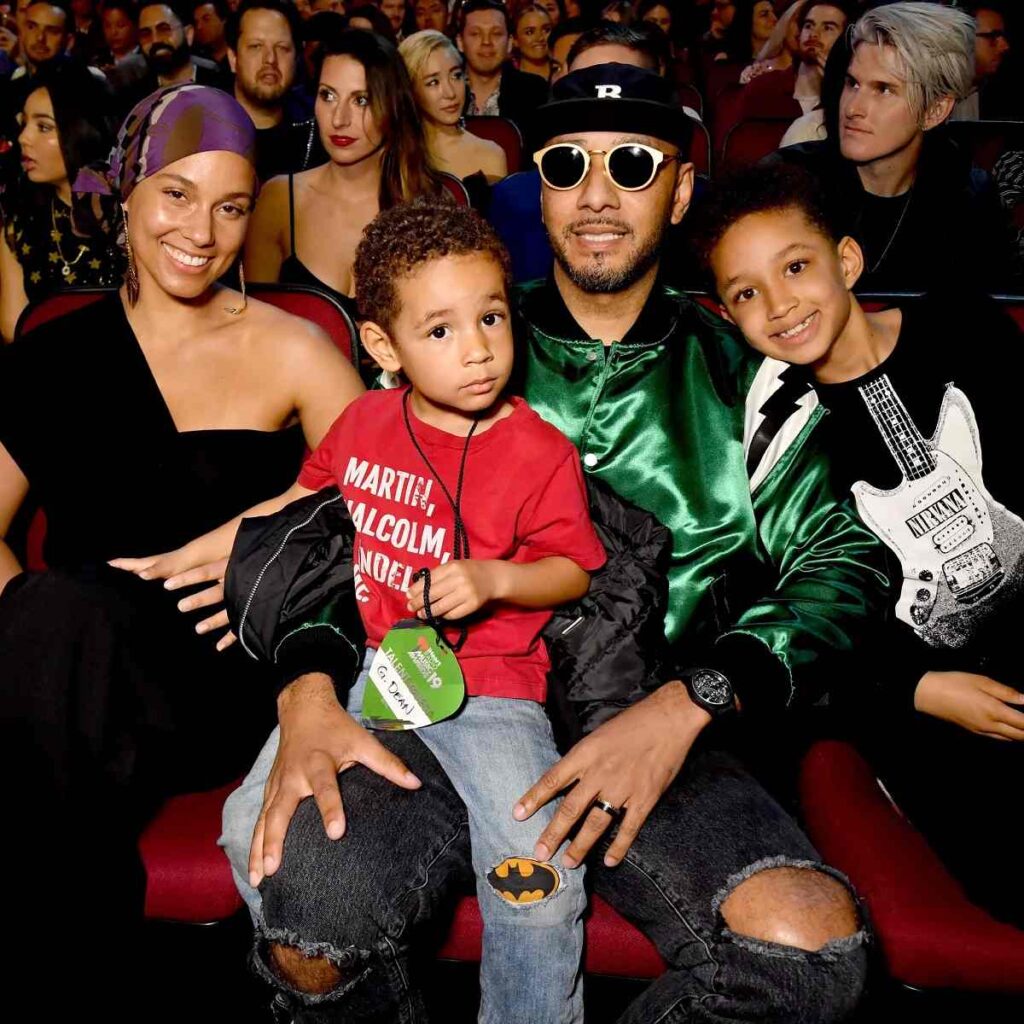 About Alicia Keys' children
Here's everything to know about Alicia Keys' children:
1. Egypt Daoud Dean
Egypt Daoud Dean is Alicia Keys' first biological child and son. Egypt's father is Swizz Beatz. Born in October 2010, Keys' first child is 11 years old as of August 2022. Just like his parents, Daoud is talented. For instance, at age 5, he produced a song for Kendrick Lamar's album titled "Untitled Unmastered". Also, in 2019, Egypt thrilled the crowd at the iHeartRadio Music Awards with his prowess on a piano while his superstar mother sang.
2. Genesis Ali Dean
Genesis Ali Dean is the second son of Alicia Keys and her husband, Swizz Beatz. Genesis Ali was born in December 2014. He is 7 years old as of August 2022. Alicia Keys occasionally flaunts cute pictures of her two sons on her Instagram page.