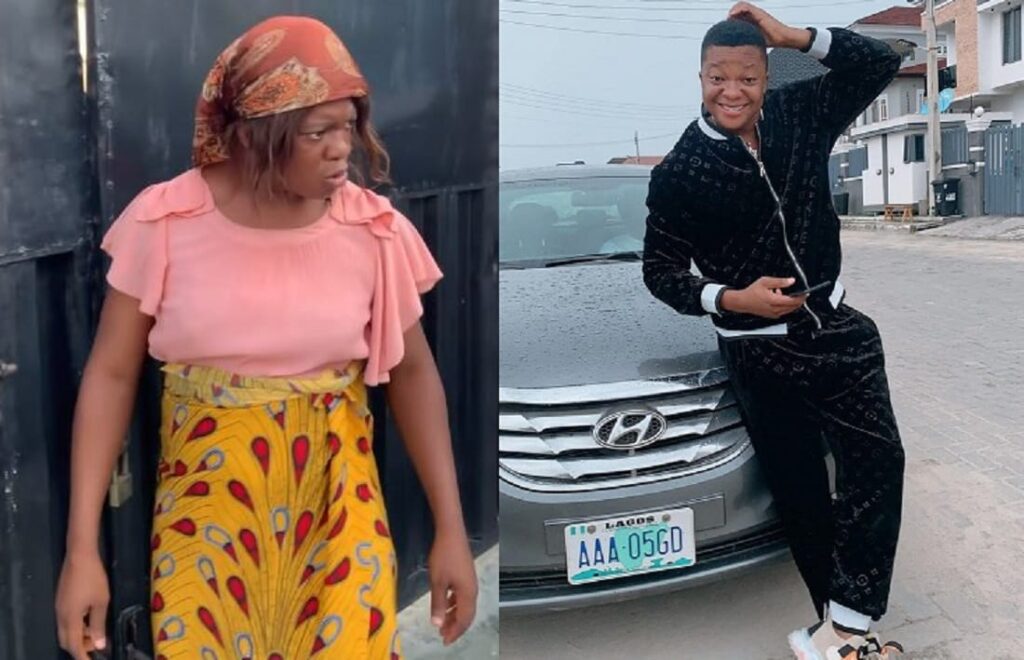 Who is Mama Uka?
Mama Uka is a young Nigerian comedian, skit maker and content creator. Mama Uka's real name is Odinaka Chukwueze.
Though biologically male, Odinaka is known for his near-perfect portrayal of an elderly Igbo woman known as "Mama Uka" or "Mama Ukamaka" in his comedy skits. The comedian is also popular for speaking "pure Enugu-Ezike dialect" in his videos.
Full data profile of comedian Mama Uka
| | |
| --- | --- |
| Full name | Odinaka Chukwueze |
| Age | 31 years old (estimated) |
| Gender | Male |
| Date of Birth | August 19 |
| Parents | N/A |
| State of origin | Enugu State |
| Marital Status | Single |
| Height | N/A |
| Tribe | Igbo |
| Career | Comedian, Skit Maker, Content Creator |
Mama Uka's childhood and education
Mama Uka was born on August 19 in Amachara Enugu Ezike in Igbo Eze North Local Government Area of Enugu State. He has 6 siblings – four boys and two girls and he is speculated to be in his early 30s.
Mama Uka is presently running a Higher National Diploma (HND) program in Computer Science at the Institute of Management and Technology in Enugu State.
Mama Uka's career
Mama Uka actually started his career as a singer and music producer, but he had to go into comedy after gaining admission into the higher institution. According to him, his admission didn't allow him enough time to concentrate on music anymore.
He made it known during an interview with Nsukka Chronicles that he took up comedy in 2018, leveraging on the experiences he had had in drama during his secondary school days. He said he was motivated by the Yoruba comedian and content creator 'Lasisi Elenu' and also admitted he's a huge fan of him.
Mama Uka made it known that he initially started his comedy with the stage name 'Sister Ukamaka' and was mostly playing girly roles in his skits.
According to the young comedian, he had to change to 'Mama Ukamaka' or 'Mama Uka' in short form, due to the criticism he received from the public.
He explained that people misconceived him to be gay or just "another Bobrisky", therefore he had to switch to a motherly role using Nsukka dialect, the Enugu Ezike tongue to be precise.
The comedian has been featured in comedy skits alongside other popular Nigerian skit makers including Ada Jesus, Sir One, Zics Aloma, Steve Chuks, and several others.
Mama Uka also often collaborates with another Igbo comedian known as MC Black Apple in his comedy skits.
Mama Uka new movie
Comedian Mama Uka recently released his much-anticipated debut movie titled "Omugo Obodo Oyinbo" on August 30, 2021.
He revealed that the movie has to do with both the African and Asian continents, adding that he travelled to five different Asian countries like Vietnam, Dubai, Lambose, Cambodia, and the Philippines to shoot the movie.
The comedian cum actor also revealed that the use of the Nsukka dialect in his skits is a means of promoting his culture and bringing it to the limelight through his creativity.
Mama Uka's relationship and marriage
As of the time of writing this report, Mama Uka has no wife, girlfriend, or baby mama. He had revealed during an interview that he is presently too young for an intimate relationship.
Mama Uka's children
As of the time of writing this report, there is no information about Mama Uka having any biological children of his own.
However, in his comedy skits, Mama Uka plays the role of an elderly woman with several misbehaving children.
Mama Uka's net worth
Mama Uka has an estimated net worth of about N70 million naira, as of October 2021.
Mama Uka's house and car
Mana Uka received a brand new Mercedes Benz from Oliver Idoko, the CEO of Ego Amaka Transport Limited as a birthday gift in August 2020. The comedian was seen shedding tears of joy as he received the car gift.
According to the comedian, Oliver Idoko is a supporter of the 'Mama Uka' brand and he was even the one who sponsored some of his trips to the Asian countries he visited during the production of his debut movie.
The comedian and actor also built a house for his mother earlier this year. He shared the news via his Instagram handle and also posted some pictures of the house.
Mama Uka on social media
Mama Uka's Instagram handle is @_mamauka. His Facebook page is Mama Uka1.