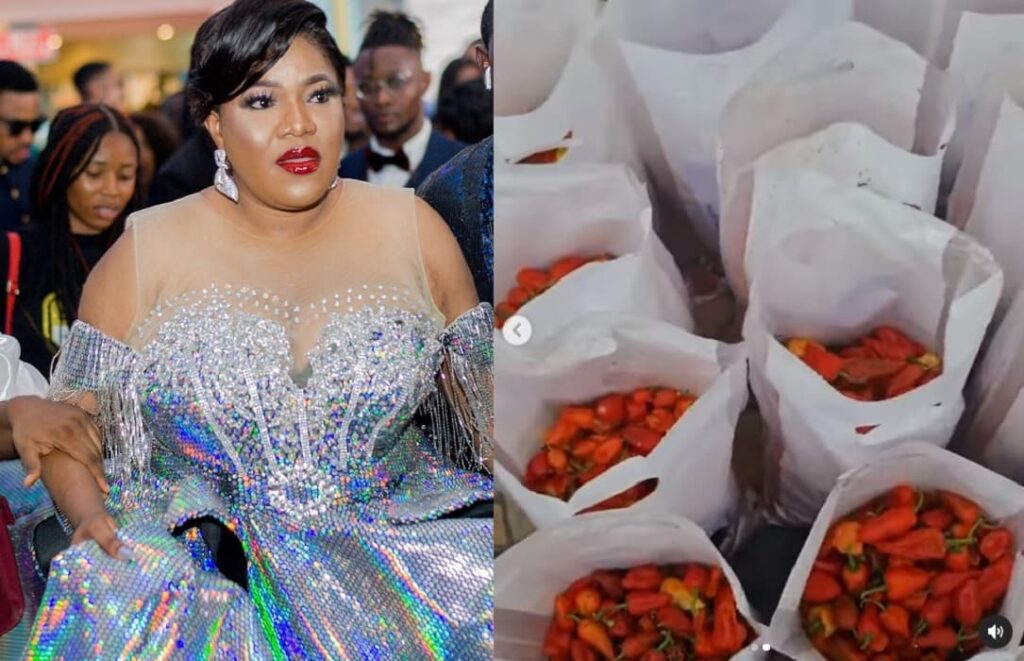 Popular Nollywood actress Toyin Abraham Ajeyemi has stirred some drama on social media after she shared bags of pepper to guests at the one-year remembrance ceremony of Iyabo Ojo's mother.
The lavish ceremony held in honour of late Victoria Fetuga, mother of actress Iyabo Ojo, was well attended by the actress's friends and colleagues in the industry.
However, Toyin Abraham's act of sharing packaged fresh peppers as souvenirs at the event raised some eyebrows. Reactions to the actress's act were generally mixed on social media. While some users supported the actress's "creativity" for souvenir choice, others criticized her decision to use peppers.
One person wrote: "So nice. Creativity is important. Those Scotch bonnet pepper 🌶 look nice and fresh. Thanks, Toyin".
Another person commented:
"Nah pepper person go bring back home as a souvenir? God knows say I go pass. I no dey collect rubbish. Most of these people are simply fetish under different guises, especially with all those remembrance parties. That's often the lie the babalowo tells them to say to people. It is usually to 'transfer' their sorrow or curse to everyone that eats the akara or meat at the fake party."
Another:
"Wow! this comment is sick, I think Madam Toyin is just being thoughtful and creative at the same time, do you know how much pepper cost now? I strongly believe she meant no harm."
"This is very suspicious. Why give pepper? This world is deep sha and people have to be very careful".
Some people called it a Yoruba affair.
"Yoruba people and pepper are 5 and 6", wrote one commenter.