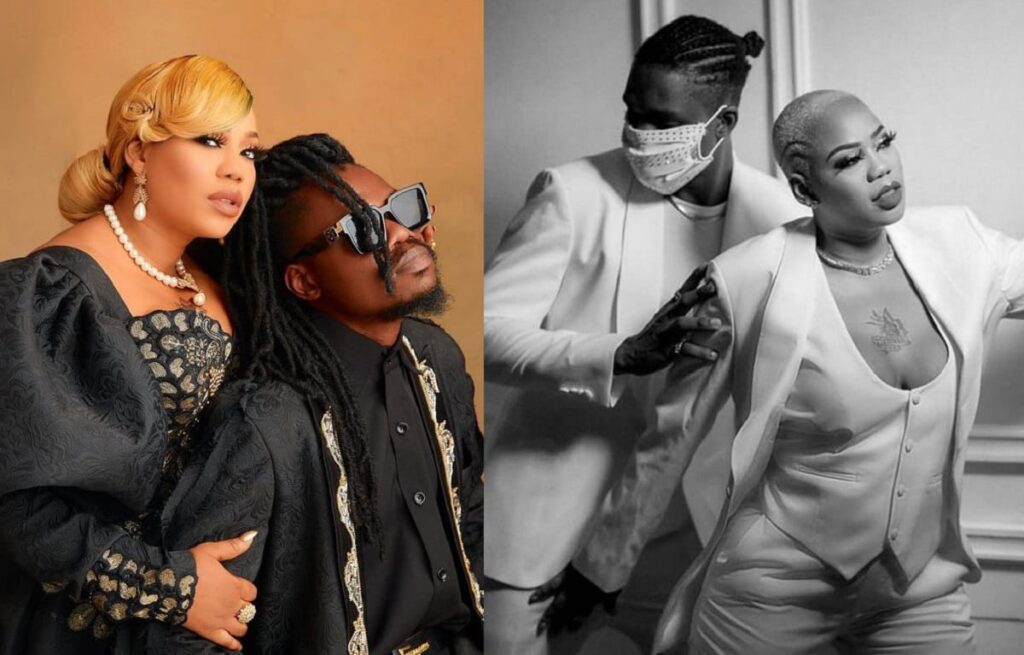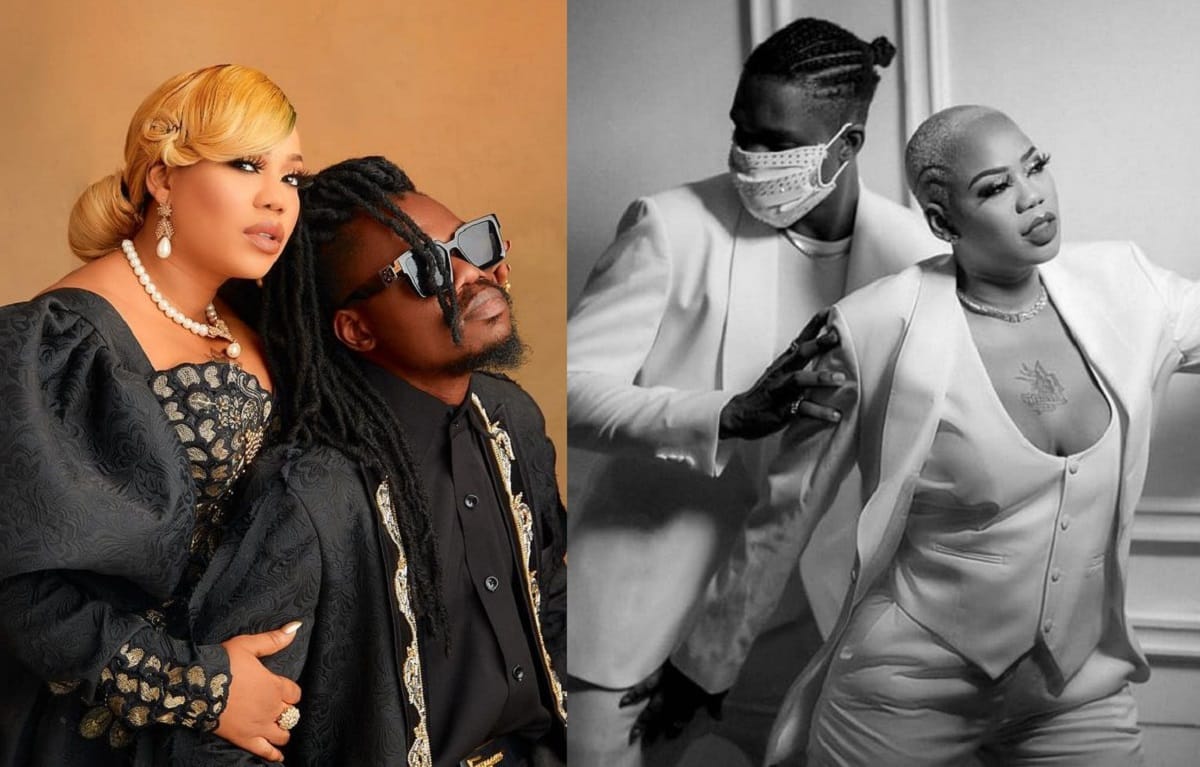 Toyin Lawani is a popular Nigerian celebrity stylist and fashion entrepreneur. She is the CEO of the business empire, 'Tiannah's Place'.
The serial entrepreneur has a degree in English Language from the University of Lagos. In pursuit of her fashion career, Toyin Lawani attended Oprah Benson Beauty Institute in Nigeria and the Carlton Beauty Institute in London. She also attended John Yim Beauty School in Korea where she obtained a Diploma degree in hair processing and got licensed as a cosmetologist.
The proud mother of two has a thriving career but her private life has not been without some scandal. Toyin Lawani has often found herself at the centre of one relationship controversy or another.
Toyin Lawani's marital life – All the men Toyin Lawani has been involved with:
Despite rumours that she has been involved with different men in the past few years, Toyin Lawani has confirmed that she has only been married twice.
Her first marriage was to the father of her first child, Tiannah, when she was just 19 years of age.
She is presently married to Segun Adebayo Druce, popularly known as Segun Wealth on social media.
Toyin Lawani also has a son with Nigerian musician and model Lord Trigg whose real name is Kensington Womadi.
Toyin Lawani has been alleged of being romantically involved with some wealthy and popular Nigerian men, including the likes of Segun Oniru, Lagos State Commissioner of Waterfront Infrastructure, Taiwo Afolabi, CEO of Sifax Group, among others.
Toyin Lawani and Segun Adebayo's engagement and wedding
Toyin Lawani's marriage to Segun Wealth was quite controversial. She was even tagged a 'husband snatcher' in a series of Instagram posts by Tunez Media. It was alleged that Segun Adebayo left his wife of six years, Edel Quin Idoga, and two children to get married to Toyin Lawani.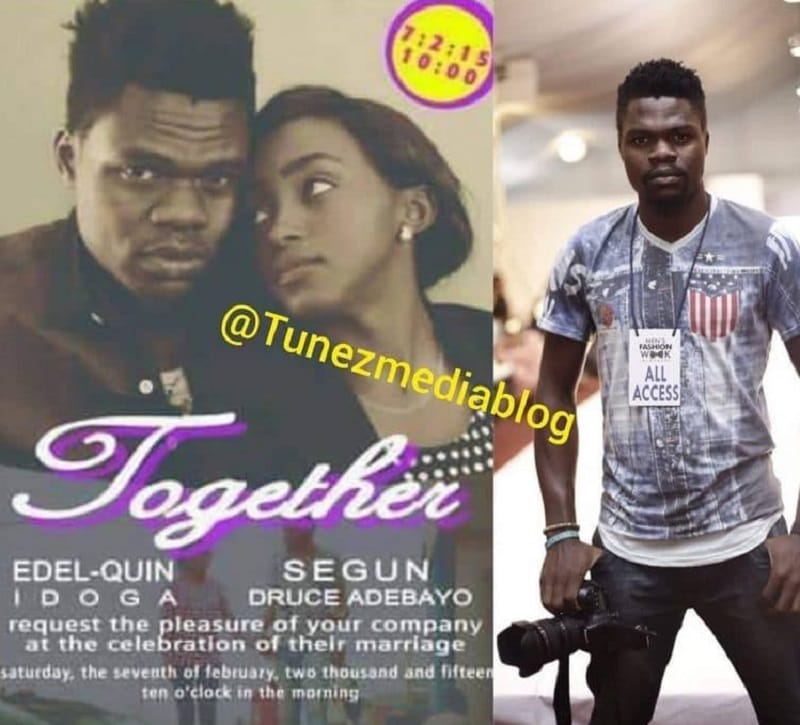 Lovebirds Toyin Lawani and Segun Adebayo got engaged on Valentine's Day, February 14, 2021, and had their star-studded wedding on Saturday, June 12, 2021.
Segun Wealth's identity as Toyin's groom was not known until the wedding day as he was always appearing with a mask in the photos he took with Toyin.
It was after the wedding that reports of him abandoning his wife and two children in Port-Harcourt to travel to Lagos surfaced online. It was also alleged that Toyin was aware of Segun Adebayo's marriage to Edel as he has been her official photographer for years.
Who is Toyin Lawani's current husband – Segun Adebayo (Segun Wealth)?
Toyin Lawani's current husband, Segun Adebayo Druce aka Segun Wealth is a singer and also Toyin Lawani's personal photographer before their marriage.
Segun Wealth performs under the stage name Dee Unknown as a musician. He released his first single in November 2020.
Segun Adebayo was alleged to have lied to his wife and two children in Port Harcourt that he was coming to Lagos in search of greener pastures only for him to kick-start a romantic relationship with business mogul, Toyin Lawani.
Segun Adebayo's ex-wife
Segun Adebayo (Segun Wealth) was reportedly married to a woman named Edel Quin Idoga before he met Toyin Lawani.
Segun Wealth and his first wife, Edel Quin Idoga, got married on February 17, 2015. They reportedly have two children together.
It is alleged that Segun abandoned his wife of 6 years in Port-Harcourt to travel to Lagos where he met and started working for Toyin Lawani before eventually marrying her.
Reports say Segun and Edel Quin's divorce has not been finalized before his wedding to Toyin Lawani. Interestingly, Segun Adebayo's ex-wife has not publicly commented on her ex-husband's romance and marriage to Toyin Lawani.
Toyin Lawani's children
Toyin Lawani has two adorable children for two different men named Tiannah and Oluwatenola Jermaine Womadi aka Lord Maine Tenor.
The business mogul who ventured into the business world at the age of 16 had her first daughter when she was just 23 years of age on April 29, 2005.
Toyin Lawani shares a great bond with her first child. According to the fashion entrepreneur, her business name 'Tiannah's Place' was inspired by her daughter and Toyin has disclosed that she still maintains a cordial relationship with her daughter's father.
Toyin Lawani's daughter and first child, Tiannah is currently 16 years old and is presently living and schooling in the US.
Her second child, Lord Maine Tenor is the product of her affair with Lord Trigg. She had the child in 2015 before breaking up with the child's father in 2016.
Toyin Lawani's relationship with Lord Trigg
Toyin's relationship with Lord Trigg was quite controversial, as it was characterized by series of online arguments. The duo started dating in 2014 and it was reported that they got engaged. Their relationship lasted for barely two years before it hit the rocks in 2016.
Lord Trigg was accused of dating Toyin Lawani because of her wealth due to their age difference. Toyin Lawani was also Lord Trigg's stylist at that time.
Lord Trigg later denied the allegation of dating Toyin Lawani for her money and slammed Toyin over the matter.
Trigg and Toyin were always ready to shade each other on social media after their separation, but it seems the two later decided to bury the hatchet and make peace for the sake of their son.