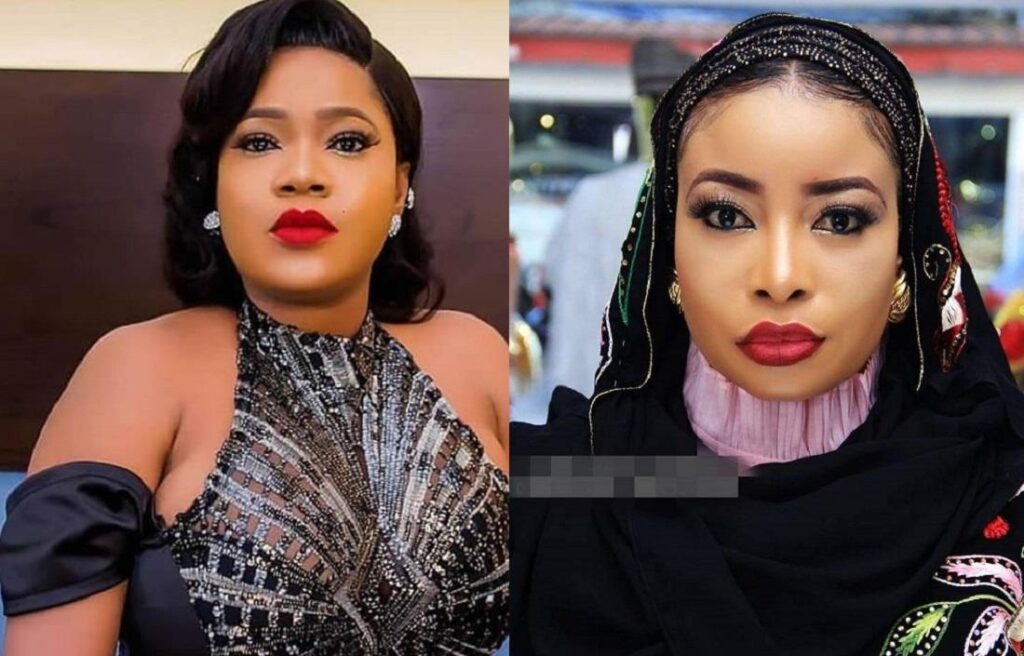 The quarrel between Nollywood actresses Toyin Abraham and Lizzy Anjorin has been going on for around two years now.
Unlike most celebrity disputes that usually stay under the surface, the feud between Toyin Abraham and Lizzy Anjorin is well known in the Nollywood industry.
Toyin Abraham vs Lizzy Anjorin – How the fight started
Toyin Abraham's fight with Lizzy Anjorin first came to public knowledge around September of 2019, though the two have already ceased being friends before then.
In September 2019, an Instagram gossip blog reported that Lizzy Anjorin was held and searched for drug peddling during her hajj trip to Saudi Arabia. The report added that the actress was "teary all through her encounter with the security agents at the airport".
Lizzy Anjorin later accused Toyin Abraham of sponsoring the malicious article against her through the help of one of her devoted fans.
Toyin Abraham later released a statement denying the accusation. In the lengthy statement, she described Lizzy Anjorin as an "upstart masquerading as a Nollywood actor".
She wrote:
It has come as a rude shock that some upstarts masquerading as Nollywood actors keep dragging my name into unnecessary drama whenever they are trolled online. I've had my own share of online trolling but not for once did I drag the names of any actor or celebrities into the fray.

Even when we don't have cordial relationships. Today, an actress directly mentioned my name as the owner or informant of an Instagram blog and libelled my person and reputation by implying I planted or published some negative news about her. Why she mentioned my name, I can't say.

What she's trying to achieve, I can't fathom. Long ago, I bade bye bye to unnecessary drama and petty online/offline squabbles and so I won't descend to her gutter level. Her so-called "evidence" of my involvement was a comment I left on the page of a fan she suspected is behind the story. How I became connected to the story beats me.

This level of cluelessness is mind-boggling. For the umpteenth time, stop holding me responsible for the actions or inactions of other people as it concerns you. Whether they are my fans or not, I don't regulate or determine their behaviour or conduct.

Nobody holds Beyonce responsible for what her teeming fans, "Beyhives" do. Anyways, I have instructed my lawyers to take up this matter and she will be hearing from them by Monday. It's time to put a stop to online bullying and bad behaviour in line with the rule of law. cc @officialsamolatunji1 @bbbmedia #TOYINTITANS

Toyin Abraham, 2019
In another post, Toyin Abraham shared copies of a "cease and desist letter" forwarded to Lizzy Anjorin by her lawyers. In her caption, she called Lizzy Anjorin "a pig".
She wrote:
"Silence is not golden. Rather than wrestle with a pig, it might be ideal to let the pig know that it belongs in the pen. No longer speaking on this, my management team and attorneys are taking this up."
Lizzy Anjorin's reaction to the "cease and desist letter" was equally brutal. The actress shared a letter from her own lawyers demanding a 'clear and unqualified' apology from Toyin Abraham and a retraction of her earlier statements.
In a statement Lizzy Anjorin wrote alongside the legal letter, she described Toyin Abraham as a "myopic cracked head and dead, low life with zero achievement sycophant".
She wrote:
I am used to myopic cracked head and dead, low life with zero achievement sycophants consoling themselves with lines such as "I have instructed my lawyer to respond, bla bla bla" when weighty allegations and evidence(s) stare them in the face.

By principle, I am an APOSTLE of dignity and respect on social media and by nature, I am never going to keep QUIET in the face of EVIL and wickedness. I also believe that whatever rights you have, you must be responsible for them. The fact, that you have rights to have fans doesn't mean you groom them to commit a crime or indulge in anti-social behaviours online.

The gibberish you gave as a reaction is tasteless, classless and uncouth. When you maliciously came up on social media in your usual way to lie against me and subjected my hard work and personality to untold cyber-attacks with the aid of your followers with deadly, fabricated evidence(s), The evil you groomed will consume you soon.

I think the WORLD will soon see that you have no single dignity left in you, hence you could still muster words when a FAN or an account you glorify openly is seen sending a secret message to a criminal blogger just to subject your colleague to defamation, cyber-attacks, and assaults. You are an example of failed women trying to bring HARDWORKING women down secretly.

Lizzy Anjorin, 2019
With no end in sight to the fight, Lizzy Anjorin later alleged that Toyin Abraham gave birth to her son, Ire, in a traditional home.
Again, Toyin Abraham denied this, revealing she gave birth to her child in a hospital in Lekki, Lagos. The actress said she decided to give birth in Nigeria so she can be around her family and friends.
She wrote:
"Because I trust you people, I decided to have my baby in Nigeria. I actually travelled but I came back. I said I am coming back, let me have my baby in Nigeria because I want to be around everybody."
The Toyin Abraham vs Lizzy Anjorin fight today
Toyin Abraham in an Instagram live session with fellow actress, Iyabo Ojo on Tuesday evening, May 25, asked Lizzy Anjorin to stop cursing her son and husband.
She stressed that she had nothing to do with the 2019 drug story about Lizzy and said she has only met Lizzy Anjorin twice in her life.
Toyin Abraham swore by the Bible that she had nothing to do with the story.