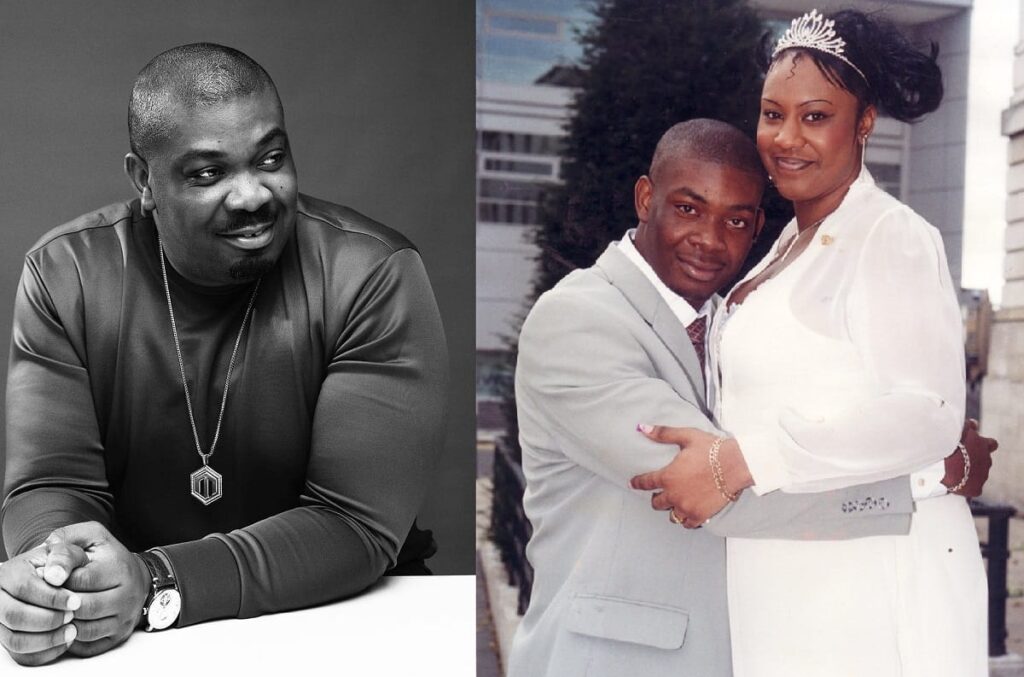 Who is Don Jazzy?
Don Jazzy is a Nigerian record executive, singer, record producer, audio engineer, brand ambassador, singer, and entrepreneur. He is also the founder and CEO of Mavin Records also known as the Supreme Mavin Dynasty.
Don Jazzy's real name is Michael Collins Ajereh. He was born on November 26, 1982, in Umuahia, Abia State. He is 39 years old as of May 2022. Don Jazzy was raised in Ajegunle, a ghetto area of Lagos by his parents, Collins Enebeli Ajereh and Patience Ajereh as the first of four children. His father, Collins Enebeli Ajereh hails from Isoko in Delta State, the South Southern part of Nigeria. He is a showbiz consultant, music promoter, artists manager, and president of the artist's management association of Nigeria. He is also referred to as Mavin Grandpa.
Don Jazzy's mother, Mrs Patience Ajereh Enebeli is from a royal family in Abia State and is also a fashion and entertainment entrepreneur. She is also referred to as Mavin Grandma.
About Don Jazzy's siblings
Don Jazzy has three siblings, two boys and one girl. Their names are Charles Enebeli (D'Prince), James Collins Enebeli and Joy Ogechi Enebeli.
a. Charles Enebeli, professionally known as D'Prince is the younger brother of music mogul, Don Jazzy. He was born on October 23, 1986, in Lagos State. He is 35 years old as of May 2022. D'Prince is often referred to as "Omo Oba". He is the founder and CEO of Jonzing World, an entertainment company founded in 2019.
b. James Collins Enebeli fondly referred to as General Jay Mavin, is the CEO of Mavin Energy Ltd. He was born on March 31 and is speculated to be in his thirties.
c. Joy Ogechi Enebeli also known as Joy Solano is the only female child of the Enebelis. She was born on May 25, 1985, and is 36 years old as of May 2022. She is a first-class graduate of Film and Television from a prestigious university in the UK. She is also the CEO of a luxury hair brand called Equipped by Joy Solano. Joy is happily married to Mr Solano and their union is blessed with four kids.
Don Jazzy's marriage and wedding
As of the time of publishing this report, Don Jazzy is currently divorced. According to reports sighted by DNB Stories Africa, the music mogul was previously married to a UK-based model and writer named Michelle Jackson. Being one of Nigeria's most eligible bachelors, Don Jazzy has never been open about his love life, so it came as a shock to fans when he revealed details of his failed marriage in an Instagram post.
He wrote:
The truth is almost 18 years ago, I was 29 and I got married to my best friend Michelle @ yarnstaswitch and it was beautiful. We got divorced when I was 22 and it still hurts. I am still in love with my music and I wouldn't want to marry another and mess it up.
The music mogul also shared a photo from his secret court registry marriage in London.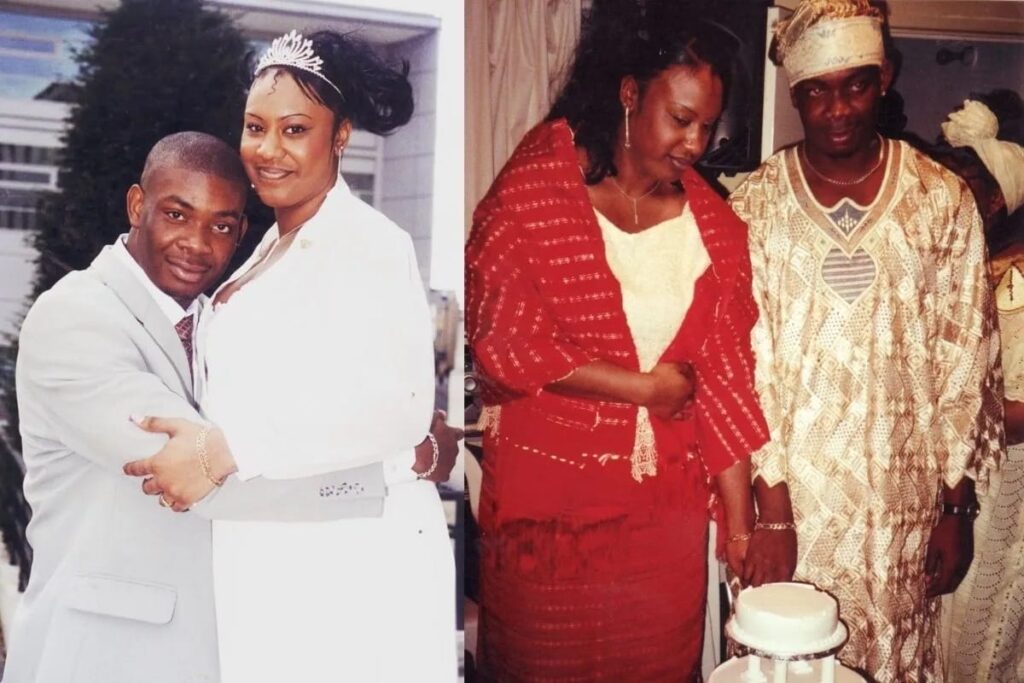 About Don Jazzy's ex-wife Michelle Jackson
Michelle Jackson is the ex-wife of Nigerian record executive and Mavin boss Don Jazzy. She is a UK- Based model, writer, and fashion ambassador. She was born on October 21, 1980, and is 41 years old as of May 2022.
According to Michelle Jackson, she and Don Jazzy first met at a club when Don Jazzy and his friends were sharing flyers to promote their music. She also revealed that she called his number on the flyer and a few days later, she invited him over and that was how the relationship started which eventually led to their short-lived marriage.
Michelle Jackson disclosed that music got in the way of their union and she eventually realized that Don Jazzy needed to go and be himself and do his music. She also stated that if she was in the same situation now, it might have been different.
Don Jazzy and ex-wife Michelle Jackson's reunion
According to reports sighted by DNB Stories Africa, Michelle Jackson returned to Nigeria in late April 2022. She disclosed that her visit to Nigeria was in respect of her project which she tagged "Back To The Feels". However, Don Jazzy shared a video of their meeting on his Instagram story where he hailed Michelle for being a Naija girl.
The model took to her Instagram page to give details about her experience in Nigeria. She wrote:
2 weeks flew by so quickly, but not fast that I couldn't appreciate my time in Nigeria. Your welcome meant everything and it's a massive feeling that I will never forget. I also got to attend the @mavin records 10th-anniversary celebration which was amazing.
Don Jazzy's children
As of the time of publishing this article, Don Jazzy does not have a child. According to him, he is currently happy and would only start having children sometime in the future. He revealed that he is doing well and has a beautiful business.
Don Jazzy and Lisa Yaro's relationship
Don Jazzy and popular Nigerian-born singer and YouTuber, Lisa Yaro were rumoured to be in a relationship when Lisa visited him at his office one time and they posed for a picture together. The photo went viral online which sparked rumours of a romantic relationship between them. However, nothing more was heard about the supposed relationship after a while.
Don Jazzy and Freda Francis's relationship
After being spotted at Tiwa Savage's wedding in Dubai, news about Don Jazzy and Nigerian socialite Freda Francis being in a relationship surfaced online. Interestingly, neither party ever came out to deny the alleged relationship.
Don Jazzy and Erica Nlewedim's relationship
Former Big Brother Naija housemate, Erica Nlewedim was rumoured to be Don Jazzy's ex-girlfriend before she entered the Big Brother's house. The rumours were revealed by an Instagram blogger who stated that Don Jazzy used to be in a relationship with Erica but she moved on to her fellow housemate, Kiddwaya because Don Jazzy does not keep a single woman or engage in serious relationships. There was never a confirmation to the gossip as neither party addressed it.
Don Jazzy and Linda Ikeji's relationship
Don Jazzy and famous Nigerian blogger, Linda Ikeji were among the most talked-about singles in Nigeria and it wasn't surprising that fans were trying to force them to get married. In 2017, after Don Jazzy was inspired by the movie-to-reality union of Banky and Adesua, he jokingly tweeted at Linda Ikeji, and fans immediately started coming up with qualities that make Linda a great match for the music boss. Others even went as far as to engage in an online poll where Linda Ikeji topped the votes over Don Jazzy's other female crushes including Rihanna and Halima Abubakar.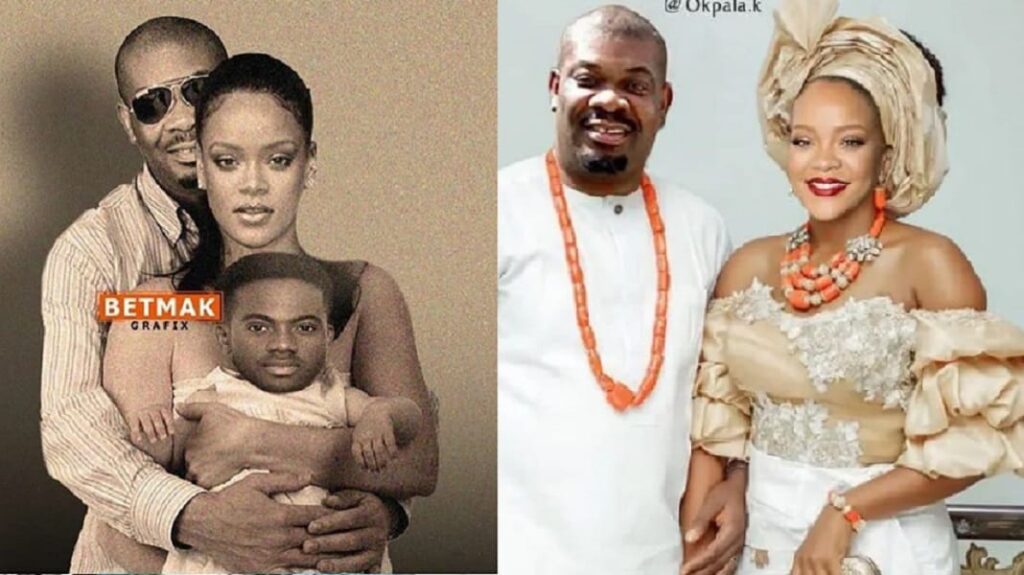 Don Jazzy and Rihanna's relationship
Don Jazzy has repeatedly joked about having a huge crush on RnB singer Rihanna. The music executive has been open about his love for Rihanna for a long time and photoshopped images of them, including ones showing them getting married and raising kids, have circulated on social media.
Sadly, Don Jazzy was forced to give up on any possible relationship with Rihanna when news of the singer's relationship and pregnancy with rapper A$AP Rocky hit the internet.