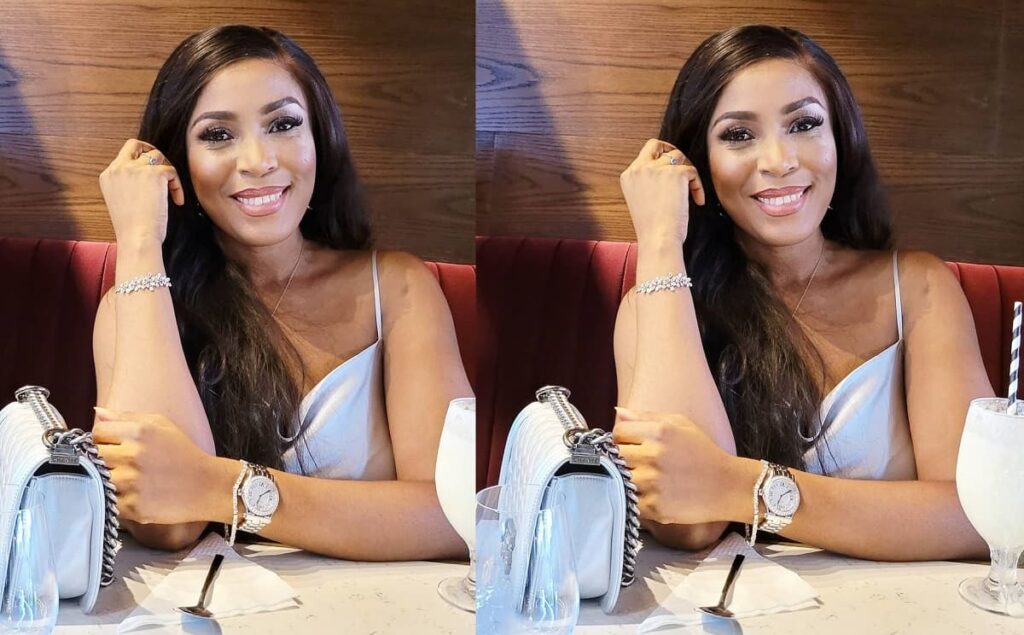 Millionaire blogger Linda Ikeji operates one of the biggest blogs in Nigeria, and also one of the earliest.
Over the years, Linda has enjoyed massive success and praise from internet users from Nigeria and all over not just for providing much-need gist and celebrity deets but also for what she represents.
Boldly proclaimed "self-made", Linda Ikeji has inspired countless young Nigerian women to believe in themselves and pursue their dreams.
Now let's get down to the topic of the day – Just how much do you know about the popular Linda Ikeji's blog?
Here are 5 facts about Linda Ikeji's blog you probably haven't heard before:
1. Linda Ikeji's blog is currently 15 years old
That's right! It's 2021 and the popular Linda Ikeji's blog has been around for 15 years. Linda actually started her blog in 2006 but she became more serious with it the following year (2007) and by 2008, she has started getting a good amount of traffic. It was then that she decided to monetize the blog via Google's advert program called Adsense.
Her traffic has grown steadily over the years, from a few thousand to hundreds of thousands and then millions. Her traffic went up astronomically between 2012 – 2014 when she got involved in different celebrity controversies and drama.
Linda Ikeji knew Nigerians like amebo (gossip) very much and used it to her advantage.
List of Nigerian celebrities Linda Ikeji has fought with over a publication she made about them include Tonto Dikeh, Funke Akindele, Richard Mofe Damijo, Wizkid, etc.
2. Linda Ikeji's blog started as a sub-domain
Linda Ikeji actually started her blog on Google's free blogging platform – Blogger – using the platform lindaikeji.blogspot.com. It wasn't until 2015 that she finally migrated to her own personally registered domain – lindaikejisblog.com.
She had to settle for the domain name because most of the other more memorable variants had been bought by domain parkers and cybersquatters hoping to cash in on her when she needs it.
Smart girl Linda didn't pay anybody a kobo to buy back the domain they parked, instead she craftly added "s" to the string and created her new domain which still looked and worked fine with her audience.
3. Linda Ikeji's blog was shut down in 2014
Linda Ikeji's blog was shut down by Google on October 8, 2014, for an undisclosed policy violation. There were speculations that the blog was reported to Google for copyright infringement or (taking content from another source without permission or credit).
Luckily, the blog was restored after just two days, on the midnight of October 10, 2014. Linda Ikeji had reportedly appealed Google's decision to take down her blog, and exposed those behind the reporting as fraudulent.
Linda Ikeji and Mr Aye Dee fight
According to reports, one Mr Aye Dee (@MrAyeDee on Twitter) had accused Linda Ikeji of using his content and images without permission.
It was later discovered that the owner of @MrAyeDee's website – 15past8.com – also owns LindaIkeji.net, meaning that Linda Ikeji's accuser was also guilty of cyber-squatting.
According to speculations, he might have tried to extort Linda and only resorted to reporting her blog after the scheme failed.
4. Linda Ikeji's blog gets up to 10 million page views a month
Linda Ikeji's blog gets between 10 to 15 million visits or traffic every month, making it one of the most visited websites in Nigeria.
According to similarweb.com, Linda Ikeji's blog received 11.5 million visits last month (July 2021), a slight decline from the 12.4 million visits of the previous month.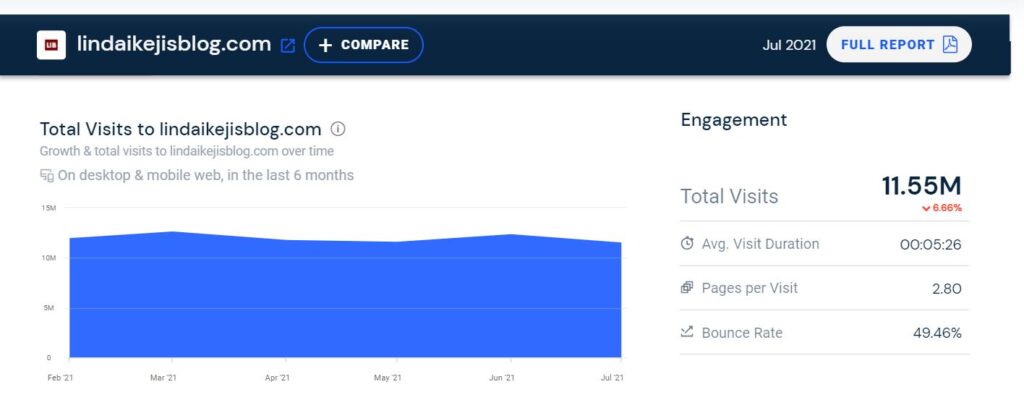 Note that page views and visits are different from actual users. In a nutshell, one user is capable of making multiple views when on the blog. But when the user leaves the blog and comes back again, it will count as another visit.
5. Linda Ikeji's blog is estimably worth over $1 million dollars!
According to website evaluators, Linda Ikeji's blog is currently worth over $1 million dollars.
However, there is no foolproof way to estimate the actual worth of a website because a lot of other external factors are involved, but just know that should Linda ever decide to sell her blog, she would be cashing out BIG TIME!