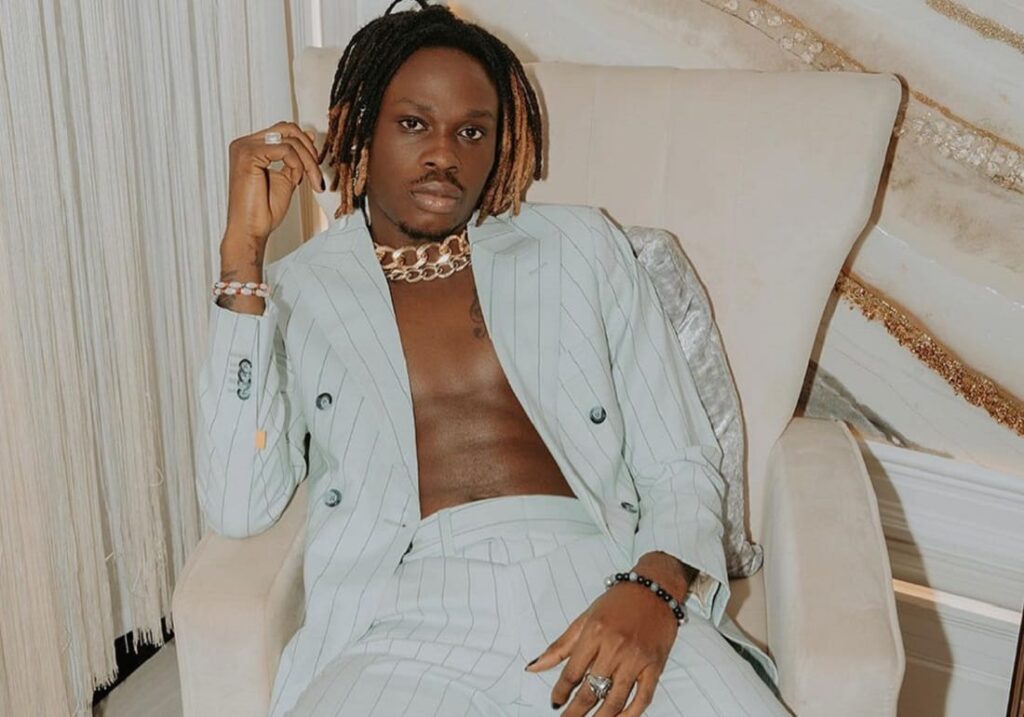 Who is Fireboy DML?
Fireboy DML is a Nigerian Afrobeats singer, songwriter and recording artist. He is signed to YBNL Nation, an independent record label founded by Olamide. Fireboy DML is popularly known for hit songs like, "Jealous", "Vibration", "Champion" and "Peru."
Fireboy DML's early life and education
Fireboy DML's real name is Adedamola Adefolahan. He was born on February 5, 1996, in Sagamu, Abeokuta, Ogun state. As of June 2022, Fireboy DML is 26 years old. He grew up in Abeokuta, Ogun State. Fireboy DML is the first son of three children. He developed a love for music at a young age. He was a member of a local church choir. The "DML" at the end of his name is a reference to his real name, Adedamola.
Not much is known about Fireboy DML's educational background other than the fact that he attended the Obafemi Awolowo University (OAU) where he studied English Language. He graduated in 2017 with a Bachelor's degree in English.
Fireboy DML's Wiki profile
| | |
| --- | --- |
| Full Name | Adedamola Adefolahan |
| Stage name | Fireboy DML |
| Place of Birth | Sagamu, Abeokuta, Ogun state |
| Nationality | Nigerian |
| Date of birth | February 5, 1996 |
| Age | 26 years old |
| Occupation | Singer and songwriter |
| Marital status | Unmarried |
| Children | None |
| Alma mater | Obafemi Awolowo University |
| Estimated Net worth | One million dollars |
| Instagram | @fireboydml |
Fireboy DML's Wiki profile
How Fireboy DML started his career
After getting his degree, Fireboy DML took a risk and moved to Lagos. In Lagos, he started to write songs for people for money. He was soon signed to Olamide's YBNL Nation in October 2018. Two months later, "Jealous" was released. Upon the release of "Jealous", Fireboy DML burst into the limelight. "Jealous" first appeared in the YBNL Nation's collaborative album, "YBNL Mafia Family." The song was later re-released on March 25, 2019.
Fireboy DML's debut album, "Laughter, Tears and Goosebumps" was released on November 29, 2019. The album received recognition and positive reviews from critics.
About his music, Fireboy DML said:
"Growing up, I listened to a lot of Celine Dion. Elton John helped me discover myself. There's this song by him, "Sacrifice", that I consider the greatest song ever made. These influences made me realize how beautiful music is. It transcended into people that really started influencing my sound and they are: Passenger, Wande Coal and Jon Bellion."
On August 20, 2020, Fireboy DML released his second album, "Apollo."
Fireboy DML's marriage and wedding
As of June 2022, Fireboy DML is not married and does not have a wife. However, in 2021, it was speculated that he was in a relationship with Nigerian disc jockey, DJ Cuppy after she shared pictures of them in loved up poses.
About Fireboy DML's relationship with DJ Cuppy
On February 14, 2021, Florence Otedola, popularly known as DJ Cuppy posted pictures of herself and Fireboy DML in romantic poses. Because she posted these pictures on Valentine's Day, there were rumours that she was in a relationship with Fireboy DML. The photos garnered mixed reactions from Nigerians on social media who warned Fireboy DML to be wary of DJ Cuppy. Others wanted to know if Fireboy DML was the mystery man who buys Cuppy gifts.
Nothing else was heard about the alleged relationship afterwards and it seemed the affair did not progress beyond the Valentine Day's photos.
About Fireboy DML's children
As of June 2022, Fireboy DML does not have any children. He has not expressed any interest in having them either. Fireboy DML also does not have a baby mama at this time.
Fireboy DML's net worth
According to information gathered by DNB Stories Africa, Fireboy DML has an estimated net worth of close to $1 million USD. His income comes from his music and ambassadorship deals with Kuda Microfinance Bank, Tecno Smartphones and Monster Energy.