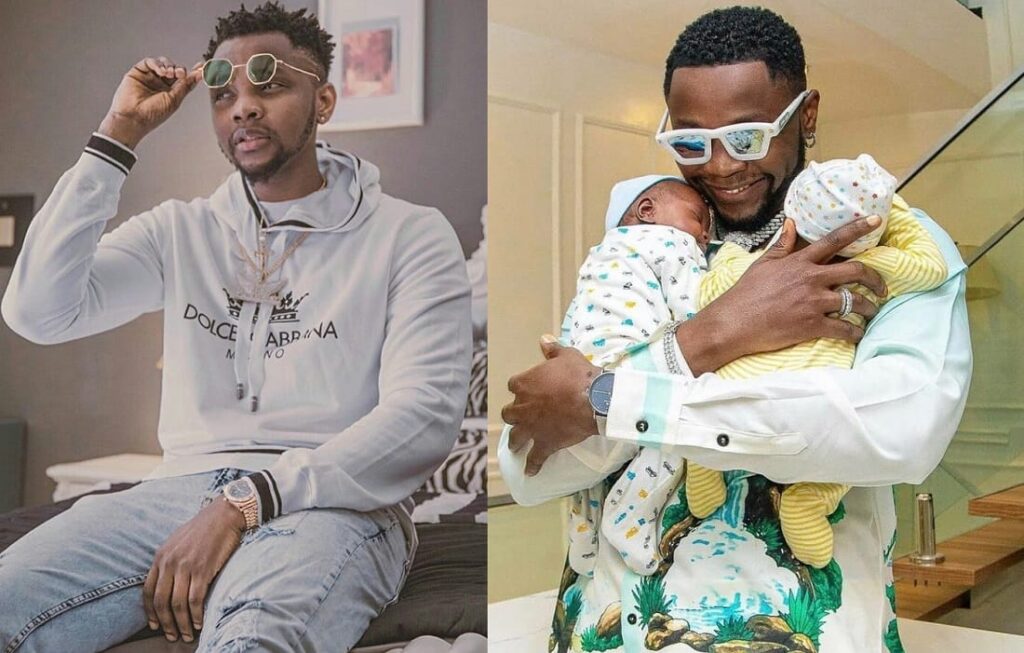 Who is Kizz Daniel?
Kizz Daniel is a Nigerian singer and songwriter known for his many hit songs, including 'Woju' and 'Yeba'. He was formerly known as 'Kiss Daniel' but he changed his name to 'Kizz Daniel' following a conflict with his former record label.
Kizz Daniel is the founder of the record label 'Fly Boy Incorporated'.
Kizz Daniel's full name is Anidugbe Daniel Oluwatobiloba. He was born on May 1, 1994, in Abeokuta, Ogun State. His parents are Mr and Mrs Kolawole Anidugbe. The 27-year-old singer has four siblings – 3 boys and a girl. He hails from Abeokuta North Local Government Area in Ogun State.
Unfortunately, Daniel lost his father on May 29, 2015, and he couldn't make it to his funeral. He later penned down a heartwarming message to his late father in June, revealing that the old man had died of typhoid fever.
How Kizz Daniel started music
Kizz Daniel ventured into music officially in 2013, the same year he graduated with a Bachelor's degree in Water Resources Management and Agrometeorology (Water Engineering) from the Federal University of Agriculture, Abeokuta, Ogun State.
Upon his graduation from school, Kizz Daniel met the CEO of G-Worldwide Entertainment, Emperor Geezy, who signed him as one of the artists under his record label.
The singer released some of his hit singles like 'Shoye' 'Yeba', 'Woju', and 'Laye' under the record label before leaving in 2016 after a publicized contract dispute and court case. His conflict with his former record label led to him changing his stage name from 'Kiss Daniel' to 'Kizz Daniel'.
Daniel founded his record label called 'Fly Boy Incorporated' in November 2017. He released his first studio album titled 'New Era' on May 14, 2016, and his sophomore album titled 'No Bad Songz' on December 30, 2018.
His latest album titled 'King of Love' was released on June 25, 2020, and it included singles like 'Ada' and 'Park 'n' Go'.
Kizz Daniel's relationships and marriage
As of the time of writing this report, Kizz Daniel is not married and does not have a wife.
Kizz Daniel's baby mama and triplets
Kizz Daniel welcomed triplets in early 2021 with his baby mama. He announced the birth of his triplets on his 27th birthday on May 1, 2021, and also revealed he lost one of the babies.
Who is Kizz Daniel's baby mama?
Due to the singer's penchant for keeping his private life out of the media, the identity of Kizz Daniel's baby mama is still not known to the public till this time. There are also speculations that the singer's babies were born via a surrogate.
The singer revealed during an interview with Punch Newspaper that he has always kept his relationships private even before he rose to stardom, therefore it is quite difficult to know who he is dating.
The singer sometimes hints at the possibility of him being in a relationship through his online posts. In 2020, he posted a now-deleted photo of his new haircut on Instagram, claiming that the woman in his life is the reason for the new look. He, however, did not reveal the woman's identity.
He also once shared a video of an unknown woman singing to his song and the video stirred speculations that he was dating the singing woman.
List of women Kizz Daniel has been rumoured to have had an affair with
Despite Daniel's secrecy and privacy with his relationships, he has been unable to completely evade the constant relationship rumours and speculations that often trail popular entertainers.
List of women Kizz Daniel has been romantically linked with in the media includes the likes of:
Chidinma Ekile
Adedamola Williams
Emerald Vicky, and
Beverly Osu.
Kizz Daniel's rumoured affair with Chidinma Ekile
Kizz Daniel's alleged relationship with Chidinma Ekile hit the media in 2018 and the rumours lingered for a long while. It was even believed that the two were living together before they allegedly parted ways.
It was said that they were often seen together in public places and they both have a matching tattoo on their hand.
The rumours of their relationship started after Kizz Daniel shared a video of the 'Kedike' crooner on his Instagram story. There were also reports of them breaking up and unfollowing each other on IG.
It was even speculated that Kizz Daniel's hit single 'Fuck You' was to taunt Chidinma, following their breakup. However, none of the music stars has affirmed or debunked any of these speculations.
Kizz Daniel's rumoured relationship with Adedamola Williams
Kizz Daniel was also romantically linked with one Adedamola Williams, an alleged ex-girlfriend of Davido. It was alleged that the singer, model, and graduate of Afe Babalola University was expecting a child for Kizz Daniel in 2019.
Adedamola Williams ignited the rumours about her pregnancy after she took to her IG page to say she has something to tell the world but she needs the courage to do so.
However, she later denied the speculations, saying that she would not easily reveal becoming a baby mama if she was expecting a child.
Kizz Daniel's rumoured relationship with Emerald Vicky
Emerald Vicky who is also known as Posh Merald is another woman that was romantically linked with Kizz Daniel in 2019. She was also alleged to be expecting the singer's child.
Emerald who is a cloth designer and stylist by profession added fuel to the rumours after she quickly deleted her Instagram account shortly after the rumours started.
Kizz Daniel's rumoured relationship with Beverly Osu
Kizz Daniel was also romantically linked with Nigerian actress and model, Beverly Osu, after he featured her as his love interest in the music video of his hit song, 'Madu'.
Kizz Daniel's children
Kizz Daniel welcomed a set of triplets with an unknown lady in 2021. He announced the birth of the children on his 27th birthday on May 1, 2021.
The triplets were named Jamil, Jalil, and Jelani. Unfortunately, he later announced the loss of one of them named Jamil, who died four days after their birth.
The singer also made it known that he has acquired a two-bedroom penthouse each for Jalil and Jelani four days after their birth at Ikate, Lekki, Lagos.
List of Kizz Daniel's sons:
Jalil Anidugbe
Jelani Anidugbe
Jamil Anidugbe (late)