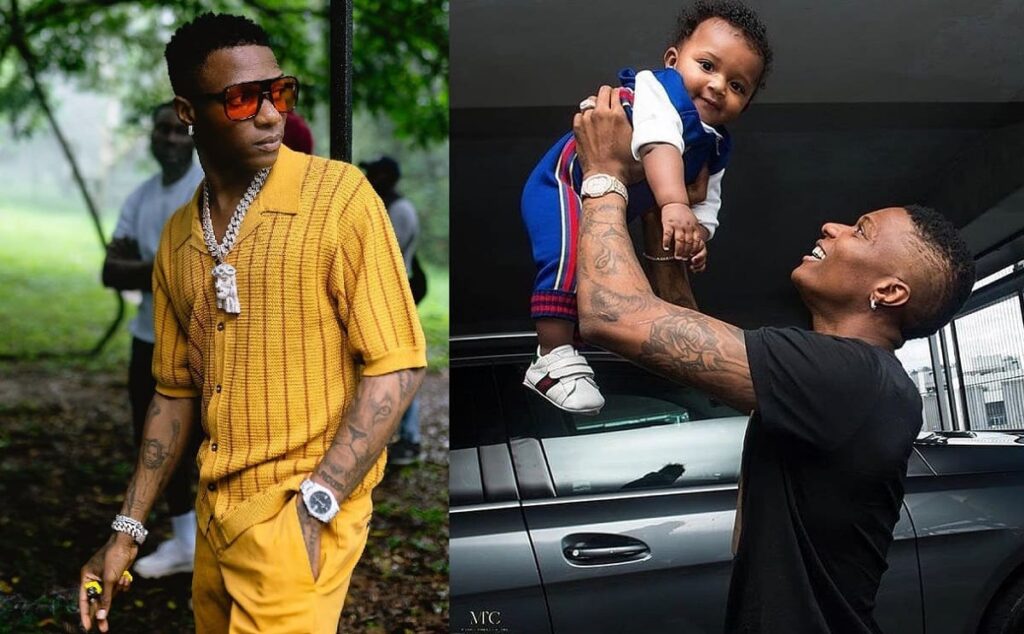 Who is Wizkid?
Wizkid is a popular Nigerian singer and songwriter. He sings the Afrobeat, Afropop and dancehall genres. He also owns the record label called Starboy Entertainment.
Wizkid is often referred to as "Big Wiz" or "Starboy" or "Machala" by his fans and music lovers. He is currently one of the biggest artists in Africa with a lot of awards and recognition to his name.
Wikid's early life and education
Wizkid's real name is Ayodeji Ibrahim Balogun. He was born on July 16, 1990. He is 31 years old as of April 2022. Big Wiz was born into a middle-class family in Surulere, Lagos State, Nigeria. He grew up there with his parents and 3 sisters. Wizkid is the only son of his mother.
According to the singer, he grew up in a polygamous home. His father, Alhaji Muniru Olatunji Balogun, who is a Muslim has 3 wives. Meanwhile, his mother, Dolapo Jane Balogun is a Christian and she attends a Pentecostal church.
Wizkid finished his primary education in Lagos. After that, he proceeded to Ijebu Ode Grammar School (JOGS) in Ogun state for his secondary education.
Wizkid doesn't have a University degree as of April 2022. The Afropop star dropped out of Lagos State University (LASU) in 2009. Then, he enrolled at Lead City University to study International Studies. However, he couldn't continue schooling there after his sophomore year. According to him, he left school to focus on his music career.
How Wizkid started his music career
We cannot write about Wizkid's biography without mentioning his music career. The entertainer loved music from an early age. While growing up, he listened to the likes of Bob Marley, King Sunny Ade, and Fela Kuti. He was also an active member of his church's choir. At 11 years, he formed a small music group known as the "Glorious Five" consisting of his friends in the choir.
The group included 5 talented young music enthusiasts. And it was quite easy for them to collaborate on an album at an early age.
Wizkid: Going professional
Wizkid's professional music career officially kicked off in 2009 after he was signed into Empire Mates Entertainment (E.M.E) owned by Banky W. However, 2010 was the year Wizkid first tasted real fame after the release of his hit song "Holla At Your Boy". The song was part of his debut album titled "Superstar" which was released a year later in 2011. The album includes other hit songs like "Don't Dull" and "Tease Me".
After 5 years, Wizkid released his sophomore album titled "Ayo". It was released in September 2014. The album has 6 songs, including the award-winning hit single "Ojuelegba".
Following the release of the album "Ayo" and its subsequent success, Wizkid left the record label, EME. Even though reports say he left because his contract expired, there were inside rumours insisting that he had issues with Banky W.
On July 14, 2017, he released his third album titled "Sounds from the Other Side (SFTOS)". The album was released under his own record label Starboy Entertainment and RCA Records. It has songs recorded between 2014 and 2017. In the album, he collaborated with international musicians like Drake, Chris Brown, and Trey Songz.
Wizkid's International Awards
Wizkid's first international recognition came in 2016 after the release of "One Dance" featuring Drake. In fact, the single got to the number-one spot on the US Billboard Hot 100. The song also put Wizkid's name in the Guinness World Records.
Wizkid is one artiste that has shown consistency. Even after a decade, the singer still proved to be talented. In 2019, he got a feature on Beyonce's single, "Brown Skin Girl". This single was a big one in Starboy's music career. From it, he earned his first Grammy Award in the "Best Music Video" category.
After teasing his fans for a few years, Big Wiz released his fourth album titled "Made In Lagos" (MIL) in October 2020. The album remains Wizkid's most successful album to date. It got to the number-one spot on the Billboard World Album Chart.
"Essence" featuring Tems is the hottest single from the "Made In Lagos" Album. The song is regarded as Wizkid's biggest hit because of its global recognition. It is the first African song to attain multi-platinum status in the US. "Essence" is also the first Nigerian song to reach the top 10 on the Billboard HOT 100 chart.
Wizkid's wiki profile
| | |
| --- | --- |
| Full name | Ayodeji Ibrahim Balogun, |
| Place of birth | Surulere, Lagos State, Nigeria |
| Date of birth | July 16, 1990 |
| Age | 31 years old |
| Relationship status | Single |
| Wife | N/A |
| Height | 5″4 (1.625m) |
| Occupation | Musician, songwriter |
| Net worth | est. $35 million |
| Instagram | @wizkidayo |
Wizkid's marriage and wedding
As of the time of publishing this article (April 2022), Wizkid is not married and does not have a wife. However, he has been romantically involved with so many beautiful women in the past.
All Wizkid's girlfriends and relationships
When Wizkid is not making music, he is obviously winning women's hearts. DNB Stories Africa could not help but make a full list of all his relationships. The long list goes from actress Alakija to singers Tiwa Savage and Victoria Kimani.
1. Wizkid's relationship with Sophia Alakija
Nollywood Actress Sophia Rammal Alakija is usually dubbed "Wizkid's first love". During the early stage of Starboy's music career, he was always seen with her. Sophia is the girl that was featured in his hit single, "Holla At Your Boy". Unfortunately, when Wizkid became a household name in the music industry, she ceased being in the picture. It was reported that the ex-lovers had gone their separate ways.
2. Wizkid's relationship with Shola Ogudu
Shola Ogudu is Wizkid's first baby mama. They dated in 2010 and she became pregnant with Starboy's first child. According to reports, Wizkid initially denied being responsible for her pregnancy. So he demanded that a DNA test be conducted. Later on, he accepted the child. Sola had her son in 2011 at the age of 19. Her child, Boluwatife Balogun is Wizkid's first child.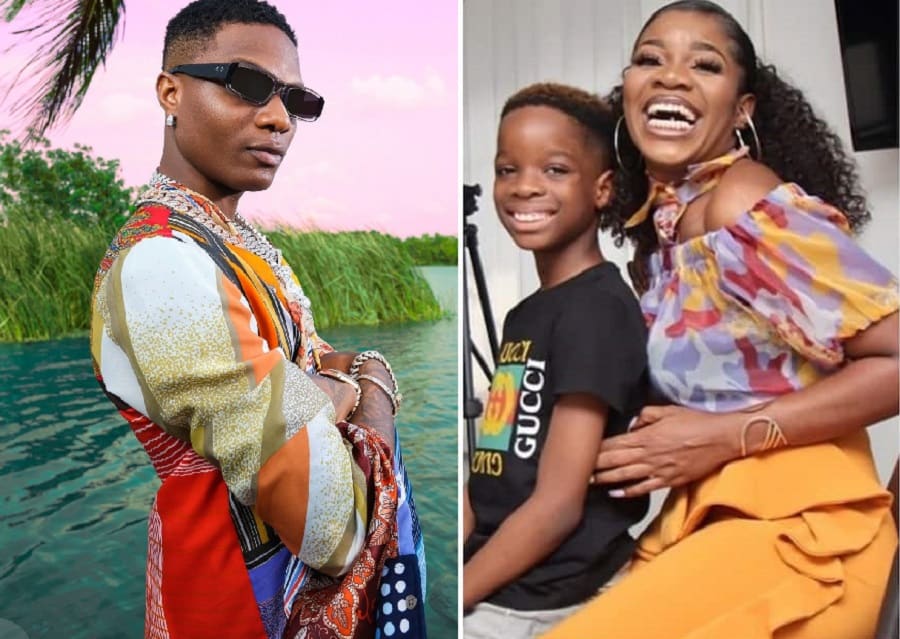 3. Wizkid's relationship with Victoria Kimani
According to reports, Wizkid and Kenyan musician, Victoria Kimani briefly dated in 2014. On several occasions, the ex-lovers were caught kissing in a car. The duo confirmed their relationship with a public show of affection at Skylux Lounge in Nairobi, Kenya on October 19, 2014.
4. Wizkid's relationship with Tania Omotayo
Wizkid confirmed his relationship with Tania Omotayo in an interview with Gbemi Olateru on Beat 99.9 FM. The lovebirds dated for 5 years amidst Wizkid's baby mama scandals and cheating allegations. Tania and Big Wiz were the perfect combo in the eyes of many at that time.
According to reports gathered by DNB Stories Africa, Tania left Wizkid in 2016 after the news of his second baby mama broke the internet. She is currently married to a businessman named Sumbo Winfunke and they have a beautiful daughter together.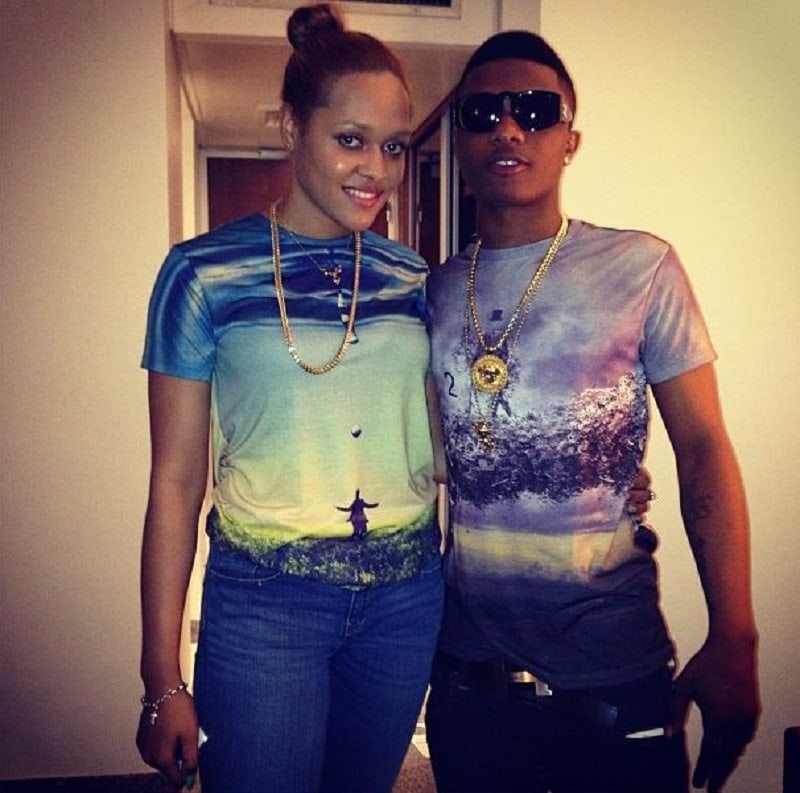 5. Wizkid's relationship with Hudda Monreo
Wizkid also dated ex-BBAfrica housemate Hudda Monreo. The reality star confirmed their relationship in an interview. She also revealed that she was ready to marry Wizkid. There were rumours then that Hudda Monreo was the reason Wizkid broke up with his ex-girlfriend, Tania Omotayo.
6. Wizkid's relationship with Binta Diamond Diallo
Binta Diamond Diallo is Wizkid's second baby mama. She gave birth to the singer's second son, Ayodeji Ibrahim Balogun Jnr on January 15, 2016. Binta was also accused of crashing Wizkid's relationship with Tania Omotayo. However, she refuted the claims, insisting that she wasn't aware of their relationship.
7. Wizkid's relationship with Tiwa Savage
In 2018, Wizkid and Tiwa Savage sparked dating rumours. This was after Tiwa Savage featured as a video vixen in Wizkid's music video "Fever". Prior to that, the duo were always seen together at events and behaving as though they were a couple.
Tiwa Savage was heavily criticized for being in a relationship with Wizkid who is almost 10 years younger than her. However, she denied dating Big Wiz. She referred to him as a "very close friend" that is always there for her.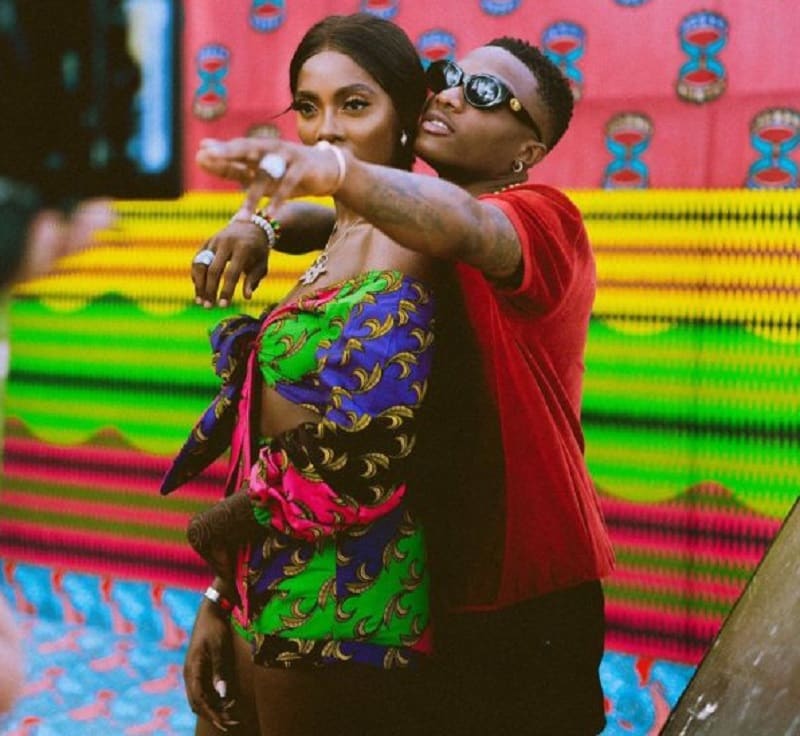 8. Wizkid's relationship with Jada Pollock
Jada Pollock is Wizkid's manager and his latest baby mama. She has a son for Wizkid named Zion Balogun. According to her, she met the singer on Chris Brown's tour in Lagos. Then, she was Chris Brown's manager. The couple is currently in a relationship and they live together in Lagos.
Jada Pollock Biography
Wizkid's third baby mama, Jada Pollock is an American entrepreneur and talent manager. Pollock grew up in the United States. She was born on October 20, 1983, and is 38 years old as of April 2022.
Jada Pollock completed her High school education at St. Saviour's and St. Olave's Schools in the United Kingdom. She obtained a degree from the University of Westminster in London, England. She has worked with popular artists like Drake, Akon, and Chris Brown. As Wizkid's manager, she introduced the singer to many international celebrities.
Wizkid's children
Wizkid currently has three children (3 boys) from three different women. His first son, Boluwatife Balogun was born on May 13, 2011. He is 10 years old as of April 2022. Sola Ogudu is Boluwatife's mother.
On January 15, 2016, Wizkid welcomed his second son with Binta Diamond. His name is Ayodeji Ibrahim Balogun Junior and he is 6 years old as of April 2022.
His last son, Zion Ayo-Balogun was born on October 28, 2017. He is 4 years old as of April 2022. Wizkid's manager Jada Pollock is Zion's mother.
Who is more famous between Wizkid and Davido
The question of who is more famous between Wizkid and Davido remains a controversial topic. Both musicians are arguably two of Africa's biggest imports in music. In my opinion as the writer of this article, between Wizkid and Davido, none is more famous than the other. However, the two music stars share somewhat contrasting domains in fame. Wizkid seems to have more international recognition than Davido, but when it comes to local influence and social media, Davido ranks higher.